MSPs have traditionally focused on delivering to agreed-on service levels. Where when a service level agreement (SLA) target is turning red, there's a focus on remedying the situation. However, if an SLA is green, people won't necessarily look at it – because they think the service is operating well. But just because an SLA target is green doesn't mean that the customer, or the end-user, is happy with the service and the MSP. This disparity might be seen via people-centric metrics such as customer satisfaction (CSAT). But it might not.
Experience measurement and management and XLAs, on the other hand, allow MSPs to better understand what's working well and what's not (and to address the highlighted issues). This is because there's an improved understanding of how end-users actually feel about the services they receive and the business impact of any issues. This insight allows an MSP to put the customer at the heart of delivering services and improving them.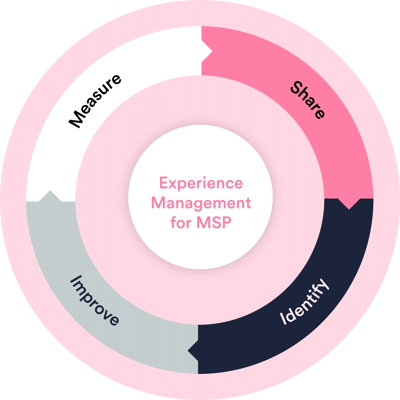 For years, traditional MSP SLAs have pushed the service providers to work – and think – in a certain way, but, at some point, most people eventually understand that there's a conflict between the MSP and end-user view of service performance. Take CSAT questionnaire feedback as an example. The feedback requests tend to be delayed, there's usually little response, and the questions asked might be removed from what's actually important to end-users. Ultimately, the CSAT data offers a limited and perhaps skewed view of what end-users think of their MSP's performance.
For MSPs to really understand their customers' issues and challenges, they instead need to provide end-users with the opportunity to submit real-time feedback on services based on what matters most to them. This capture of experience data, in high volumes, allows an MSP to see where and why there's unhappiness or a poor end-user experience with certain services or products they're providing.
It might, for instance, identify that a new or revised process brought in to help the service provider has caused end-user issues with the service and experience degrading as a result. For example, there's now a lack of contact or the end-user is asked the same question multiple times. However, despite the issues, the SLA target could still be met, and the MSP views the service as good while the end-user experience is poor and the customer's – or customers' – employees are unhappy.
With experience management, MSPs can work together with their customers – using more and better data to have a common understanding of how well services are delivered. This insight identifies the priority issues to tackle, and the MSP can apply corrective measures more quickly (with the affected end-users seeing the services they use getting better through the changes the MSP applies).
Importantly, these improvements don't stop with a single customer's issues – because MSPs provide services to multiple customers, relevant learnings and improvements can also be applied to other customers. The issue could again be a process or a particular way of working that's causing end-users problems no matter the customer, and instead of changing it for just one customer it can be changed for the others too.