Customer Success
Your dedicated Customer Success Manager will ensure you get the most out of the platform and guide you on your ITXM Journey, across all of IT.
Support and guidance included in the license
Your ability to get the most out of HappySignals is what makes us happy.

After the onboarding phase, you will continue Life with HappySignals, including regular status checks. Your dedicated Customer Success Manager and technical team are always there, in case you need support or guidance.

Our passion is to make your ITXM Journey successful.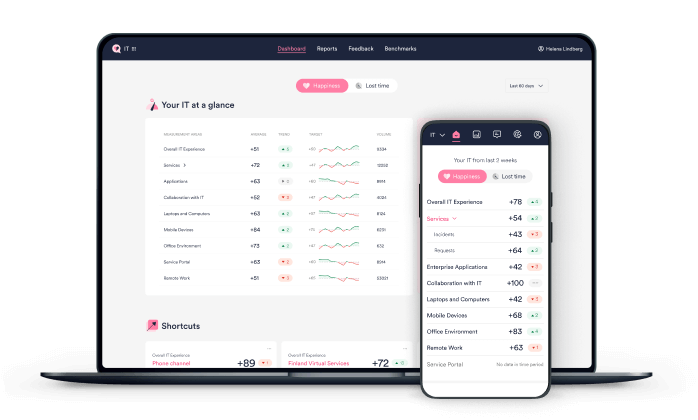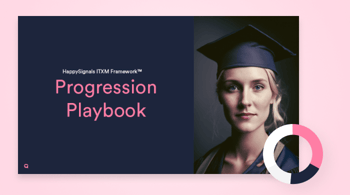 ITXM Progression
In HappySignals onboarding, we will introduce you to our ITXM Playbook, your hands-on guide you to ITXM Progression. Your Customer Success Manager is like a Personal Trainer, who helps you focus on the right things on your Journey.
Quarterly Business Reviews
Using the Platform and ITXM Playbook is simple and easy. Once you get started, you likely won't need any training or hand-holding. But to make sure you have everything you need, we will regularly review your ITXM status, and help you take the next steps.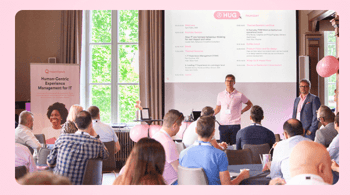 HappySignals User Group
As a HappySignals customer, you will be a part of a community of like-minded IT professionals. You will have access to up-to-date research and other content on ITXM, and also meetings -- physical and online -- with other HappySignals users.
Product Co-Design
Our philosophy is to design the product for our customers, so we offer optional co-design sessions for customers who wish to influence future versions of HappySignals.

More smiles, less time wasted.