 Happiness is the key metric for all of IT
250,000 hours of employee lost productivity saved in a year
- Prashant Arora
Reckitt is a consumer goods company that manufactures, markets and sells health, hygiene, and home products with a global workforce of over 42,000 employees based in more than 60 countries.

Using HappySignals has allowed Reckitt to increase response rates to IT surveys from 4% to 25%, increase happiness by 52%, and reduce lost time with IT incidents by an average of 51 minutes per ticket. For an organization that registers over 300,000 tickets annually, over 250,000 hours of employee lost productivity saved in a year.
COMPANY
Industry: FMCG Manufacturing
Employees: 42000
ITSM Platform: ServiceNow
ServiceDesk: Outsourced
HappySignals since: Mar 2018

---
How HappySignals is used at Reckitt
1. IT uses Happiness as a Key KPI
Since 2019, Reckitt has used Happiness as the key indicator for IT.
2. Source of information for VoC program
HappySignals is the agreed mechanism for hearing the Voice of the Customer (VOC) and gathering associated data.
3. Formal XLAs with IT service providers
Reckitt introduced formal XLAs to its IT service providers to create a common, shared focus on Experience.
4. Central part of business reviews
HappySignals provides a global view of happiness and trends, removing the need to dig through individual tickets and data manually.
5. Experience data is 100% transparent
Access to HappySignals has been granted to all 40k+ employees at Reckitt.
---
Challenges overcome with HappySignals
Since 2019, Happiness has been the key driver for Reckitt's IT improvements.
The challenges that were identified before using HappySignals and overcome with the help of the platform were:
From lacking structured VOC data from end-users to full transparency and regular reviews of HappySignals data

From having service level agreement (SLA)-focused IT vendor contracts to formal Experience Level Agreements (XLA) to create a common focus on Experience

From developing services based on 'gut feeling' to using experience data for all types of IT initiatives

From 4% response rates to 25% response rates, with end-users understanding that they impact how IT evolves.






Tangible Benefits
Transparent access for all 40k employees has made HappySignals data the only shared KPI to which everyone within the company has access.
Customer happiness increased from 53 points to 81 points, a 52% improvement that has continued to rise.
Productivity has increased by 51 minutes per ticket, saving Reckitt employees over 255,000 hours per year.
Business stakeholders know at all times what the IT Experience is, and monthly reviews formalize the collaboration.
Looking at experience data has become widespread across the whole organization.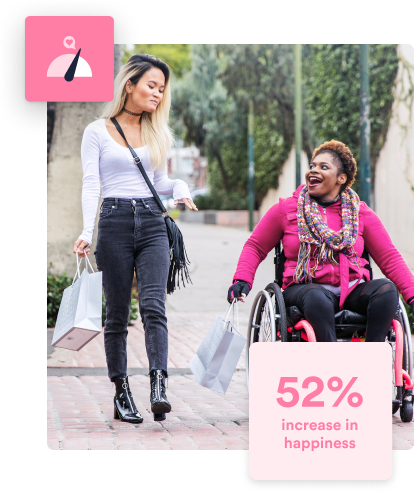 ---
How they got there
Moving from CSAT and ad-hoc surveys to systematic use of IT Experience data:
Structured daily and weekly reviews of Experience data with the IT teams.
Regular monthly meetings between IT and business stakeholders.
Full transparency, giving access to HappySignals to all of its 40k employees.
Business stakeholders are encouraged to look at the data, drill down into the data, and come to IT with questions.
Moving from SLAs to XLAs.
Use cases where Reckitt
uses HappySignals
See which use cases helped Reckitt achieve its IT success,
and find other cases suitable for your company needs.
Service desk operations

Digital transformation

IT support channel development

Evaluation of automation projects