What are the Benefits of XLA?
Experience Level Agreements (XLAs) are coming to IT Service Management, but what really are the main benefits of using them? We bring you the top 5 benefits on why you need to be using XLAs.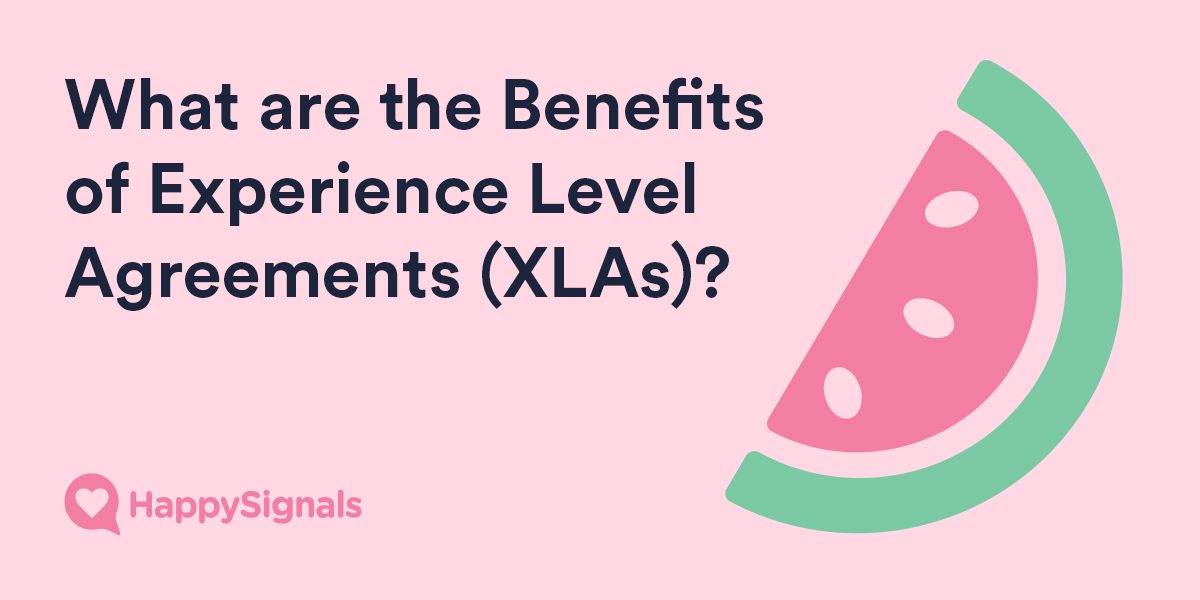 February 20, 2020
SLAs are a thing of the past, with Employee Experience a big trend for 2020 as well as a key driver for CIOs to prove value in IT departments. Experience Level Agreements (XLAs) are a great way to measure outcomes and experiences, leading to a better service, increased happiness and productivity and essentially, replacing outdated SLA metrics.
XLAs measure the business value of the Service Desk
XLA measurement increases co-operation
Motivating for Service Desk teams
Driving business value
Moving target in a positive way, never settle
XLAs measure the value of the Service Desk from the perspective of the business
When doing this, it removes one of the most common pain points of Service Management that is being seen as a relevant function from business perspective. With XLAs you are measuring what matters, not what happens in Service Desk.
For example, instead of saying this month we have solved 10,000 tickets the question should really be, why did we have 10,000 tickets this month? Not only does this example show a transition from SLAs to XLAs, but it also suggests that the service provider or owner should be focusing on the reasons behind the tickets and what part of the employee experience needs improving to reduce the amount of tickets.
Fixing these problems or pain points that end-users are creating tickets about then leads to a higher number of end-users reporting how happy they where with the service they have received or there increase in efficiency compared to last month.
That is where the business will begin to listen and realise the change and impact that IT can have on the business value.
Less tickets, more efficient employees, better service experience.
XLA measurement boosts co-operation
When you have thousands of end-users feedback and comments, you have data that you can trust. End-users honestly tell everybody from Service Desk and Service Management what works and what doesn't. Everybody is able to focus on the right problems and not be reliant on giving priority to whoever is shouting the loudest.
Sharing data and being transparent with this data is the ultimate key to building co-operation. With XLAs you measure the experiences that your end-users are already having and work in co-operation with your Service Desk to create a better experience for them.
A more motivated Service Desk team
Not the first thing maybe in your mind, but it's much more motivating to be measured on how you have helped people, rather than being measured on how many tickets you have closed.
Instead of Service Desk personnel being measured on how many tickets they can close per hour, which could lead to rushing cases/possibly not solving cases, and not delivering a great service experience to the end-user, Service Desk Personnel now have the opportunity to deliver a great experience, find the heart of the end-users problem and measured on essentially how they have improved someones day.
Let's face it, you'd rather be getting good feedback on how you have actually helped people each day, rather than being told to close more cases and be quicker with your service.
This short animation illustrates how XLAs can benefit both the Service Desk and End-Users.
Driving business value
When understanding end-users better we can create real value for the business. Happier end-users means they are able to provide a better experience to their customers, and not have to work overtime due to IT problems having made it impossible to work during 'office hours'.
The business value of Service Management is helping employees to do their job and essentially focusing on the things that matter for the business.
Through implementing HappySignals measurement, CIOs can now begin to measure the experience employees are having and then justify which areas need to retain focus and be developed.
An example of this is our customer Reckitt Benckiser CIO was receiving very negative comments about IT from other management members on how IT was not functioning properly. After implementing HappySignals, he was able to justify that IT was doing well, however also showing the areas that needed to be focused on. This made a big difference for them, as the CIO didn't have to rely on his gut feeling on what was possibly wrong in IT and he was able to show the value that IT in fact brings.
In short - better business outcomes are delivered.
Moving target – in a positive way
At HappySignals, we believe XLA targets should change after about 6 months. It's not enough anymore to set targets that last for years.
Also, we should always be able to continue to develop services. For us, agreements set should be ways of working, rather than targets with sanctions. The best results are always reached through co-operation.
Some of our customers have already started to use XLAs, for example Orbis Partnership has decided to let go of the "So What Metrics" and put in XLAs instead.