150% increase in happiness
"HappySignals provides proper business intelligence for IT"
- Dr. Ozan Acar
Ahlstrom-Munksjö uses HappySignals to get a deep understanding of how end-users feel about IT services in all its global locations. It uses HappySignals to manage a lean IT department with multiple outsourced partners, having automated feedback collection on the back of every service and incident ticket.
The challenge prior to using HappySignals was not having a global view of IT service delivery, leading to a siloed IT department.
COMPANY
Industry:

Manufacturing

Employees:

8000

ITSM Platform:

ServiceNow

Service Desk:

Outsourced

HappySignals since:

Oct 2018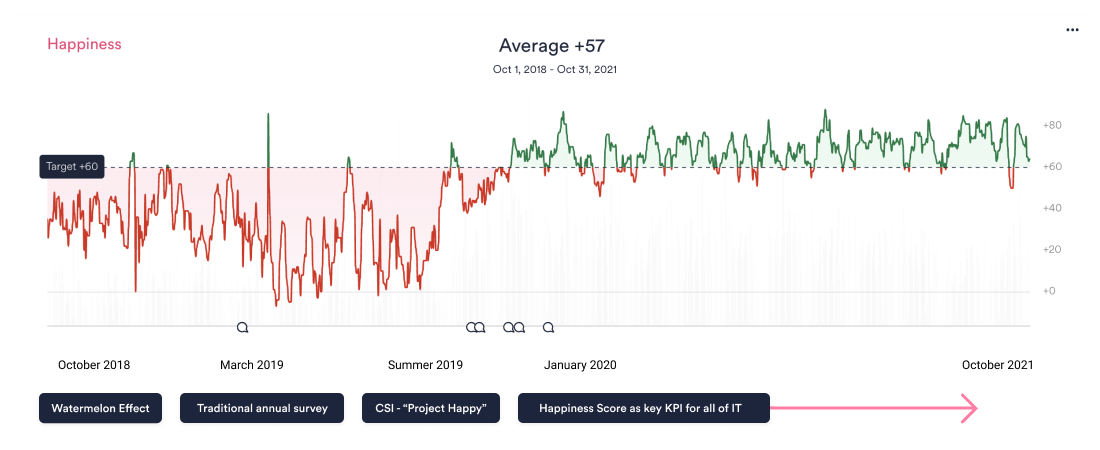 ---
How HappySignals is used at Ahlstrom-Munksjö
1. All of IT uses Happiness as one of the key KPIs
"Project Happy" as the Continual Improvement approach, used on strategic, tactical and operational levels of IT.
2. Monthly review of Happiness (NPS) data
IT teams have incentives to exceed set Happiness targets.
3. Aligned with IT service providers on Experience-first focus
Its partners, Tech Mahindra and Tietoevry, work towards the same human experience-oriented goals as internal IT teams.
4. Primary source for insights
IT looks at HappySignals data first when looking for improvement areas and allocating resources.
5. Experience data is 100% transparent
The data is shared openly to ensure transparency across IT partners, internal teams, and employees.
---
Challenges overcome with HappySignals
In 2018, Ahlström merged with Munksjö. HappySignals was added to its IT stack in order to continue getting feedback from its new end-users in the Munksjö organization.
The challenges that were identified prior to using HappySignals, and overcome with the help of the platform, were:
Moving from annual surveys (and outdated data) to real-time experience data from HappySignals.

Transitioning from services being developed in silos, to having a shared view of experience with all IT management members.

From a service level agreement (SLA) focus to a common goal with its IT partner to provide the best possible end-user experience.

Solving the 'Watermelon Effect' by understanding that IT metrics were not representative of end-user experience.






Tangible Benefits
Real-time Experience data enabled Ahlstrom-Munksjö to align service improvement with the needs of its end-users across 45 global locations.
Customer happiness increased from 30 points to 75 points, a 150% improvement that has stabilized at an above target level.
Productivity has increased by 69% meaning perceived lost time per IT incident has reduced from over seven hours to a little over three hours.
HappySignals has made it possible for IT to get real-time insights into IT service quality across 45 global locations without a physical presence of IT.
Alignment has been achieved between internal IT teams and its IT Service providers by having the same objective - happier end-users - for everyone involved in IT service delivery.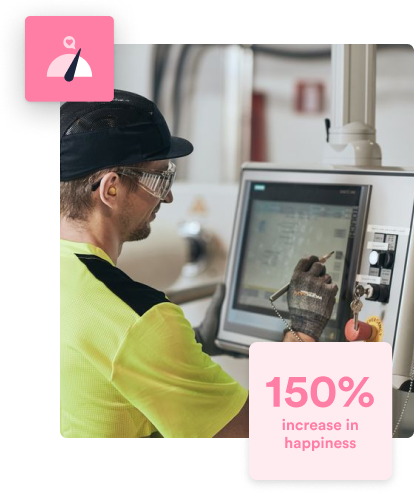 ---
How they got there
Ahlstrom-Munksjö made sure its IT organization was experience-centric on all levels:
Experience level targets were put into agreements with new IT providers.
Regular monthly meetings, in which HappySignals data is reviewed, are held between all IT stakeholders.
Data is transparent between all IT managers as well as with partners and other stakeholders.
There are determined efforts to use HappySignals IT Experience data as the most important KPI for IT services.
Use cases where Ahlstrom-Munksjö
uses HappySignals
See which use cases helped Ahlstrom-Munksjö achieve its IT success, and find other cases suitable for your company needs.
Digital transformation

Manage IT vendors