#XLA - Why SLAs Miss the Reality of a Situation, with TOPdesk's Hannah Price
Pasi is joined by TOPdesk Service Management Consultant, Hannah Price. In this episode, Hannah and Pasi discuss the importance of tailoring XLAs to an organization as well as bringing the customer into the conversation to truly impact the customer experience.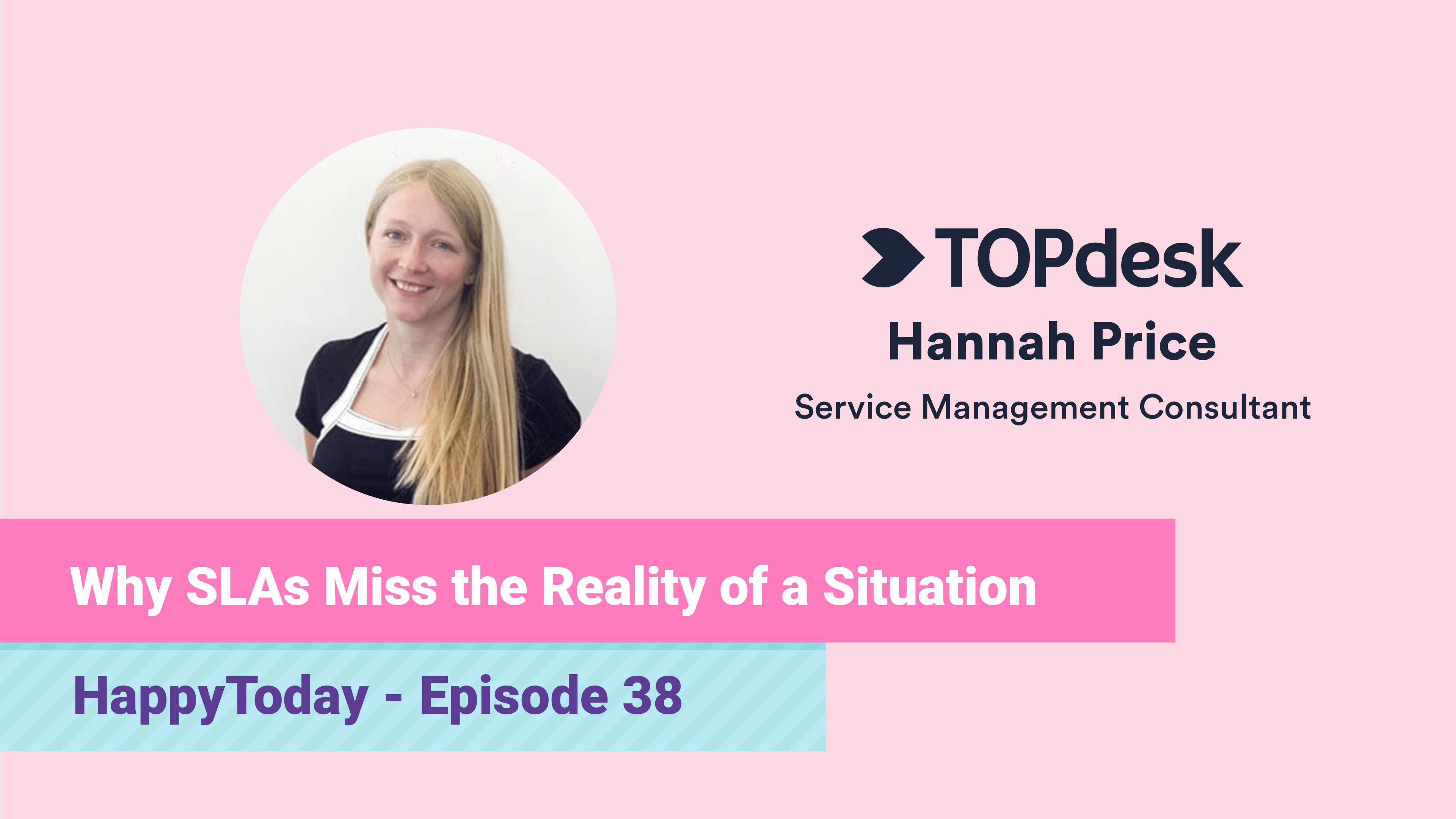 Pasi Nikkanen:
Welcome to Happy Today Podcast. This is a podcast for those who want to improve service experience of internal services. If you use ServiceNow or on the enterprise service management system then this is for you. In this episode:
Hannah Price:
When thinking about designing XLA is actually bringing the customer into that conversation.
Pasi Nikkanen:
All right. Hey, welcome to this episode of Happy Today Podcast. Today, I'm joined by Hannah Price. Hannah is a service management consultant. And as a consultant for Top Desk customers, you help them implement the ideas and solution but also design and optimize the processes and why you went to podcast is that already 2018, you wrote an article what XLA is and how to use them. You mentioned that in an earlier episode. So welcome Hannah. Please tell a little bit, how did you end up in your current position?
Hannah Price:
Hi, well first, thank you very much for having me on the podcast. I ended up here by happy coincidence, in a way. I started off a few years ago as a service management consultant focusing on the tool and technology side of an implementation, but as I grew in my career, I'd always found that the secret to a good implementation never lied solely with the tool itself. I ended up specializing in more the human side, I suppose, human interaction, customer experience, employee experience, and how those are so closely intertwined with a good service. Yeah, I'm not sure, I stumbled across XLAs and they really resonated with me. So I started using them and talking about the more customers and writing that blog post that you mentioned as well.
Pasi Nikkanen:
So what is an experience level agreement for you? We talked in one episode that there are still quite a few variation of it. We all know that Giarte is the one benefit of having that trademark for the XLA, but I think still people use experience level agreements and the whole topic around it a bit differently. But for you specifically, when you talk with customers, what do you tell them? What is an XLA?
Hannah Price:
Well, it's really easy for XLA to cover such a broad spectrum of different things. I do find it quite hard to define it sometimes because it covers so many different basis. And when you're talking to customers about an XLA, they could be talking about so many different things. I think for me personally, and I don't know if this is where the direction that the XLAs will head, but for me personally, because people do tend to speak about XLAs either against SLAs or at least alongside SLAs, I sometimes hear them to find a lot as basically they're the equivalent, the experience equivalent of an SLA. So just like some organizations will have an SLA contract or an agreement. This is what we want to provide in terms of the service level. A lot of people put XLAs into that small box as well.
Hannah Price:
It's an agreement of an experience level that we would promise to our customers. I think that's generally when people first hear about XLAs. That's what they expect them to be. But then as that conversation widens and gets bigger, you do find that definition slipping further into talking about the outputs of the service and all sorts of different things. I think if you keep it niche, it could be considered just an agreement. Although I think there is a cultural and a mindset shift that sits behind XLAs that does make it quite a wider definition.
Pasi Nikkanen:
Yeah. Yeah, totally agree. And then from the SLA, what do you think is one main difference from an SLA? Like if somebody asked that, what would you say?
Hannah Price:
I think the big difference with SLAs is that they can easily miss the reality of a situation. I think that's where Giarte amazing parallel that they drew with the watermelon service desk and the green SLA. And it could be read on the inside of the actual customer. I think that's the big thing with SLAs is that they can mess actually the feeling, the emotion, the experience of the customer. Whereas the XLA I think that's its main focus is looking at the customer experience. And although that can sometimes be a lot less tangible and a lot less hard to measure than the SLA because you're not dealing with X number of time or minutes spent or op time, that sort of thing. It's much more of a feeling and emotion. It can be harder to work with. I definitely see that with customers, but it's so much more important, I think, to look at that experience side so that you don't end up with the watermelon effect and you've got a much more holistic view of the service as a whole.
Pasi Nikkanen:
I saw from your article, you put it the same way that we do, that because humans are not binary, they're not computers. So they do feel how it was and there's always the saying that you never remember what happened, but you remember how you felt about it. So that's why we also feel that that's really the key. And even though it's intangible, I think you said also in the article, the well services itself, they are fluffy, in a way.
Hannah Price:
Yeah, exactly. And it's funny, you should mention that actually, because I had a really funny idea the other day called the cat paradox where [inaudible 00:05:37].
Pasi Nikkanen:
You never heard of this?
Hannah Price:
No, I hadn't heard of it either. And it was really awesome because it was talking about the importance of that feeling that you have, and that, I suppose, emotional connection in a way or the feeling that you have. It likened it to looking after a cat. Actually, if you look at the SLA or the service of a cat that they offer you as a pet, they're not your obvious choice of pet because they're sometimes they're-
Pasi Nikkanen:
True.
Hannah Price:
They only let you pet them where they want to be petted. They can be quite stubborn, quite demanding, quite unaffectionate, typically for cats, at least. And yet people still like cats because they are emotionally connected. You have that feeling towards the cat. I think in this thing I was reading, it was saying that cats will Meow in a certain way that connects to a certain kind of [inaudible 00:06:20] or level that connects emotionally with a human. And they've worked to how to do that because that feeling and emotional connection is so important. So I just thought that was funny, the cat paradox. I was like, yeah, that's really related to XLAs.
Pasi Nikkanen:
Yeah, excellent. I [inaudible 00:06:34] it, but it totally makes sense. I can hear it because I'm not the cat person, but now after hearing that maybe I should be. Because I don't feel myself like an SLA person in that way that I would only want to see that.
Pasi Nikkanen:
All right. But hey, you wrote that a couple of years ago. So from your work with customers today, have you seen an increase in the demand, the questions related to this whole experience topic?
Hannah Price:
Definitely. I think it's customer experience has always been on some level important, but particularly in the last year or so, I've noticed the terminology around customer experience and XLA coming up a lot more. Usually customer experience more than just XLA. I think they're XLA is part of customer experience and service design as a whole, but yeah we get sometimes very specific questions about, okay, I'm trying to measure my customer experience through a customer satisfaction score, but I'm only getting minimal replies. Like 1% of my customer base will reply, whereas, and that's a real worry for people. We hear questions like that come up all the time, more so than ever. I think that's because people are realizing that that experience of the customer has such a big effect on their service as a whole and what that department offers to the business as well. They're so intrinsically linked to that customer experience. So yeah, big increase, definitely.
Pasi Nikkanen:
Okay. Okay. Are they asking, if you then go to literally the XLA we're helping them to set it up or actually anybody understand, okay, so what should I put in the agreements or something else around it? What are the concrete things that they are missing? Because we were discussing, it's still balling thing and I think that some of the concrete actions are the problems of people.
Hannah Price:
Yeah, definitely. Yeah. I think some things that... Well I've yet to come up with the perfect formula for what XLAs are that fit across the board. I find quite often we end up tailoring them at specific organizations. Why we end up doing that is because something that they miss when thinking about designing an XLA is actually bringing the customer into that conversation. Quite often, we'll be talking around the table with the people in an IT department or an estates facilities department, or maybe multiple departments, if we're doing a joint project and they're talking about what they think the customer experiences and trying to design things to measure and metrics to have off the back of that. But the customer isn't actually there, or they've always said, oh, we actually invite them in and ask them and hear what they say and really listen to them.
Hannah Price:
It does sound obvious when you say it like that, but it isn't always, you offer us thought to do that and to bring them into that conversation as early as possible. I think it ties in closely to the principles of service design, where when you're looking to design a service or a process, the biggest parts of that design process should be the research. And it often is in theory, it should be almost twice as large as the actual design of the product or the service itself is actually looking into what the customer needs and what they feel and getting them to decide, okay, what will be a good experience for you? How would you measure that? Would it be a star rating or would it be that we touch base at a certain time? Would it be that we interview X number of customers to see what they felt? And that's when the conversation gets quite interesting and you can tailor your XLAs quite nicely.
Pasi Nikkanen:
Yeah, that's true. Because that's also how we started our product platform is with our CEO, we interviewed face-to-face 500 real employees-
Hannah Price:
Nice-
Pasi Nikkanen:
We had this workshops, we were doing it for the customers. They were designing service portals, but at the same time, we were trying to understand what are the things that impact on their experience using those tools and using the services. It was really fruitful and we do it nowadays as well. We always do everything co-designed. I had this great idea and then the customer said, "Well, we don't really need that." Actually just taking away your pride, you understand that you just save a lot of time of building something that nobody would have used. So yeah, that's really important. I agree as well. You also mentioned this talking about that there could be an XLA of the customer and then the XLA of the employee. And that's also first time I heard it like that. So, what's your idea?
Hannah Price:
Well, this is a bit of a new idea for me as well, really. I've started exploring it recently and why it came into my mind was because I keep reading articles of research and seeing examples of customers, where if an employee on the service desk, whether it's an IT help desk or whatever service desk it is, if they are happy and engaged, they end up being quite contagious and without even meaning to or trying to, the rub off on the person that they're speaking to or the end of the phone. And even if that customer actually is having an experience, which on the face of it looks bad because maybe the SLA isn't being met or they've been on hold for a long time or whatever it is. The energy and the vibe that that employee on the service desk gives off to the person on the other end of the phone and the empathy that they can show, ends up forgiving a lot of other elements, if that makes sense.
Hannah Price:
And making that connection with them is just as important in some ways as the final resolution. You can have exactly the same resolution, exactly the same timeframe, but the way that employee and the happiness they have and how that rubs off on the person at the end of the phone has made a completely different experience for that customer.
Hannah Price:
I think it was Temkin Group, a research group that did a really insightful study and they look at 5,000 or so different organizations. And they found that in service departments where employee engagement employee happiness was higher, customer experience was significantly higher as well. As a byproduct of that, those employees on the service desk, I think it's about four or five times more likely to do things like go the extra mile or do something different or try and implement an improvement and not just closing, done, solved in SLA kind of thing.
Pasi Nikkanen:
Yeah. I like that story because there's so many now things that connect with what we have been doing. So I think I also found from MetricNet, Jeff Rumburg this graph saying that how the agent happiness correlates to the customer satisfaction. And then we have a customer, Region Midtjylland from Denmark. They do all the outsource services for the Danish hospitals. And they started using HappySignals and they actually did. This was such an amazing story. They said that when the agents, when they started to see all the feedback in real-time, and we know from our statistics that 75% of all the feedback is positive. They got all this positive vibe back. And they said that it's just now much more motivating to come to work when I get all this positivity. We also found this research saying that if you get a positive experience and then you get the next issue, like you said, just what you said, you do a much better job of conveying that positivity, because working in a service desk, it's a hard job.
Pasi Nikkanen:
It's really like you tackle people's problems all day long, so that human side to it. And in the [inaudible 00:14:30] medial land, you can think that you are actually serving people in hospitals. So in a way you are saving lives when they are saving lives, which is totally different motivation than I just come here and make sure that my SLAs are not on red and close these tickets as fast as possible. So, yeah, I totally think that this is human side to it. That's really important, but it also got me thinking that when considering SLAs, should you have an SLA than towards the actual end users? I mean, now if you think that XLAs they might be used between a IT organization and outsourced vendor, for example, that's because you're outsourcing the service desk, you have an XLA there, but have you seen that then the XLA is extended to really to the end users?
Hannah Price:
I haven't seen that happen much yet, but I personally would like that to happen because it does happen for SLAs because you've got that traditional word agreement in there, which we've agreed it's almost like a binding contract kind of thing. They have that take with XLAs. I don't think we need to do it that strictly with XLAs at all, don't get me wrong, but I think it would be nice if you could say to your customers, we are trying to do this. We're promising to try and at least deliver a baseline of this experience. And maybe we'll have a benchmark that we try to achieve because that makes it a good impression, but then they know to expect that you're going to be trying to do new things.
Pasi Nikkanen:
Yeah. I've seen numbers in one office building before the COVID thing in London, and they had this, you said we did type of thing, just communicating back to the employees. I think that's part of the XLA for the employees saying that this is not the level we are and maybe the trend has been this one, and now these are the things that we are trying to improve. So that sometimes because sometimes people ask, how do you get that feedback from employees done and tired of filling in surveys. So filling in the experiences. We haven't really seen that, at least in our data, if you do it in the right way and you always have that possibility, it's not mandatory. And then you communicate back, you're actually doing something with it. So I think that's why that the XLA towards really the... You were talking employee as the agents, but then also the end-users that the large enterprises are working for.
Pasi Nikkanen:
Cool. Hey, really exciting topic. I think it was great to have you here. You have an excellent insight on this whole topic and [inaudible 00:17:08]. Yeah, inspiring listening to your stories. So if people want to maybe learn more, they want to talk with you, then what's the best way to be in touch?
Hannah Price:
Well, anyone's more than welcome to reach out to me on LinkedIn. My handle on LinkedIn is Hannah C. Price. I'd love to hear from anybody. If you want to talk about XLAs or service experience and customer experience, please get in touch. But we've also got some more resources from Top Desk, which is where I work. If you're interested in reading a blog about XLAs, for example, head to the Top Desk website, and you can find lots there.
Pasi Nikkanen:
I'll make sure that I'll get those links from you and I'll put it to our show notes so people can now click when they are listening.
Hannah Price:
Awesome.
Pasi Nikkanen:
Thank you, Hannah. It was a pleasure. And as we say in Happy Today podcast, stay happy.
Hannah Price:
You too. Thanks for having me.
Pasi Nikkanen:
Thank you.
Related content