#XLA - The Key Differences Between XLAs and SLAs
In this episode, Pasi and Sami diver deep into the differences between XLAs and SLAs by comparing the two metrics against each other. Following the recent release of the Practical Guide to XLAs, Sami and Pasi begin this chapter of the guide in greater detail.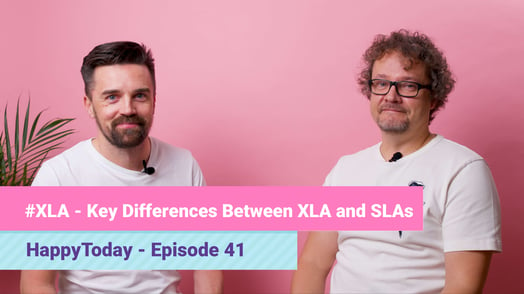 Pasi Nikkanen:
Welcome to HappyToday podcast. This is a podcast for those who want to improve service experience of internal services. If you use ServiceNow or other enterprise service management system, then this is for you. In this episode, what really Service Level Agreements are, how do they compare to Experience Level Agreements?
Pasi Nikkanen:
Hey, welcome to this episode of HappyToday podcast. Our topic of today is differences between SLAs and XLAs. So let's talk, Sami, a little bit on those, that what really Service Level Agreements are, how do they compare to Experience Level Agreements?
Pasi Nikkanen:
On our practical guide to XLAs, we have this table comparing them. So I think in this episode, if we go through and maybe go a little bit deeper in all of them ... I think the first one is this one that we have been talking earlier, that SLAs measure the output and the processes of IT. So what does XLA then measure?
Sami Kallio:
XLAs measure the outcome of the service. So there is a big difference, even the word is almost the same, but the outcome means that you're measuring what really is the value of the services, and it is the value to the end users. Whatever we do in IT, if it doesn't have a value to the end users in helping them to be more happy or be more productive. There isn't any value in the service. I think that's pretty black and white from my perspective. Okay, it might make them efficient. Again, they are more efficient. Then they are more productive. They're able to work with the customers better and so on. But in the end, it all comes to making their life easier.
Sami Kallio:
It can be service management, it can be the applications they are using, whatever. It always comes to that really XLAs are measuring the value, and now ... For instance, SLAs typically are measuring the process, how things are done and what is the end result. We solved this many tickets, servers were up and running, and so on. So really kind of a ... Maybe the challenge for us in IT is that these traditional SLAs are facts. They are things that happened. We can measure them and we can show them, okay, this was what happened.
Sami Kallio:
But it doesn't mean that the end users would be happy with the service. And that kind of is that then we start to measure the feelings of people. And that maybe is one of the challenging things when you're moving from SLAs to XLAs. But on the other hand, if you are measuring things, that doesn't matter, kind of. There is not point to do that.
Pasi Nikkanen:
Yeah, yeah. Then the next one was that SLA focus on high-level objectives that can be easily met. However, do not paint an in-depth picture of what is really happening within IT.
Sami Kallio:
Yeah, I think that is ...
Pasi Nikkanen:
Is it the watermelon, then?
Sami Kallio:
It might have. I've been talking about the watermelon quite a lot. It is. SLAs are ... You could also turn it that they are the small parts of the service. Kind of high level of one of the things you do in IT, or something. But on the other hand, like in service management area, you are always thinking how your resources are used. And now if one of those SLAs you are measuring is dominating ... Let's take an easy example, the answering speed of the phone. If that is 30 seconds, that takes resources away from the other things you do in IT. The service desk, do we have to have people waiting for those calls? And that is not then getting the end users more happy.
Pasi Nikkanen:
Yeah, yeah. Then SLAs show, if IT is delivering projects within right timeframe and budget, ignoring the true success of the project, then how does XLA then change this?
Sami Kallio:
In XLAs, you should be setting, and you should be thinking about, again, the value. So this is one of ... because my history is in delivering whatever projects, and very often as a project manager or program manager, you are measured by the budget and timetable. And then when doing the project, you are thinking that now the budget is over going and we are dropping this and this feature away. In fact, we are destroying all the benefits of the project. There is no valuable outcome any more, but you did meet the budget and you did meet the timetable, so you were successful. No way. You've just lost all that money that you used for the project, because in the end, you only delivered something that was not any more valuable.
Sami Kallio:
That's the thing, that when you are starting a new project, you should be thinking that from the perspective of what is the outcome of this project. And it's not timetable or money; it is the change that happened for the end users' benefit. So what was the application now doing better for them, and again, saving time and happier?
Pasi Nikkanen:
True. And I think you can also take this thinking to devops and agile world, which are not in a way a project with an end, but they are like this continuous cycle where you deliver stuff. And is it successful if you just deliver a new piece of code that doesn't bring any value to anybody, or does it have to be something that actually delivers ... Again, every iteration brings more value.
Sami Kallio:
I think that starts to go already to experience management. And there, the key point is that the difference between XLAs ... And that is that now in this project world, you are setting targets and recognizing those areas to develop. So we have the input for the agile way of working. This is the problem we are solving, and this is how we do it. And then you ... After the post you can say, "Okay. It really had an influence on the end user experience."
Pasi Nikkanen:
Yeah. That's why I think also, one of the things that we say here in the guide is that in SLAs, the measurement target stays the same, and in XLAs, it's constantly changing. And I also had this idea that maybe it's actually because in SLAs, you bring the targets from your ITIL process and availability KPIs. You bring those numbers into it. When in my opinion at least, it should be that in XLAs, you define the metrics that you use, but the target should be constantly evolve.
Sami Kallio:
Yeah. And it's ... Okay, maybe there most likely are companies that are doing SLAs in a way that they are changing the targets. So not really ... This is the ... Changing our process, you should be having, not that you first said, "Okay, this is the targets we have for these different KPIs," and then you think about, okay, this is great. We have this same for three years. This is what is really making our end users happy. Then you are in the watermelon, and I'm very deep that word, because you should be really finding those things to change where you can be better, rather than being able to show with the numbers that, "Hey, this is how great we are."
Sami Kallio:
Okay, that is one benefit. At some point you might be in that, but that's not the point. The point is to be developing and having interesting challenges for your own teams to be better, and being able to show that we are developing and we are learning. So I think that is the biggest difference between the SLAs and XLAs, is the attitude. And I wouldn't even in XLAs but yes, you should be updating the target, but not the overall target. That's not so important.
Pasi Nikkanen:
I totally agree. That's why I think that those targets are not so specific, that they're, "Okay, let's have 96% of satisfaction or let's have this or that and then we kind of stay in that level," but it's really for different services, different channels, you'd always have specific targets for different teams to actually [crosstalk 00:07:59].
Sami Kallio:
But even ... An example of what you could do wrong in ... You set a really high experience target, and then what happens in service desk is that you are still having password resets there. 20% of the things you measure are-
Pasi Nikkanen:
Coming from that one service.
Sami Kallio:
And that is all 10, 10, 10, 10, and that is making the experience score. You should not be ... You should automate those things that are the easiest one. Yes, it would mean that your overall score is dropping. Okay, you can measure also the other managed services, but some companies, I think that we can not do it because we wouldn't meet the target. And that's like, why? And that the target is then dominating using your own brains.
Pasi Nikkanen:
Yeah. That's probably why they don't want to do it. It's just because SLAs are focusing on sanctions. So if we drop our score, then we get huge sanctions. What about XLAs? I know that for example, the customer case that is on our website, the Ahlstrom-Munksjö, they have set rewards on their XLAs.
Sami Kallio:
Yeah, there are a couple of other stories there as well, like Virgin Trains. For their first intake nowadays, Avanti West-Coast, they have done the same. And all these companies who have started to have rewards, the cooperation with the vendors has changed dramatically. And after that, discourse has changed dramatically. So really, we'd recommend to everybody, think about that. It is your benefit that your provider is better and they have motivation to do things better. And when there is very, very clear benefits of making your end users happier and more productive, there is no point to try to save all the pennies and pounds and euros from the ticket price if you get better service. And that's ... Of course, it needs trust between the vendor and the customer, but I think the whole XLA or experience management, they don't work if you don't get to the level of trust. So if you try to handle things with sanctions, you already failed.
Pasi Nikkanen:
Yeah.
Sami Kallio:
That's it. This is an assumption that we are going to have a survey out in December. We haven't done that. Analyze our data from the perspective of what is causing that outsourced services providers are having less satisfied end users than those who are having internal services. And one of the assumptions we have there is that is it because of the sanctions? But let's say it's something I really ...
Pasi Nikkanen:
Yeah, yeah. All right. I think that's a really good wrap on the SLA versus XLA, and also in the guide, we have at the end, resources. We work with great partners who actually help companies defining these XLAs. So as we actually provide the experience management tool, we have listed those partners that actually you can contact and will help you on your journey. I think that's it. So as we say in HappyToday podcast, stay happy.
Related content