The 9th Global IT Experience Benchmark: H2/2022
In total, 1,642,555 end-user responses in over 130 countries were collected and analyzed in 2022. In this report, we focus on Overall IT Experience of enterprise end-users and IT Experience Management maturity among our customers.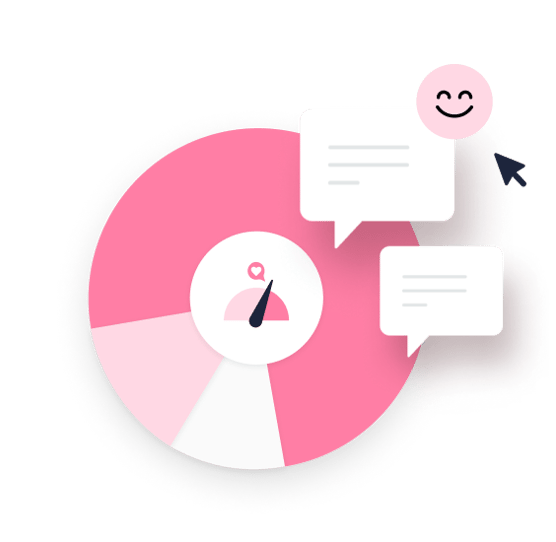 Understand how you can improve IT Experience for your end-users
If you're a CIO, IT Leader, Experience Owner, or Service Owner wanting to make informed decisions based on experience data, this report is for you.
Our Benchmark report is about how internal end-users perceive enterprise IT and how IT uses experience management (ITXM) practices in their work.
The IT Experience data in this report is based on 1,642,555 end-user responses. In addition to the end-user data, we conducted a
separate survey among our customers to understand their IT
XM
maturity and ways of working.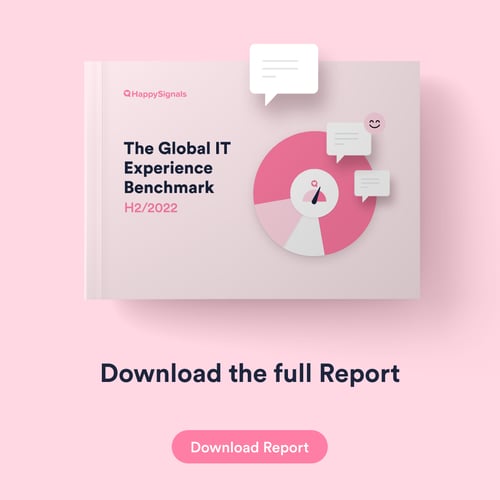 ---
Key Takeways
IT Support services have the most significant impact on the Overall IT Experience of end-users

The key benefits of IT Experience Management are happier end-users, focused IT teams, better decisions, and more motivated IT employees

Fewer sanctions are linked to service desk KPIs than two years ago
More than 30% of companies have or plan to start creating an Experience Management Office (XMO)

Service Portal happiness has increased +22 points in the last year.

More incident tickets are submitted through service portals for the first time than email and phone combined.
---
The State of ITXM in early 2023

A

significant

increase in awareness of Experience Management in IT

Different approaches for experience management are emerging

Understanding differences in definitions and approaches is important

HappySignals believes the human aspect of IT experience should be approached with the same level of sophistication as the technical- and process

-

related matters.

This ensures a real understanding of how end-users perceive value when improvements are made.
Enterprise employee IT Experience
awareness
has rapidly
improved
over the last 12 months. Th
is
increased interest leads to more stakeholders seeing opportunities in experience management. With more and more
case studies
provin
g
the
hard and soft benefits of experience management, one would have to live under a rock not
to
see the momentum experience has gained in enterprise service management.
Broader
interest means more eyes on experience management and more smart people working on capitali
z
ing on experience management. Consultants, service providers, vendors
,
and enterprises are trying to
determine
what definitions to use, which stakeholders to involve
,
and how to choose suitable tools.
Looking online, one will find
many
different definitions for Digital Experience, IT Experience, C
ustomer Experience
(C
X
)
for IT,
Digital Employee Experience
(
DEX
)
,
and
Experience Level Agreements
(
XLAs
)
.
The clarification around what IT or digital experience is
is
welcome, as
in
2021 and the beginning of 2022
,
it
had many people scratching their heads, wondering what all this experience talk was about.
At HappySignals w
e see Digital Employee Experience being an umbrella term including aspects of People, Process, and Technology related matters.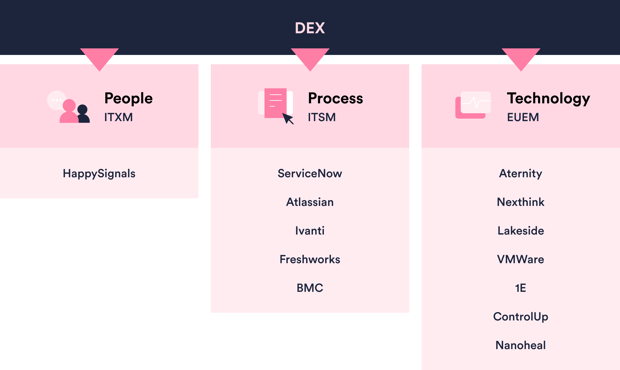 With different vendors, consultants, and service providers now offering guidance, templates, models, and opinions on XLAs and DEX, it's more important than ever to ask:
"How
do you define experience? How do you measure it, and who is meant to use it?"
S
ince 2014
, HappySignals has
been focused on a very simple principle: only people can experience things. The gold standard of knowing how IT is doing is asking how IT end-users perceive their experience and productivity with IT.
---
Data source and collection methodology
The Global IT Experience Benchmark H2/2022 Report presents and analyzes data from 1,642,555 end-user responses collected through the HappySignals IT Experience Management Platform between January-December 2022.

On this webpage, we mainly included the 2022 data and a few selected trends across time (from before H2/2022).
Where does the data come from?
Our benchmark data is collected from all HappySignals customers. These include large enterprises, as well as Managed Service Providers (MSP) who use the HappySignals Platform with their customers – enterprises and public sector organizations.

About 60% of HappySignals customers are using Outsourced Service Desk providers.

All responses are from IT end-users – employees using internal IT services – and reflect their feelings and perceptions about IT.
How is the data gathered?
HappySignals IT Experience Management Platform connects operational data (e.g. from customers' ITSM platforms) with continuous survey data from end-users about Ticket-based IT and Proactive IT areas.

Ticket-based IT (Incidents and Requests):
End-user responses are collected immediately when tickets are resolved. Surveys are sent after each ticket, asking end-users to accept the resolution by giving feedback about their experience. The average response rate for HappySignals customers is around 25-30%.

Proactive IT:
Surveys are sent proactively to end-users about Proactive IT areas (e.g. Overall IT Experience, Enterprise Applications, Laptops and Computers, Remote Work, Office Environment), rather than in connection with tickets. These surveys can be scheduled to target relevant end-users at optimal frequencies, enabling continuous measurement of non-ticket-based IT areas.

Data about IT Experience Management Maturity and ways of working:
This report includes some analysis of ITXM maturity among HappySignals customers. This data was collected through a separate survey that we sent to our customers in January 2023. The data contains answers from enterprise IT professionals. The survey was not sent to representatives of outsourced IT service providers on this occasion.
What data is gathered?

Happiness:
End-users rate how happy they are with the IT area being measured (e.g. recent ticket-based service experience, Enterprise Applications, Mobile Devices, etc) on a scale from 0-10.

HappySignals then calculates: % of 9-10 scores - % of 0-6 scores = Overall Happiness (a number between -100 to 100).

Productivity:
End-users estimate how much work time they lost due to the IT area being measured.

Factors:
End-users select from a list of suggested reasons – which we call Factors – that influenced their Happiness rating. Multiple factors can be selected.

The surveys automatically tailor the factors shown to each end-user depending on what IT area is being measured, and whether the Happiness rating given in the first question was positive, negative, or neutral. Examples of factors include "It was difficult to know where to start" (Ticket-based Services) and "Applications are too slow" (Enterprise Applications).
Key insights
Ticket-based services

(incidents

and requests), Collaboration with IT

,

and Remote

W

ork are still the highest rated areas of IT.

Service Portal Experience has gone up again and reached +37, which means service portal experience has increased by +22 points between full year results 2021 and 2022.

While end-users feel they lose more time with Remote

W

ork than with Office

E

nvironment

-

related issues, they still rate Remote Work +37 points higher than Office Environment.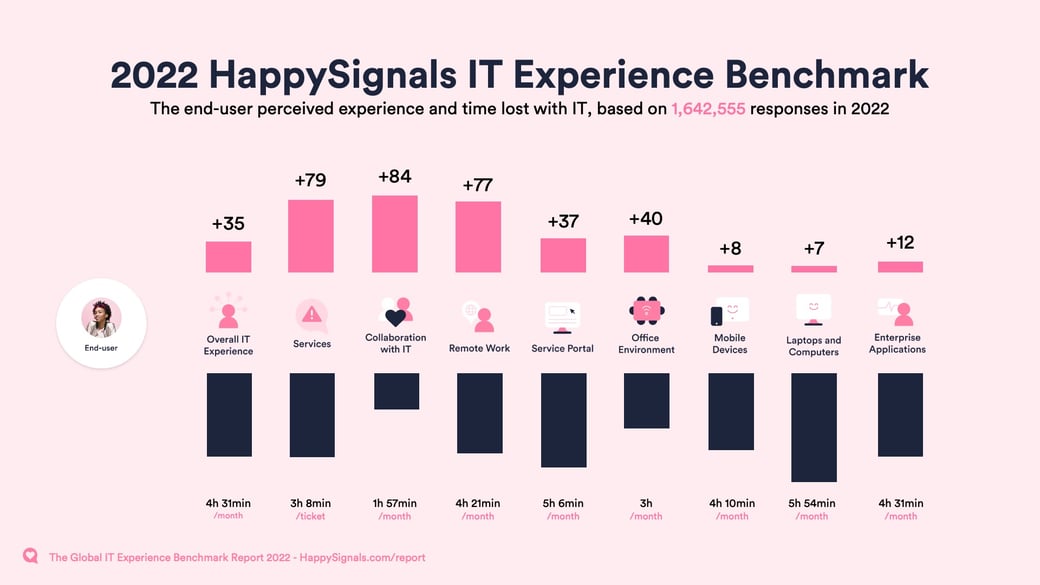 | | | |
| --- | --- | --- |
| Measurement Areas | 2021 Happiness | 2022 Happiness |
| Overall IT Experience | n/a | +35 |
| Services | +77 | +79 |
| Collaboration with IT | +82 | +84 |
| Remote Work | +64 | +77 |
| Service Portal | +15 | +37 |
| Office Environment | n/a | +40 |
| Mobile Devices | -4 | +8 |
| Laptops and Computers | +13 | +7 |
| Enterprise Applications | +16 | +12 |
NB! Numbers may vary from the last report due to data quality improvements, which have been applied to historical data as well for better comparability. Scores are calculated with the same mathematical model as NPS. (Read about What is the difference between NPS and HappySignals?)
What is the business impact of ITXM on Overall IT Experience?

One of the common mistakes is assuming which IT touchpoints make IT end-users happy. However, new customers are often surprised by the touchpoints that are highly rated by their end-users. Contrary to popular belief, IT services are frequently among the most highly rated IT areas.

If the goal is to enhance the overall employee experience with digital technologies, it's crucial to be aware of which areas are liked the most and the least.

Real-time experience data across different IT touchpoints provides valuable insights that facilitate conversations between IT, HR, and business functions.

Having a comprehensive understanding of the IT experience enables the company to allocate resources based on employee feedback data rather than the gut feelings of leadership team members. This, in turn, leads to a higher success rate in digital transformation projects.
This is the first time we have reported on Overall IT Experience. It
is not an average of all the measurement areas customers track but a separate one that captures the general perception of IT. It can be useful to see this as the reputation of IT within the enterprise.
This measurement area is our continuous measurement alternative to annual IT surveys to capture how people feel about IT in general and how much time end-users perceive losing in a month due to IT.
Once the end-users give their score between 0-10, they are prompted to select which areas of IT contributed to giving that score.

The image below represent the areas that end-users selected as contributing factors for giving their scores. IT Support Services is at the top of the list in all three scenarios.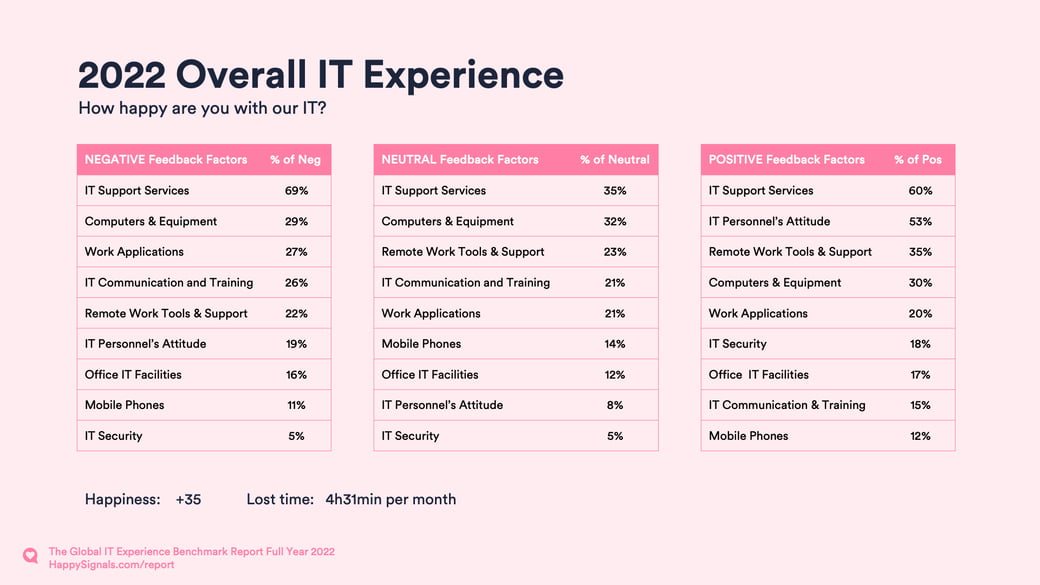 Understanding what contributes to the Overall IT Experience for end-users can be done by looking at how often certain factors are selected in negative, neutral
,
and positive experiences.
These results indicate that when end-users are asked why they are happy or unhappy, IT support services have the biggest impact on their overall IT experience.
If certain factors are seen with positive responses, but hardly ever with negative ones, it would suggest that
that
aspect of Overall IT Experience is important for g
o
od experience
but not so
crucial
for a bad experience
.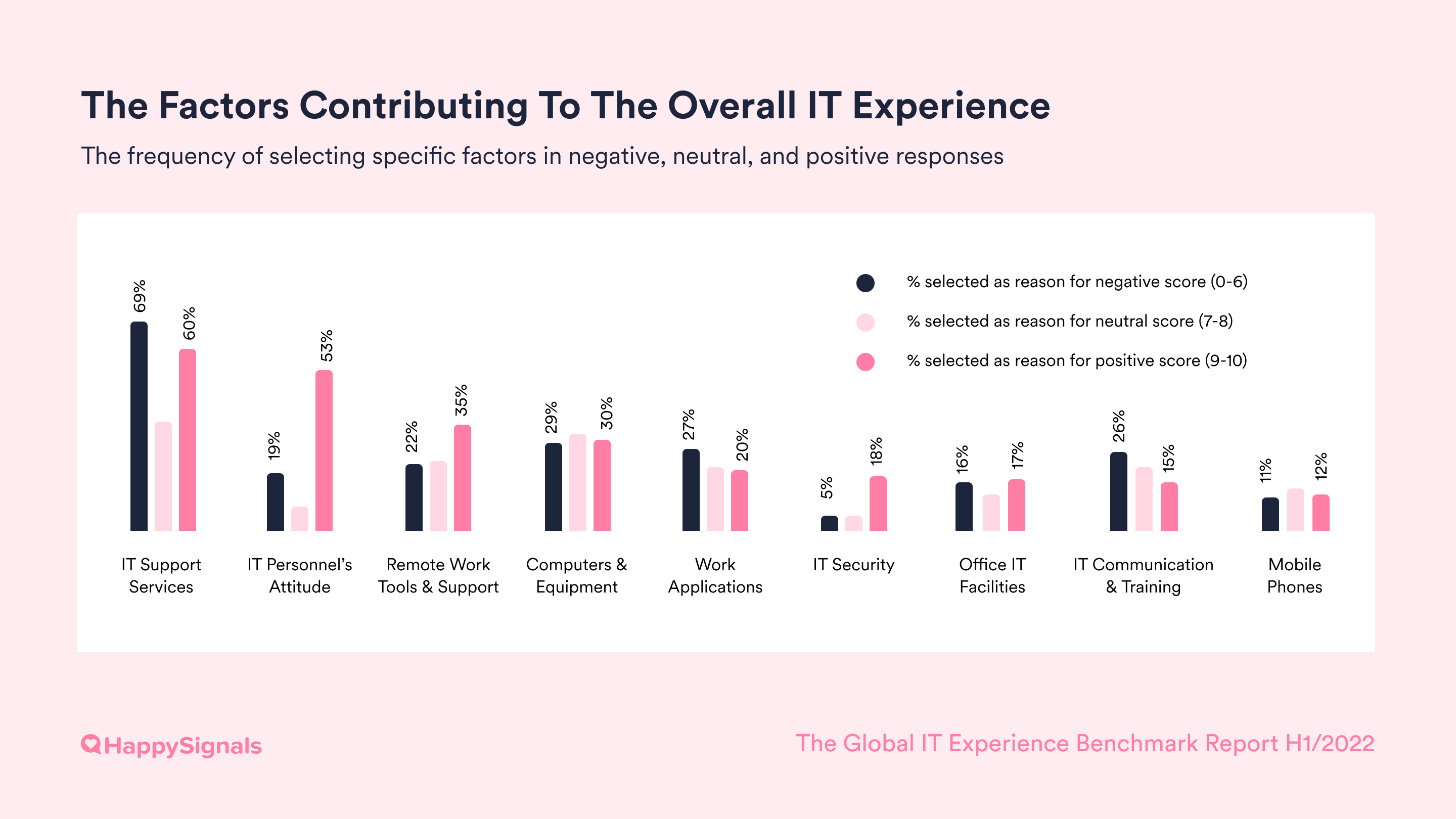 As expected, human connection is very important. End-users most frequently selected IT Support Services

(60%)

and IT Personnel's

A

ttitude

(53%)

as contributing factors to their overall IT Experience. Good service is appreciated

,

and end-users give recognition for it as well.

Remote

W

ork

T

ools and

S

upport are right behind the support-specific factors. This is logical, especially considering how much our customers have improved their

r

emote work experience over the last two years.

H

ardware and software could be something people expect to work without paying attention to them as long as they do. It still matters as around 30% choose Computers & Equipment as a contributing factor in all three feedback categories: negative, neutral, and positive.

It

'

s somewhat surprising to see IT Security being selected by 18% of respondents, but that could result

from

recognizing the importance of IT security - but being happy someone else takes care of it.
IT Support Services are

at

the top of the list

,

with 69% of respondents giving it as a contributing factor to the poor score.

Computers and Equipment are selected as a factor for poor scoring in 29% of responses, the second highest factor chosen in negative

(and

neutral) scores.

IT Communication and Training are mentioned almost twice as often

(26%)

in conjunction with negative scores as with positive scores

(15%).

Only 5% mention IT Security as contributing to a negative Overall IT Experience. This was somewhat of a surprise to us, as more stringent security often makes end-users go through additional safety measures related to IT, which could harm the experience.
3.1 Happiness with incident resolutions in different regions
Like in previous reports, we observe cultural differences in how end-users perceive IT services and lost time. For example, end-users in Western Europe rate their happiness with resolved incidents lower than Eastern Europe, despite reporting less lost time.
In this report, we did additional work with the data quality to eliminate the unwanted impact on the average score of high response volumes in certain countries.
Findings for regional differences for experience with incident resolutions
Western European end-users are still the most critical

(+72)

despite losing less time

(2h41min)

than in other region

s

.

The least happy country in Europe (and the world) is the Netherlands, followed by Belgium and Germany.

South American end-users are the happiest

(+89)

despite losing more time than in all other regions except Africa.

The spread of the happiness score between regions is higher with incidents than with requests.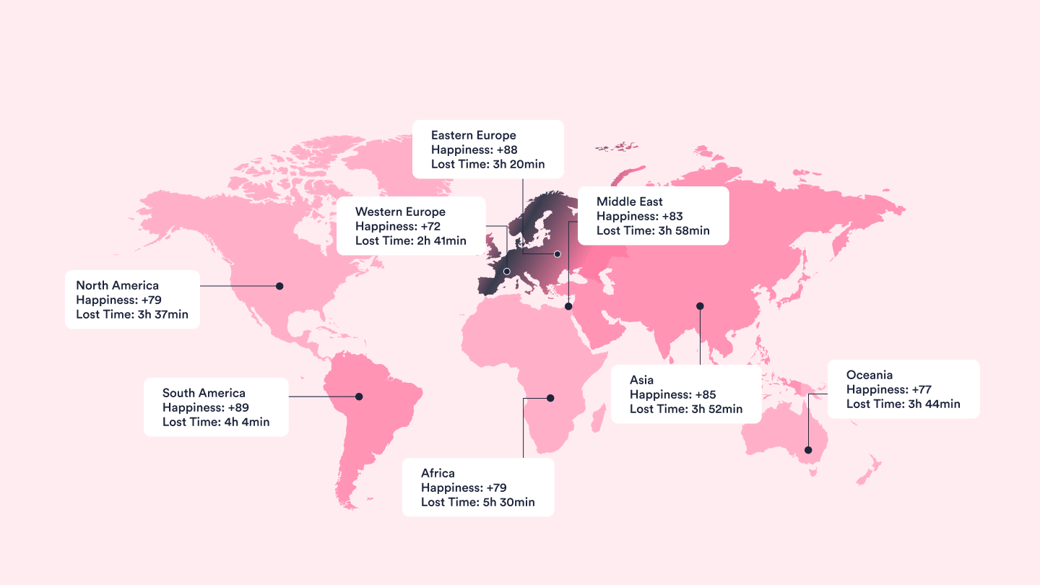 3.2 Happiness with fulfilled requests in different regions

Differences between regional differences for incidents and requests

We observe interesting regional differences between how the numbers vary between incident and request Happiness and Lost Time.

These numbers appear to suggest that Western European end-users are more demanding in handling incidents, but North American end-users have higher expectations for requests.
We'll continue to track these numbers and report more in-depth in future reports.

Findings for regional differences for experience with resolved requests
North American end-users are the least happy with requests and report losing over twice as much time as end-users in Western Europe.

End-users from the United states are significantly happier with requests than Canadien end-users, even if Canadien end-users report losing less time.

The spread in happiness scores across regions is lower with requests than with incidents, but the perceived lost time varies much more across geographies.
Western European and African end-users are at very similar levels of happiness, despite African end-users reporting losing more than 4x as much time with IT requests.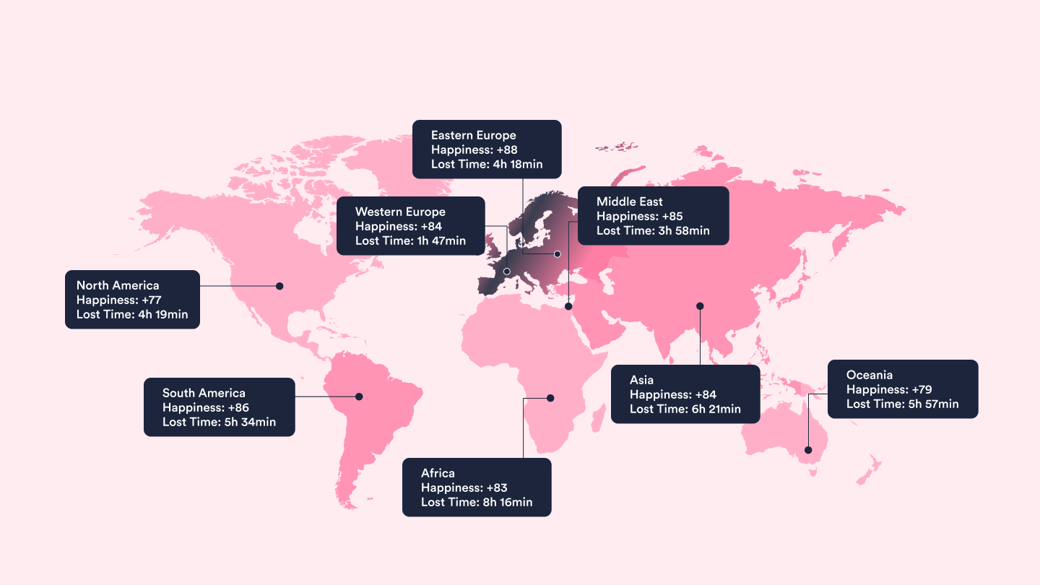 Key insights
Different cultures perceive and evaluate IT services in different ways. A specific score in one region is not directly comparable to the same specific score in another region. Having comparable benchmark data helps set expectations and provides an external angle for better understanding of end-user experience.
How to use this information in practice?

IT service desk leaders can compare the scores to the country benchmark data to choose which countries to focus on. Using the comparison to benchmark data (in addition to internal averages) can help avoid pushing agents towards unachievable goals, or reversely avoid getting too comfortable in regions where higher scores are culturally more common.