15 Tips for Starting with IT Experience Management
Experience management sounds like a great addition to existing IT management practices, but where does an experience-management newbie start? To help, this blog shares 15 practical tips for IT organizations, and their personnel, looking to measure and improve their delivered employee experience.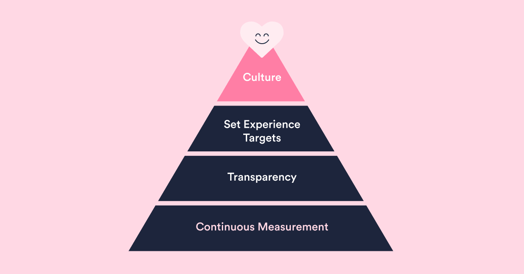 December 7, 2021
Employee, or end-user, experience management is a hot topic in IT right now, particularly when a productivity-based view of experience is taken – i.e. how an IT device or service, or an engagement with IT support, helps or hinders an employee with the work they need to do. It makes sense for many organizations – given that the traditional approach of cutting IT costs year-on-year, while good for the IT service provider bottom line, might be adversely affecting business operations and outcomes.
That it's suboptimal decision making, where a dollar saved in every IT support engagement might cost the employee being helped, and the business as a consequence, far more than this. So, experience management sounds like a great addition to existing IT management practices, but where does an experience-management newbie start?
To help, this blog shares 15 practical tips for IT organizations, and their personnel, looking to measure and improve their delivered employee experience.
15 tips for getting started with IT Experience Management
Start as soon as possible, and before change not after it
Some customers will say "We're going to start with this after we make some changes." Whereas we recommend that the best time to start experience management is always before making changes, not after.


Introduce experience management with specific goals in mind
These goals will likely differ by organization but it's important to remember that experience measurement and management is about improvement. If you're starting it because it's the latest IT trend, a good thing to do, or to make the IT organization look good, then you're not best-positioned to make the most of the opportunity.


Understand that the successful introduction of experience management requires culture change
Yes, operational and performance management changes will bring about better experiences and outcomes but for best success there needs to be an accompanying culture change. One that starts with recognizing and committing to improve how employees, or end-users, are impacted by the technology and support services they use. This can be thought of as building a human-centric culture in IT, where decisions are made with the primary aim of creating value for end users.


Be honest about the cost of introducing experience management (plus get the necessary funding)
That while the use of experience management will improve employee productivity and business operations and outcomes, which deliver both cost and revenue improvements, the IT organization might incur additional costs in doing so (with other business functions receiving the associated financial benefits, not IT).


Identify the key business stakeholders for experience management
These stakeholders will not only contribute to the scope of your experience management activities, but they'll also likely be the recipients of experience-focused reporting and analytics (in a format that best suits their needs) and be involved in the prioritization of potential improvement activities.


Agree on a definition of what experience management means to your organization
First, there are many different definitions of what experience management is out there on the internet. Second, and importantly, your organization's focus on experience management – and, therefore, its definition – need to be tailored to what it wants or needs to achieve. It's very important to "get everyone on the same page."


Recognize that traditional IT metrics fail to provide experience-based insight
There are so many issues with traditional IT metrics that I'll only cover a few here. For example, that these traditional IT metrics are often a supply-side, rather than demand-side, view of what's important. Consequently, they tend to be focused on the "mechanics" of IT service delivery and support such that they're focused on operational elements such as "how many" and "how long." This is what has been done, rather than the outcomes, i.e. what has been achieved through what has been done. The result is a perceptions gap between how well the IT service provider thinks it is doing and how end users view the provider's performance. Then, added to this, these traditional IT metrics are likely to encourage IT personnel to focus on the wrong things, encouraging the wrong behaviors in the process.


Don't underestimate how long experience improvement will take
Employee experience improvement is not something that happens overnight. In particular, the necessary culture change will require time. So, ensure that plans reflect this and manage the expectations of stakeholders accordingly.


Create an experience baseline (and do it now)
Not only to understand the experience "status quo," i.e. what end users currently think of the IT organization, but also to provide a point from which to assess improvements and achievements over time.

Set appropriate experience management targets
This is what your organization would like to achieve over the next three months, six months, or even a year. These targets bring focus to IT's planned improvement work and, importantly, it should be set out in terms of what matters most to end users.


Be prepared to see a drop in feedback "positivity" versus what the traditional metrics are showing
This is inevitable. If it wasn't, then people would rightly question the need for the introduction of experience management capabilities. Think of this as finally being able to get insight into what's working well and what isn't. It's not all bad news though because our customers, on average, find that 82% of feedback is positive, i.e. a 9 or a 10 in net promoter score (NPS)-scoring terms.


Start to identify improvement areas (including "quick wins")
As with other opportunities for continual improvement, these should be prioritized based on business needs (often pain points), costs, organizational change capacity, and other factors. There will likely be a number of quick wins that can be focused on initially to help promote experience management as a key corporate improvement capability.


Don't overlook the motivational opportunity of continuous real-time experience data
For example, service desk analysts can receive near-real-time positive feedback on their efforts that, unlike traditional metrics and data, is the validation of how they're helping their business peers (rather than simply knowing how quickly they're working).


Move the focus of periodical service review meetings from the traditional IT metrics to what matters most to end users Access to experience management data allows service reviews to focus on the issues end users are experiencing rather than the traditional metrics that highlight that the "mechanics"-focused service-level targets are being met. It's tackling what the IT industry has come to term "watermelon service level agreements (SLAs)" that are green on the outside but red on the inside – with the issues related to services hidden by IT's measurement of the wrong things.


Use experience measurement to help assess the impact of experience management introduction
As called out in the first tip above, experience measurement is a great tool for understanding the end-user impact of changes as they happen – with the ability to course-correct as needed based on how the changes are affecting the end-user experience and productivity.


All of the above tips contribute to an organization climbing up the experience-management pyramid shown in the image below, where each step builds upon the foundations laid by the last.
The more widely experience is measured and shared, the more effectively your organization can identify issues and improve its operations and outcomes. Then, once your organization has reached a good enough level of maturity in experience management, it will be able to complement its traditional SLAs with experience level agreements (XLAs).
If you would like to find out more about how to get started with experience management, learn about HappySignals IT Experience Management Framework.
Related content