The 10th Global IT Experience Benchmark: H1/2023
This report presents the findings from 860,339 end-user responses in over 130 countries. Discover our latest ITSM benchmarks as well as insights into response rates and the relationship between Time to Resolve and end-user perceived lost time with IT incidents.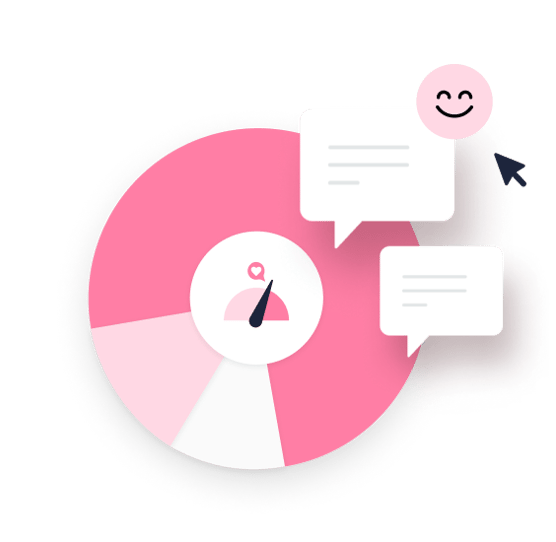 Digital vs. Human Experience: Understanding our Benchmark for IT Experience
If you're a CIO, IT Leader, Experience Owner, or Service Owner, you need to understand what the word "experience" refers to in contexts of DEX, XLA and other three-letter acronyms.
The HappySignals Global IT Experience Benchmark tells the story from an internal end-user perspective based on their experiences with IT. It identifies how people feel about IT across different IT touchpoints. Every response in the data represents an actual human relying on IT to do their daily work in large enterprises.
The data in this half-year report is based on 860,339 end-user responses from 130+ countries.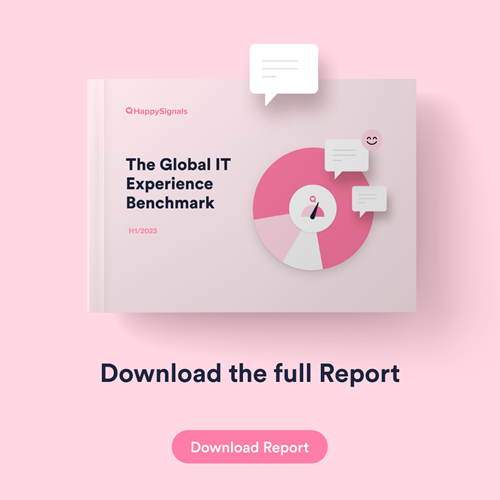 ---
Key Takeways
End-user perceived lost work time per reassignment has increased, increasing the importance for IT to understand the impact of reassignments.

Response rates vary significantly across countries, providing valuable insights into where end-users may not believe their feedback matters.
The faster tickets are solved the higher the response rate. Our data shows a linear relationship between how long a ticket is open and response rates.

For the first time, remote work satisfaction surpasses IT service satisfaction, indicating strong end-user appreciation for remote work capabilities and benefits.
---
The ITXM landscape in late 2023
The IT experience landscape is currently marked by two dominant approaches. HappySignals advocates direct end-user feedback, while Digital Employee Experience (DEX) relies on endpoint data and KPIs for aggregated scores.
A growing industry trend combines both data sources, focusing on enhancing the modern digital workplace experience. Understanding the benefits and trade-offs is crucial for IT organizations in this rapidly evolving field.
Defining and Measuring Experience
To navigate this landscape, IT organizations must first define and measure the user experience. At HappySignals, we prioritize a human-centric approach, where the end-user's perspective takes precedence. This perspective is similar to the experience of taking a car to the garage for a warning light and returning to find it fixed — for the end-user, the experience is the end-to-end view, while the diagnostic and resource planning steps are for internal purposes.
People, process, technology... in that order.
In the world of internal IT, users often lack choice in which technologies and services they can use. This means certain telemetry-based metrics, like usage time, etc, don't always indicate more than how long the application was used. Just because someone uses an application extensively doesn't guarantee a positive experience. Maybe the end-user didn't know how to use the application correctly, and that was the reason for the long time of use. We believe a human-centric IT experience approach helps drive better decision-making and highlights improvements that matter most to end-users. While process and technology analysis play a role, they can't replace direct end-user feedback.
Definition of experience in XLAs?
Choosing to prioritize understanding end-users means asking end-users how they feel, preferably on a continuous basis, to get a steady stream of experience data. It means asking for feedback from end-users, which means many can and sometimes will choose not to provide feedback. This is why response rates are often a topic of discussion when new customers are getting onboarded.
Some feel that the reliance on end-users to provide feedback can be replaced with process and technology data, omitting end-user feedback for XLAs. We believe this can and has already started to lead to "XLA Watermelons," which are similar to the symptoms that created the need for the "experience movement" in the first place.
This was recently highlighted by Gartner when studying how XLAs currently work when engaging with IT service providers. Gartner stated:
"... (IT) providers often disguise legacy SLAs as XLAs for clients, driving the wrong perception about the effectiveness of XLAs."

Clients often lack a proper understanding of what an XLA is and, therefore, are unable to articulate their requirements properly, leading to uncertainties and dissatisfactions related to implementation.
Humans are still the best sensor
It can sound cliché, but humans are still the best sensor when evaluating the actualquality of IT experience. While technology metrics and data analysis can provide valuable insights, they can never fully capture the nuances and emotions that users experience. The subjective feedback from end-users is essential to understand how IT services are truly perceived and utilized.
By prioritizing the voice of the end-user, organizations can gain a deeper understanding of their needs, frustrations, and expectations. This enables IT decision-makers to make informed choices that align with the actual user experience, leading to improvements that matter most to the people using the technology.
Choosing a human-centric IT experience acknowledges that technology alone cannot fully capture the user's perspective.
We hope that this benchmark report can help you, as representatives of IT organizations, better understand how you can improve your IT experience in alignment with end-user needs and expectations.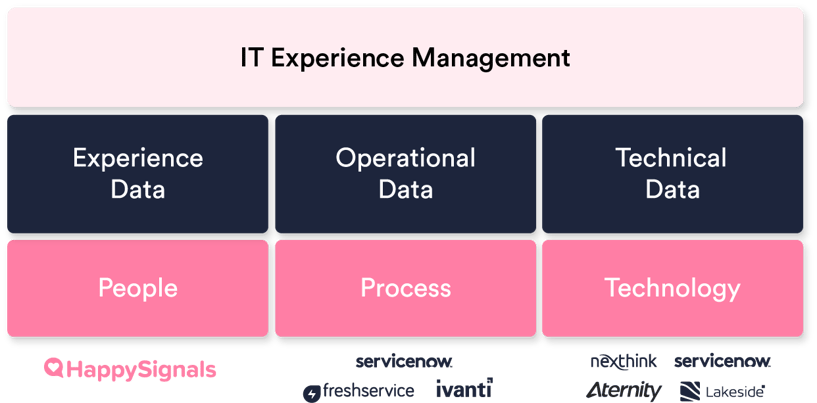 ---
Data source and collection methodology
The Global IT Experience Benchmark H1/2023 Report presents and analyzes data from 860,339 end-user responses collected through the HappySignals IT Experience Management Platform between January and June 2023.

On this webpage, we primarily included the 2023 data along with a few selected trends over a longer period of time.
Where does the data come from?
Our benchmark data is collected from all HappySignals customers. These include large enterprises, as well as Managed Service Providers (MSPs) who use the HappySignals Platform with their customers – enterprises and public sector organizations.

Around 60% of HappySignals customers are using Outsourced Service Desk providers.

All responses are from IT end-users – employees using internal IT services – and reflect their feelings and perceptions about IT.
How is the data gathered?
HappySignals IT Experience Management Platform connects operational data (e.g. from customers' IT service management (ITSM) platforms) with continuous survey data from end-users about Ticket-based IT and Proactive IT areas.

Ticket-based IT (Incidents and Requests):
End-user responses are immediately collected when tickets are resolved. Surveys are sent after each ticket, asking end-users to accept the resolution by giving feedback about their experience. The average response rate for HappySignals customers in 2023 is around 22%, with variations between different companies and geographies.

Proactive IT:
Surveys are sent proactively to end-users about Proactive IT areas (e.g. Overall IT Experience, Enterprise Applications, Laptops and Computers, Remote Work, Office Environment) rather than in connection with tickets. These surveys can be scheduled to target relevant end-users at optimal frequencies, enabling continuous measurement of non-ticket-based IT areas.
What data is gathered?

Happiness:
End-users rate how happy they are with the IT area being measured (e.g. recent ticket-based service experience, Enterprise Applications, Mobile Devices, etc) on a scale from 0-10.

HappySignals then calculates the % of 9-10 scores - % of 0-6 scores = Overall Happiness (a number between -100 to 100).

Productivity:
End-users estimate how much work time they lost due to the IT touchpoint being measured.

Factors:
End-users select from a list of suggested reasons – which we call Factors – that influenced their Happiness rating. Multiple factors can be selected. These factors could be seen as experience indicators, a term also used in the IT Experience Management area.

The surveys automatically tailor the factors shown to each end-user depending on what IT area is being measured and whether the Happiness rating given in the first question was positive, negative, or neutral. Examples of factors include "It was difficult to know where to start" (Ticket-based Services) and "Applications are too slow" (Enterprise Applications).
Key insights
Ticket-based services

(incidents

and requests), Collaboration with IT

,

and Remote

W

ork are still the highest-rated areas of IT.

Service Portal Experience has gone up again and reached +46, a new high since we started measuring it right after the Covid pandemic broke out.

While end-users feel they lose more time with Remote

W

ork than with Office

E

nvironment

-

related issues, they still rate Remote Work +41 points higher than Office Environment.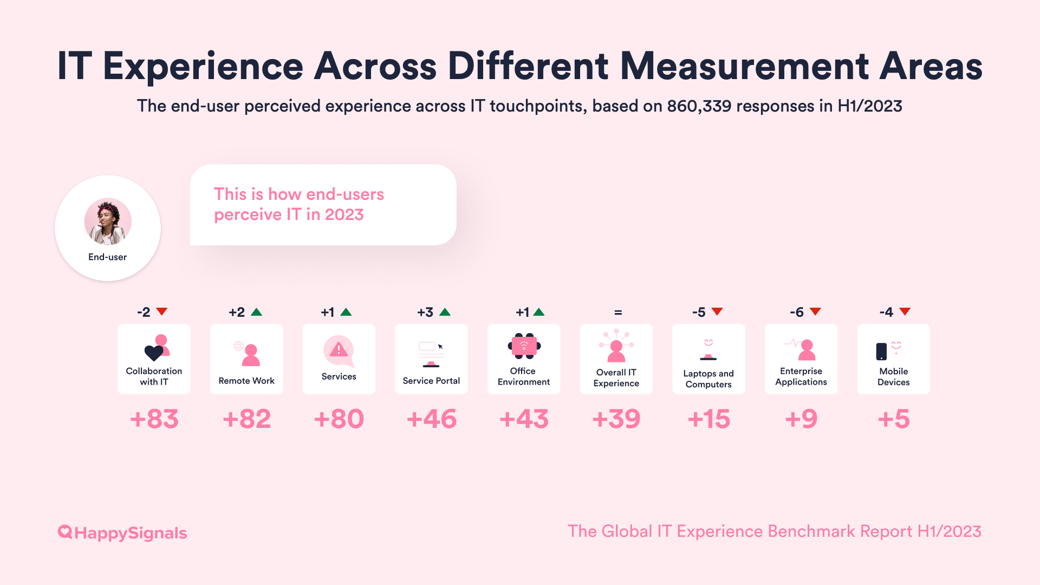 | | | |
| --- | --- | --- |
| Measurement Areas | H2/2022 Happiness | H1/2023 Happiness |
| Overall IT Experience | +39 | +39 |
| Services | +79 | +80 |
| Collaboration with IT | +85 | +83 |
| Remote Work | +80 | +82 |
| Service Portal | +43 | +46 |
| Office Environment | +42 | +43 |
| Mobile Devices | +9 | +5 |
| Laptops and Computers | +20 | +15 |
| Enterprise Applications | +15 | +9 |
NB! Numbers may vary from the last report due to data quality improvements, which have been applied to historical data as well for better comparability. Scores are calculated with the same mathematical model as NPS. (Read about What is the difference between NPS and HappySignals?)
What is the business impact of ITXM on the Overall IT Experience?

One of the common mistakes is assuming which IT touchpoints make IT end-users happy. New customers are often surprised by the touchpoints highly rated by their end-users. Contrary to popular belief, IT services are frequently among the most highly rated IT areas.

If the goal is to enhance the overall employee experience with digital technologies, it's crucial to be aware of which areas are liked the most and the least.

Real-time experience data across different IT touchpoints provides valuable insights that facilitate conversations between IT, HR, and business functions.

Having a comprehensive understanding of the IT experience enables the company to allocate resources based on employee feedback data rather than the gut feelings of leadership team members. This, in turn, leads to a higher success rate in digital transformation projects.
In this section, we look at the concept of Overall IT Experience. Unlike an average of our other IT experience measurement areas, it's a distinct measure capturing the overall perception of IT within the organization. Think of it as the "reputation" of IT within the enterprise.
The Overall IT Experience survey is an alternative to annual IT surveys. It provides continuous insights into how people generally feel about IT and the amount of time end-users perceive as lost each month due to IT-related issues. After end-users provide their scores on a scale of 0 to 10, they're asked to identify which specific aspects of IT influenced their ratings.
Below, we present the findings of the areas that end-users selected as contributing factors for their given scores. This data offers a quick and digestible view of the factors shaping end-user perceptions of IT services.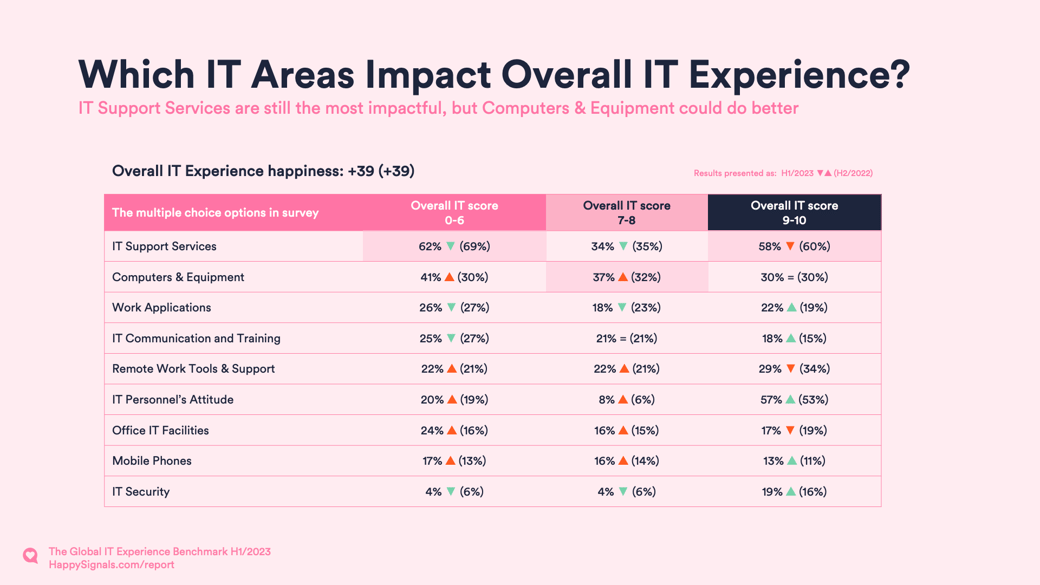 Understanding what contributes to the Overall IT Experience for end-users can be done by looking at how often certain factors are selected in negative, neutral

,

and positive experiences.

These results indicate that when end-users are asked why they're happy or unhappy, IT support services have the biggest impact on their overall IT experience.

If certain factors are seen with positive responses, but hardly ever with negative ones, it would suggest that

that

aspect of Overall IT Experience is important for a g

o

od experience

but not so

crucial

for a bad experience

.

Positive Scores


Based on the percentages of factors selected by end-users giving a positive score (9 or 10) for IT service management, here are some conclusions:


IT Support Services and IT Personnel's Attitude are Critical: The fact that 58% of respondents selected IT Support Services and 57% selected IT Personnel's Attitude as contributing factors suggests that the performance and behavior of IT support staff play a pivotal role in end-user satisfaction. It indicates that responsive, helpful, and friendly IT support is highly valued.
Quality IT Communication and Training Matters: The 18% selection of IT Communication and Training as a contributing factor shows that effective communication and comprehensive training are essential for end-users to have a positive experience. This suggests that clear communication about IT changes and user education can enhance satisfaction.
Remote Work Tools & Support is Significant: With 29% selecting Remote Work Tools & Support, it's evident that the ability to work remotely and the support provided for remote work significantly impact end-user satisfaction. This may be particularly relevant given the increasing importance of remote work in the modern workplace.
Hardware and Software are Important but not Dominant: While Computers & Equipment (30%), Work Applications (22%), and IT Security (19%) are important, they're not the most frequently selected factors. This suggests that having reliable hardware and software is expected, but it's the human and support aspects of IT that strongly influence overall satisfaction.
Mobile Phones and Office IT Facilities have Limited Impact: The relatively low selection of Mobile Phones (13%) and Office IT Facilities (17%) as contributing factors implies that, in the context of work in large enterprises, these factors have less influence on end-user satisfaction compared to others.
Potential for Alignment with Research: These findings align with existing research that emphasizes the importance of strong IT support, employee training, and remote work capabilities in ensuring user satisfaction in the workplace.

In conclusion, the most critical factors for end-user satisfaction in the context of IT service management in large enterprises are the quality of IT support services, the attitude of IT personnel, and effective communication and training. While technology and hardware are important, they're not the primary drivers of user satisfaction in this context. These findings emphasize the human aspect of IT support and service as the key to positive user experiences.

Neutral Scores
Based on the percentages of factors selected by end-users giving a neutral score (7-8) for IT service management, we see some differences compared to the positive scores.
Hardware and Equipment improvements could make people happier: The fact that 37% of respondents selected Computers & Equipment as a contributing factor and 16% selected Mobile Phones suggests that hardware-related issues are more prominent for users with neutral satisfaction. This indicates that ensuring the reliability and quality of devices is critical to improving their experience.
IT Support Services Remain a Consideration: While IT Support Services were selected by 34% of respondents, they were less dominant compared to those giving positive scores. It implies that some users with neutral satisfaction might be seeking better or more responsive support, but it's not as significant a concern as for those with negative scores.
Importance of Work Applications and Remote Work Tools: Work Applications (18%) and Remote Work Tools & Support (22%) are factors that users with neutral scores are concerned about. This underscores the importance of software applications and remote work capabilities in shaping their satisfaction.
Limited Focus on IT Personnel's Attitude: Unlike those with positive scores, users with neutral satisfaction (8%) selected IT Personnel's Attitude as a contributing factor to a much lesser extent. This may indicate that their primary concerns lie more with technical aspects than with the attitude of IT personnel.
Minimal Emphasis on IT Security: Only 4% of users with neutral scores selected IT Security as a contributing factor. This suggests that, for this group, security concerns are not a significant factor in their neutral satisfaction level.
Potential Areas for Improvement: The responses from users with neutral scores provide insights into specific areas for improvement. Addressing hardware issues, enhancing work applications and remote work tools, and maintaining a responsive IT support service is crucial to shifting neutral experiences towards more positive satisfaction.
Negative Scores
Based on the percentages of factors selected by end-users giving negative scores (0-6) for IT service management, here are some conclusions you might draw:
IT Support Services are the Primary Pain Point: A significant 62% of respondents selected IT Support Services as a contributing factor to their negative experience. This underscores the critical importance of responsive and effective IT support in addressing end-user dissatisfaction.
Hardware and Equipment Problems are Prominent: The selection of Computers & Equipment (41%) and Mobile Phones (17%) as contributing factors highlights hardware issues as a significant concern for users with negative scores. This indicates that equipment problems can lead to a poor user experience.
Challenges with Work Applications and IT Communication: Work Applications (26%) and IT Communication and Training (25%) are also factors contributing to negative experiences. This suggests that issues related to software applications and ineffective communication/training can be sources of dissatisfaction.
Importance of Office IT Facilities: The 24% selection of Office IT Facilities indicates that the state of the workplace's IT facilities plays a significant role in shaping negative experiences. This may include issues with infrastructure and facilities provided to employees.
Limited Emphasis on IT Security: Similar to users with neutral scores, only 4% of users with negative scores selected IT Security as a contributing factor. This suggests that security concerns are not a primary driver of their dissatisfaction.
Moderate Concerns about IT Personnel's Attitude: While 20% selected IT Personnel's Attitude, it's not as prominent a factor for dissatisfaction as support services. This indicates that while the attitude of IT personnel is a concern, it's overshadowed by more pressing issues.
Conclusion
End-user happiness with IT services is an outcome influenced by a combination of factors, including both people and processes. The quality of IT support services largely drives positive experiences, the attitude of IT personnel, and effective communication and training, highlighting the paramount role of the human element in delivering satisfactory IT services. However, the analysis also reveals that hardware and software-related concerns, such as Computers & Equipment and Work Applications, are equally vital in shaping both neutral and positive experiences.
In neutral experiences, the focus shifts to maintaining a balance between addressing hardware and software issues while ensuring the quality of IT support services. This suggests that neutral satisfaction is a result of addressing both people-centric and process-centric factors, emphasizing the significance of both the human touch and effective operational procedures.
In contrast, negative experiences are primarily process-related, with IT support services, hardware problems, and software applications playing central roles in shaping dissatisfaction. This highlights the critical need for process improvement, but it doesn't negate the importance of the human element in delivering IT services.
Ultimately, IT service management needs to consider a holistic approach to ensure a positive IT experience for end-users in a large enterprise setting.
Like in previous reports, we observe cultural differences in how end-users perceive IT services and lost time. For example, end-users in Western Europe rate their happiness with resolved incidents lower than those in Eastern Europe despite reporting less lost time.
In this report, we did additional work with the data quality to eliminate the unwanted impact on the average score of high response volumes in certain countries.
Key findings for regional differences in experience with incident resolutions
Western European end-users are still the most critical

(+74)

despite losing less time

(2h34min)

than in other region

s

.

Eastern European and South American end-users are the happiest

(+88)

with how incidents are resolved.

The spread of the happiness score between regions is higher with incidents than with requests.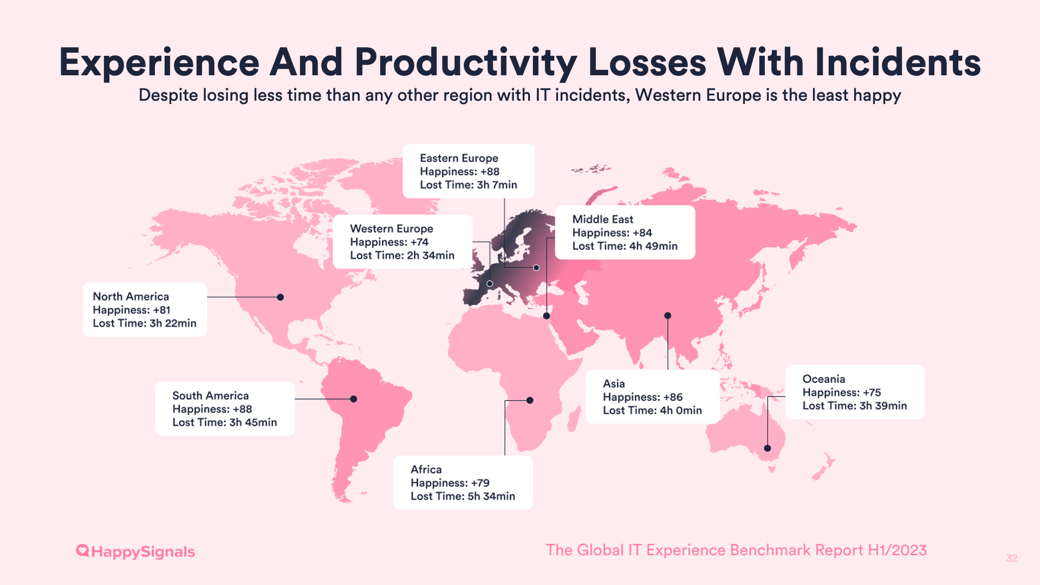 Happiness with fulfilled requests in different regions

Differences between regional differences for incidents and requests

We observe interesting regional differences between how the numbers vary between incident and request Happiness and Lost Time.

These numbers appear to suggest that Western European end-users are more demanding in handling incidents, but North American end-users have higher expectations for requests. We'll continue to track these numbers and report more in-depth in future reports.

Findings for regional differences in experience with resolved requests
Eastern Europe, the Middle East, and South America have the highest happiness with requests (+88) but display some differences in lost time, especially in South America, where the average lost time is 6h 20min.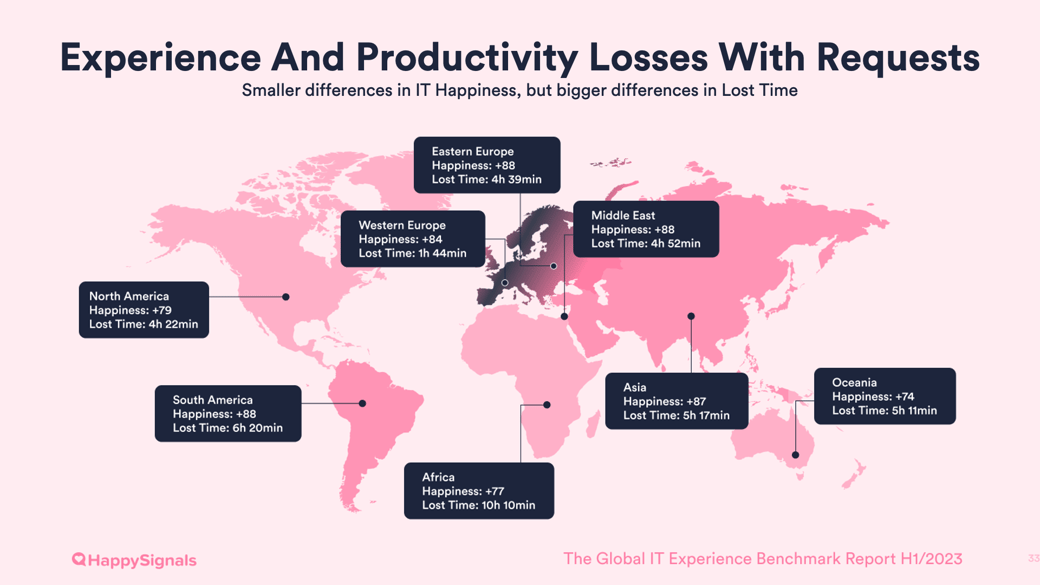 Key insights
Different cultures perceive and evaluate IT services in different ways. A specific score in one region is not directly comparable to the same specific score in another region. Having comparable benchmark data helps set expectations and provides an external angle for a better understanding end-user experience.
How to use this information in practice

IT service desk leaders can compare the scores to the country benchmark data to choose which countries to focus on. Using the comparison to benchmark data (in addition to internal averages) can help avoid pushing agents towards unachievable goals or reversely avoid getting too comfortable in regions where higher scores are culturally more common.
Regional differences in response rates
Understanding the variation in IT survey response rates across different countries provides a perspective that the overall average fails to capture. These variations can be attributed to cultural differences, local work dynamics, and user expectations. Taking these considerations into account allows you to work specifically on communication methods and support approaches to encourage end-users to provide feedback. Making sure end-users know their feedback actually matters is the best way to drive higher response rates.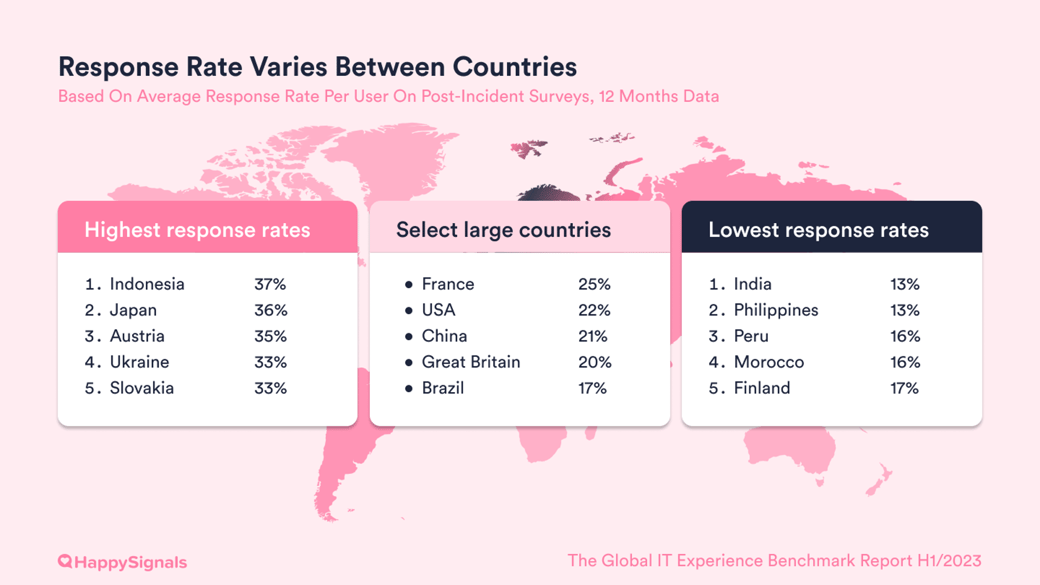 What influences survey response rates?
In simple terms, if the survey recipient doesn't believe the response to make a difference, then the motivation to fill out the survey will be low.
McKinsey studied this in more detail in this article and they conclude:
"A common belief is that survey fatigue is driven by the number and length of surveys deployed. That turns out to be a myth. We reviewed results across more than 20 academic articles and found that, consistently, the number one driver of survey fatigue was the perception that the organization wouldn't act on the results."
Therefore, when looking at response rates across different countries, we encourage you to consider if the end-users in low response rate locations really feel that their voice matters as much as those in high response rate countries.