4 Trends Driving IT Experience Management
By Sami Kallio (CEO, HappySignals) and Roy Atkinson
(CEO and Principal Advisor, Clifton Butterfield LLC)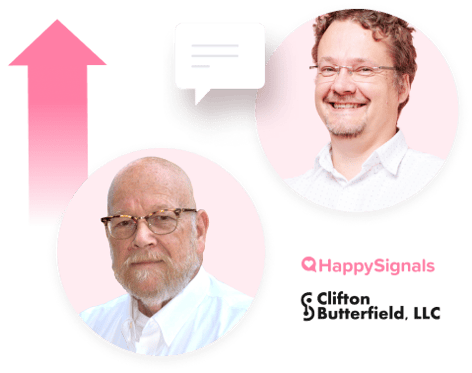 The use of IT end-user experience is growing
The measurement and use of IT end-user experience as a means to drive IT performance, increase productivity, and identify specific improvement is growing and will continue to do so.
The entire realm of IT experience management (ITXM™) is expanding, beyond being "just buzzwords." Gartner, among others, predicts rapid growth in this area over the next four years, by which time 50% of enterprises will be doing experience management for IT. It's not about raising a score, but about using experience data to guide decisions, mitigate risk, and retain top talent.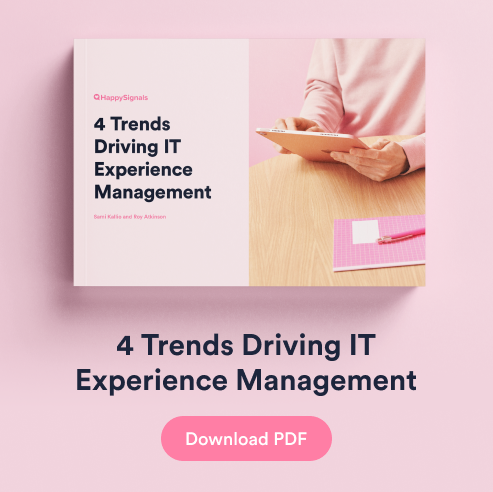 1. Digital transformation increases the importance of technology
Whether IT is considered to be a department within the larger organization or a capability of the organization, maturing digital tools are making digital workspaces a reality. Remote work, Machine Learning, and Natural Language Processing are bringing more and more work experiences to the screens of employees, and technology interruptions and failures are increasingly important to those users. This brings pressure to CIOs and IT directors to do more and, perhaps more importantly, show that what they're doing is producing business value.
2. Employee experience gains prominence
When we add to these trends the recent surge in employee departures – sometimes called "The Great Resignation," – organizations are looking for better ways to attract and retain top talent. While signing bonuses or attractive titles might get people into the organization, better experiences are what will keep them. Employees have to know that they're there for a reason and that the company values them and their work. Providing a solid environment with well-supported tools to accomplish the work is a key component in talent retention. People are "voting with their feet" and leaving organizations where they don't feel both motivated and appreciated. This makes cooperation between HR and IT more important and more real.
3. From management to leadership
There is another trend at work here as well, namely the move from management to leadership. IT leaders are not just managing IT but are part of the leadership of the company. This relates back to the concept of value, that is, the real contribution of technology to the production and delivery of goods and services to customers. IT leaders have to know how they're helping, and how they're making work better as well as more efficient.

We need to be thinking about how we're motivating people; it's no longer enough to define roles and expect people to move the organization forward. They need to be considered as "purpose workers" who understand why they're doing what they do and who can clearly see how their effort is contributing to the goals of the organization and its customers. It's much more motivating to use experience level agreements (XLAs) to see how things are getting better than to use SLAs to see whether things are running. Increasingly it goes even further as employees and customers think about sustainability and cultural impacts.
4. Increasing use of experience management
Without the insight provided by measures of end-user experience, IT has traditionally been guessing at what would make a difference, and busy measuring every aspect of technology delivery except how it affects the people doing the work.

Historically, IT has used service level agreements (SLAs) which basically define minimum levels of service. That is not good enough for modern businesses, and SLAs are rapidly giving way to XLAs which define the expectations of end-users. Instead of trying not to breach a minimum requirement, IT is learning to meet or exceed expectations. Over the year, there has been a shift from people asking, "What are XLAs?" toward people wanting to hear about the how of experience measurement and management; they don't need to be sold on the concept.

As we know, many organizations, especially at the enterprise level, are using outsourced IT services including the service desk. Since they're not part of the immediate organization, there are some interesting differences when it comes to experience management. As an example, when we start to measure companies that haven't done experience management, having a basic starting point for an enterprise having an outsourced service desk, we see that their Happiness Score™ is 54. On average, for organizations having an internal service desk, the starting point is 74. But after using HappySignals for more than one year, Managed Service Providers (MSPs) are getting scores up by 33%, while the internal IT service desk gains 11%. There's still 10 points difference in what they're scoring now, but MSPs are very good at changing their ways of working and recognizing what is needed. The focus shifts from who is shouting loudest to what can be improved to make a real difference.

Very often, the primary reason organizations choose to outsource is cost-saving; given that "you get what you pay for," this introduces risk. Experience management then becomes a way to mitigate that risk, and setting XLAs becomes an important factor in that risk mitigation. From the MSP's perspective, experience becomes a way for them to show that they're succeeding at what you hire them to do, so both the enterprise and its providers win.
To summarize, four trends that we see continuing for at least several years are:
Increasing dependence on technology platforms, part of Digital Transformation

Increasing recognition that end-user experience is an important part of recruitment and employee retention

The shift from management to leadership

Increasing use of experience management to guide improvements and mitigate risk
It's very important for IT to understand what, exactly, makes end-users happy and what is getting in their way, causing them to lose productivity. Having knowledge of the specifics of the end-user experiences – and especially where their pain points are – assists IT in making informed decisions about where to spend time, energy, and budget. Instead of developing elaborate projects based primarily on new technologies, IT is able to decide on specific improvements that increase productivity and deliver true value to the organization and its customers.
Discover more industry insights and trends from our Global IT Experience Benchmark Report.