IT's going all-In on Employee Experience, but where does HR fit In?
Where does Employee Experience sit within your organization? Is it HR, IT, or both that measure and improve it, and how much do they collaborate?

Explore how Employee Experience, Enterprise Service Management, and IT Service Management fit together with the work of HR and IT departments in this blog.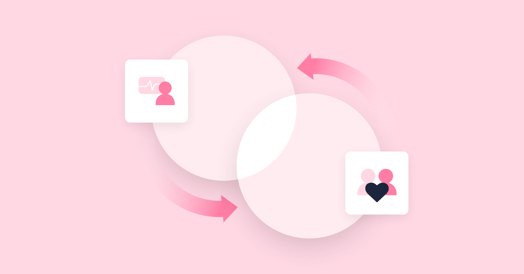 October 27, 2021
If I were to ask you,
"Who
owns the employee experience in your organization
?" what would you say. Even if you didn't know, I'd bet that you'd likely guess
"Human
Resources
(HR)
."
After all, it makes sense with them being responsible for
"all
things people."
Or perhaps, your IT department is leading and owning User Experience
(UX)
– after recognizing the value of improving employee experience through better IT service delivery, support, business operations and outcomes, while the corporate HR department is still focused elsewhere.

Maybe your IT department is considering joining many other organizations that focus on improving the employee experience and productivity, but how well integrated are your IT-focused activities with HR employee-experience-related strategies?
No matter who is driving the agenda for UX, to achieve optimal success, there is
a
need for IT and HR to be joined up on employee experience.
Understanding what makes up the employee experience
Let's start with a shared understanding of what employee experience is. For clarity, I'm sharing generic definitions
here
but appreciate
that
every individual organization will need to tailor something specific to their own needs.
First,
Jacob Morgan
– who describes himself as a
"4x
Best-Selling Author, Futurist, & Keynote Speaker" – has, for at least
5 years
, spoken and written about the
"Employee
Experience Equation" where:
Employee Experience = Culture + Technology + Physical Space


"I define employee experience as creating an organization where employees WANT, not NEED to show up to work, by focusing on three environments which are culture, technology, and physical space."
Jacob
split
s
the three equation components as 40% Culture, 30% Technology, and 30% Physical Space. The latter of these, of course,
has an impact on IT, as it
brings in the focus and capabilities of the corporate Facilities department
,
but
for the purpose of this article
I'm going to stick with IT and HR working better together.
A second, but more detailed, breakdown of what constitutes employee experience was shared in an early 2019
Forrester Research blog
, where it introduced its Employee Experience Index to the world: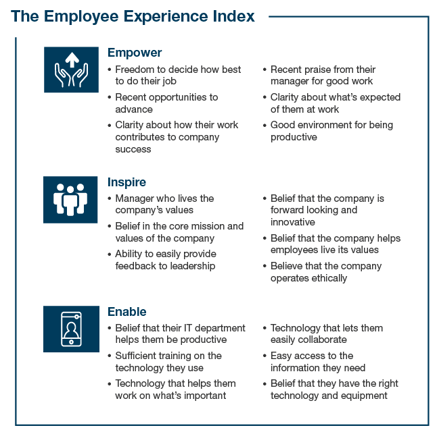 Source: Forrester Research (2019)
Again, there's a mix of factors influenced by both IT and HR within the Forrester Index, and nothing changes the notion that HR should own the employee experience, including the data that's being generated by IT and any other business functions that measure experience to make improvements.
So, if you agree that HR owns the employee experience within your organi
s
ation, are you sharing any IT-based UX data with them? And does that data correlate with other data sets the HR department might collect related to employee experience, including on its own performance?
This conveniently takes us into the realms of what the IT industry has so far called
"enterprise
service management
(ESM)
."
Can enterprise service management tie employee experience together across the organisation?
The practice of enterprise service management is to help improve other business functions' operations and outcomes through the use of IT service management
(ITSM)
thinking, practices, and technology. ESM is currently being driven by the need for process standardi
s
ation
,
optimi
s
ation, digital transformation enablement, and employee productivity improvement. All of which can be tied into employee experience improvement.
But just because an organi
s
ation has executed an ESM strategy doesn't mean the employee experience has been improved. If current ITSM practices are
"failing"
in employee experience terms, then sharing them with other business functions isn't going to improve the employee experience. In fact, it could harm it.
However, if a corporate IT department is already focused on improving the employee experience, then there's the dual benefit of both:
The ability to gain insight into the employee experience

The improvements enacted to date, in IT, can be shared across other business functions.
There are benefits related to different business functions working better together
,
as consistent practices and technology help break down the traditional functional silos
,
particularly in enabling employees to do the work they need to do. Employee onboarding is a great example of this in action.
Measuring employees' earliest exposure can help assess if your corporate employee experience strategy is effective
Some would argue that employee experience starts with the job advert, but a key early indicator of an organi
s
ation's employee experience is the
onboarding process. Something that's run by HR, albeit with the assistance of other business functions such as IT, Facilities, Security, Legal, etc.
T
he onboarding
process has long been the poster child for
ESM
thanks to the need for the various business functions to work together both efficiently and effectively.
When done properly it can result in significant improvements with the elimination of functional silos, drive consistent processes, enable shared data access, deliver end-to-end service thinking, and provide positive employee experiences across the business functions.
However, how do IT and the other business functions know what type of employee experience they're providing and
how it is related
to the other parties involved? If IT isn't measuring the employee experience, is it sharing its
"traditional"
service management metrics with the other business functions
(through
ESM)?
You know, the ones that focus on the
"mechanics"
of IT service delivery, support and operational aspects such as
"how
many" and
"how
quickly." These key performance indicators
(KPIs)
are typically based on what's seen to be important by IT, and no
t
the other business functions, but does not often enable the employees.
In fact, HappySignals' research has shown that 80% of IT's KPIs are set by IT
themselves
– leading one to question how well aligned they are to employee needs and expectations
(including
those related to employee experience). These
"inside-out"
metrics are then potentially extended to other business functions that will be using IT's view of the world to try to understand how well they are performing
(and
perhaps increasingly from an employee experience perspective).
Of course, thanks to these shared IT metrics,
ESM
will likely be shown to deliver both faster and cheaper operations, but will it also deliver better outcomes? For example, in terms of employee experience and productivity? And who is protecting the interest of employees in all of this
"ways
of working" change? Logic says the HR department, but the reality is
,
it's
likely
to be
no one.
"Who owns employee experience?"
In my opinion, the question of
"Who
owns employee experience?" is the wrong question. A more appropriate question is
"Who
do employees want to own employee experience?"
On the one hand, it's a
"can
of worms" that likely brings in personal perceptions related to different business functions. But, on the other, employees already trust the HR department with all things related to
people
. So, why would they choose a different business function? They might want a Chief Employee Experience Officer role, or similar, to represent and bring about the changes needed to meet their needs and expectations. But where would this role sit? It's ideally a people-focused role – so we're back in HR again.
There really is no logical or practical reason for it to sit elsewhere. The IT organization
might provide the enabling technology – for both experience measurement and improvements – but if this makes them employee experience's owner, then this logic would mean that they'd also be responsible for financial accounting because they provide the corporate ERP system.
Are HR teams in a similar boat to IT when it comes to employee experiences?
Let me park what we're doing in IT
in relation
to
E
xperience
M
anagement for a moment to look at our colleagues in HR
(and
my apologies if you're an HR professional reading this).
Corporate HR departments are often likely
"tarred
with the same brush" when it comes to employees' perceptions. For example, there's talk of HX
(Human
Experience) replacing HR as the importance of employee experience grows. I'll not comment on the creation of, and need for, yet another corporate acronym, but IT departments need to elevate their focus from managing the technology and services, to understand
ing
and improv
ing
how they enable employees, business operations and outcome.
Equally
,
there's a need for HR teams to elevate their focus from employees as resources, to be applied to corporate roles with defined responsibilities, to better enable the employees, business operations and outcomes.
In some ways, I keep thinking that employee experience and HR are very much an
"all
roads lead to Rome" scenario. So, it's not a question of who owns employee experience and whether HR needs to be involved. Instead, it's a question of how HR needs to be involved.
It's time to bring HR to the employee experience management party
Your organization's
HR department will undoubtedly already be involved with employee experience to some extent. Even if it
's
merely sitting
on
the
to-do list.
Now to drive employee experience management and improvement forward, there's a need for IT and HR to work together. Whether this is simply because they both contribute so much to the employee experience
(along
with Facilities) or because HR's people expertise can help IT
,
and IT's access to experience-management technology can help HR.
Importantly, while it might not take much to bring HR to
the
employee experience management
party
(and
they might already be there)
,
the real goal should be to get them to agree that it's actually their party. That they own employee experience and its measurement and improvement.
Logically, there's no better place for it to sit than with the people responsible for getting the most out of people.
While this is true for any organization
, it's especially true for those that are extending ITSM capabilities to other business functions – whether they want to call it enterprise service management or something else – where, without HR's ownership, different lines of business will be trying to measure and improve employee experience relative to their service and support capabilities
,
while missing the bigger picture of employee priorities that central ownership can deliver.
For example, not only does centralized
ownership and insight make it easier to source the financial resources to improve
,
it also helps to ensure that the investments are made in the most appropriate places and not in a siloed fashion.
So get HR involved with your employee experience initiatives. Or get IT involved in HR's improvement efforts. Either way
will
work i
f
your organization
has a joined-up approach to experience management and improvement.
If you would like to find out more about employee experience management, please go to our Learning Center.
Related content