47. CIOs are the Driving Force for Cultural Change, with Karen Ferris
Pasi and Sami are joined with the change management rebel with a cause - Karen Ferris. Karen has been working as a change management consultant for the last 3 year and in the episode, she discusses the events over the last year and how CIOs need to become the driving force for organisational cultural change.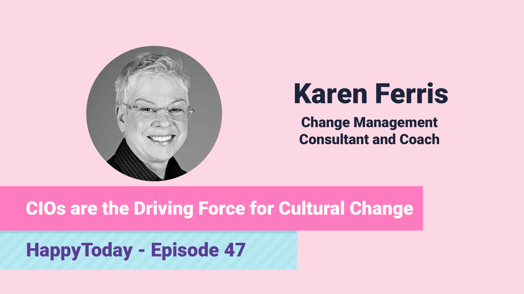 Pasi Nikkanen:
Welcome to Happy Today Podcast. This is a podcast for those who want to improve service experience of internal services. If you use ServiceNow or other enterprise service management system, then this is for you. In this episode.
Karen Ferris:
The CIO will be as responsible for the cultural change in your organization and the employee experience as the CHRO, because technology will drive that experience.
Pasi Nikkanen:
Hey, welcome to this episode of Happy Today Podcast. I'm Pasi Nikkanen, chief growth officer here at HappySignals. Joining with me today is Sami Kallio, our CEO, and then a special guest Karen Ferris from Melbourne Australia. Karen is a organizational change and service management rebel with a cause, acclaimed international as an author and speaker, and current provides both strategic and practical advice and insight to her audiences. And today we invited Karen to chat about the blog series called Change Management Strategy for IT. Welcome Karen. Happy to have you here.
Karen Ferris:
I'm very happy to be here too, thank you.
Pasi Nikkanen:
Cool. Part of the whole series is something that the COVID-19 showed us, that CIOs and their teams, they will need change management strategy to embrace this can do attitude and an agile approach that was actually now experienced maybe in a totally different way than ever before. So how do you see it? How should this change IT's attitude and their culture?
Karen Ferris:
I think it's a cliche to say the time is now. I think it really is. And the focus, the spotlight is now on the CIO and IT. And COVID-19 showed us that what could, can be done. We've been talking about digital transformation, knocking it around for years and years, and it's always been, Oh, we'll... There's been inertia, I guess. And then overnight, we had everyone working remotely, and we just did it. And I talk about IT as being one of the first responders. We often talk about the medical profession, but IT was one of the first responders. Their prime responsibility was looking after the safety of the employees at the organization and getting them working remotely and as safely as they could do it and they made it happen overnight.
And even just the whole thing about remote working, we've been talking about old policies and OH&S and everything else and that just happened. And I think the other thing as well that worked really well was the fact that... As a change consultant, people talk about people resisting change and I've always said people don't resist change when they understand the real reason for change. And we didn't get people resisting working remotely, even though they had to maybe work out of their laundry or at the end of the bed or whatever it was they had to, and the kids running around and everything else. But they did it because they understood the imperative. And that was the IT conversation is, we're going to give you as best we can initially to get you working from home. And then we'll do whatever needs to make your experience as best it can be. And people embraced it and just did it because they knew it was a matter of life and death, really, that they had to protect themselves and their families and work from home.
So, the change management strategy is now looking at, well, where does IT go from here? The spotlight is on. And I think there's a lot of stuff that can be learned from this crisis. And I really hate the term the new normal. And please let's not go back to a normal, let's look at what we've learned. We've learned a lot from this crisis. Let's embrace that learning. Let's reflect on that and create a better future as a result of it.
Sami Kallio:
I really agree with you with all of that. So it has been kind of a... Also, we have been able to see that from the data we gathered that now IT in this crisis is making end users happier than it was making them before the crisis. And I really have to say thanks to all the leaders and our customers. That was not an easy job to do. And really actually that there is something to learn.
But if you think about the time before this, that we were forced to change. What, from your perspective are the biggest cultural difficulties that the CIOs were facing?
Karen Ferris:
It's a good question, Sami. I think IT has always been in the shadows. It's been seen as, not everywhere, but generally, I'm generalizing, as a back office function, keeping the business going. Even though we've been talking about digital transformation, we're looking at AI, we're looking at robotics, we're looking at edge computing, we look at cloud, all this stuff is all IT. It's all sitting in the lap of the CIO and yet the CIO and IT haven't really had a seat at the table. And I think it's been hard for the CIO to get that seat.
I think now that we've had this crisis, and I said before, the spotlight's on the CIO, I think the CEO and the rest of the C-suite and now looking at the CIO saying, well, what's next? They've demonstrated what can be done, that they can transform the organization more or less overnight.
And I read somewhere, I wish I had said it but I didn't, that the CIO's been trying to get a seat at the table for a long time, but now the CEO is pulling the chair out and saying, sit down, which I think is a great analogy. And I think it is. I think there's a realization that the transformation of the organization is in the lap of the CIO and his or her teams.
And I think that's a big cultural shift. And I think because of that, there's a fundamental shift that the CIO is going to have to make. And in the series of the blogs that I'm writing, there's one that's talking about the CIO and the CHRO being a partnership. And I think it's [Gard 00:06:52] that said that the CIO will be as responsible for the cultural change in the organization and the employee experience as the CHRO because technology will drive that experience. And it's going to be absolutely critical to IT and the CIO to know what that experience needs to be, which is why it's that partnership with HR to say, well, what do we need to provide our employees to provide a better experience? And where's the data coming from which is in the lap of your guys, what you do, HappySignals, is how do we know if we're doing the right things? How do we know if we're increasing the experience?
And I think even more so, I think the CIO's got to have, or IT. And it's not exclusive to the CIO. But those communication skills, the skills that we call the soft skills, I call the hard skills. The communication, the listening. What do people really need? Are we really listening? Are we just making assumptions? And I think IT's got to come out of the basements and get out there and talk to the employees and talk to customers and talk to consumers, talk to constituents and find out what they want, what they need, what their experiences are. It doesn't mean we have to deliver all of that, but we need to be having that conversation. And I think that's a big culture change for a lot of IT departments in organizations.
I think the technology companies have been doing it, but I think the IT departments in organizations have not been up and out there talking to the business.
Pasi Nikkanen:
[crosstalk 00:08:37]. I also saw this one article that CIOs actually can teach a lot to the CHROs about data. And it's something that actually the HR managers should understand that they can get that support from the IT guys like, how do we get the into data driven mode?
Karen Ferris:
Yeah, absolutely. [crosstalk 00:09:00]. Absolutely. It's a true partnership. And I think the days of the employer engagement survey once a year are gone. People maybe filled them in but then what? Never heard anything. Nothing changed. And so less people filled it in the next time. It's got to be a continual conversation however that conversation's carried out. It doesn't have to be a face-to-face verbal conversation. But enabling that two way exchange and conversation to take place is absolutely critical.
Sami Kallio:
And what has happened now during COVID is that before this, HR was really responsible for employee experience and including engagement, and it was seen that what is in the office, do we have enough Coca-Cola for everybody and all that what happens at the office? That's was in a very, very core of what you do to make people happy to work with you. And when that is taken [inaudible 00:10:01] your work [inaudible 00:10:03] when you are at your laptop. Then it comes that it really the experience of the whole enterprise start to be employee engagement. And where I work is IT is in everything what I do, it what related to my work.
And in that sense, I believe actually that CIO is now more and more responsible of the employee engagement or employee experience as a whole. I don't want to be HR director now. It's quite, quite hard. You are taking care of people's health maybe. They got very, very important area of work they have to now do as well.
Karen Ferris:
Absolutely. You're right, Sami. What is the data? What's informing us that we're doing the right things? And I think the big challenge that all organizations have now is that there's a recognition that work is what we do, not a place we go. It's not a location. It's just what we do, wherever we do it. And there's just been a lot of benefits when people... COVID has had devastating impacts, but it's also shown us that a lot of people do like the flexibility. They're more productive working at home.
They lay out their own hours, they can rearrange it around the children or whatever commitments they have. They've got the commute time back. They've got more time on their hands, et cetera, et cetera. And the organizations generally, I think, I know how. I say, when we go back to whatever that we go back to a hybrid situation where people can work from home if they want to and they come in the office if they need to. And they have that choice. The challenge is how do we maintain in that engagement when we have that mix of people physically in an office and people working remotely? Because it's a very different situation than we've ever had.
We have managers, I don't call them leaders, managers who feel they have control of their teams or they have management of the teams when they can see them. They're sitting in front of the laptop. They're there at nine and they leave at five. Now they have no visibility. And I'm reading lots of scary stuff at the moment that some organizations are doing to monitor keystrokes and time in front of the laptop. They can actually see what's on the employee's screen. Because that's the only way they feel they've got control. And that is a really scary effect that this pandemic has had.
Pasi Nikkanen:
I think the way we talk about cultural change in HappySignals is that actually for the IT department, they're usually like full of smart people. You need to now give them a more like a outcome goal, like a focus of what you need to do and making the employees happy and productive. It's an excellent goal for an IT team now. It's not anymore that just keep the system up and running. It's more like, Hey, we actually doing this for the other people working for the organization. So I think-
Karen Ferris:
Yeah. Every organization's now a technology organization, isn't it? Every company is a technology company regardless of what you do. And again, IT is at the forefront of that. IT's been looked at now to not just keep the lights on, not just to keep the systems running, but actually give the organization that competitive advantage. And whether it's process or technology it's people first, people have to be first and forefront. And if you have, as you guys know engaged employees, you have increased productivity, motivation, inspiration. And at the end of the day, it affects the bottom line because there's more profitability as a result.
Sami Kallio:
Yeah. That is exactly what we believe in that if people know better what is their target, what they are aiming for, that task gives them motivation which change everything. And that in IT has been from my perspective, a kind of a lost power or something. Because if your task is closing tickets or keeping servers running, the task isn't motivating. But if your task [crosstalk 00:14:36].
Karen Ferris:
It's that sense of purpose, isn't it? And we've lost that in many organizations. And we've talked about it for a long, long time about cascading that the objectives or the strategy, the goals of the organization down so that everybody can actually relate what they do to the overall outcome that the organization trying to achieve. And it's never really worked. So I'm closing tickets in the call center on the service desk. How does that relate to what the organization is trying to achieve? And if I can't make that connection, I have no sense of purpose. What's motivating me to do things better.
I think it's absolutely imperative that we have those conversations with people and that we have leaders in the organization that can make those links. So they all know how we're contributing to what the organization's trying to achieve.
Sami Kallio:
Yeah. I think for SRS using term purpose workers, I love it. It has a very, very good, easy point in that.
Karen Ferris:
I like that, purpose workers-
Pasi Nikkanen:
They're talking also about the resilience of the workforce. Anything you want to open up a little bit that-
Karen Ferris:
Yeah. I think it's interesting. I do articles on social media about leadership, about resilience, about CIO, whatever. And the list for leadership is always a big one even though it's a generic word. The list for resilience would come out about half a page of articles. And now it's like three pages. It's the biggest buzzword. And it's just to me lost its meaning. I've been talking about it for a number of years now about how we need to increase the resilience of our workforce in the face of constant change, disruptive change and unprecedented change as we've just seen. And this pandemic won't be the last thing that hits us. It could be another financial crisis. It will be something around the corner that we're not seeing coming that we need to be ready for.
And we need a workforce that has the mindset that this is our norm now, that constant change and continually shifting and changing direction is the way we go. And we can't expect or we're not going to have three months, six months, nine month plans set in stone that we all work towards because... I mean, we might have the intent, but the chances are the competition or consumer demand, customer demand, something will change, that means that we have to change direction and we have to adapt.
And we need to work with every employee in the organization to get that mindset that this is our norm, but also give them the resources to enable that resilience. At the moment, most of the resilience programs we're seeing in organizations... And there's nothing particularly wrong, I'm not knocking them, but they don't provide people with the resources to be more resilient given the context they find themselves in. So, for example, if I'm faced with what I perceive as a negative situation, I probably need to look at reframing that. If I am faced with a change or multiple changes, maybe I need to look at how I can adapt and shift to embrace those changes.
I could have a lack of self-confidence. So how do I increase my self-belief? So there's lots of things that I work with organizations to say, well, what's the context you find yourself in? So what do you need to do to build that resilience? A lot of the programs we have, they give you an app that give you a little woo-hoo at the beginning of the day or help you do self reflection and meditation. And that's all good. There's a place for that. But if I'm certainly faced with a negative or a challenge that I just have no idea how I'm going to overcome it or attack it, meditation might not be the right solution to that. It might be that I need to look at collaboration and problem solving and lots of other resources I can pull on to be more resilient.
Pasi Nikkanen:
I think that's the moment when you need real innovations, that you'll be solving a problem with innovative workforce.
Karen Ferris:
Absolutely. because if we don't have innovation in the workforce, the organization is going to die a slow death. Because someone else is ready to do it. And I talk to organizations even in Australia, the government organizations, and I don't think it's unique to Australia, often you have a part of the workforce that, we work for government. Jobs for life. And I'm like, no. There's parts of what you do that someone else could come along and say, we can do that faster, better, quicker, cheaper. Why wouldn't that get outsourced to those people? That's your job. So it's not jobs for life. There's always going to be competition. It might not be that they take over the taxation office or they take over whatever it might be as a government agency, but they can chip at it and take bits of it away until it's all dispersed.
Pasi Nikkanen:
Any last words, any last questions?
Sami Kallio:
It has been really great to discuss. I wish we could continue this for half an hour at least more or two hours. I feel like it just started. But when discussing something about the culture and that kind of stuff, it is really motivating for me because as I said in the beginning, that is one of the areas where I feel that there is a big change needed. And IT is not in many companies really driven by right pockets. And I think that is the one thing that really if CIOs are able to change their own organization from the perspective of is this why we are here, this is what we work for. And this is... Then there are smart people doing better planning than one CIO can ever do.
And that just generating a [inaudible 00:21:17] that on their own level do they work with the customers or their own employees or real customers. It doesn't matter. But if they have the right mindset, it start to work totally differently. And even up at the office now you have to have that mindset for everybody because they will anyway be in those connections on their own.
One thing I want to share that to you that I was thinking earlier, we are measuring that remote working. And in that we are asking if people are happy for it or unhappy. So the people who are happy with it, there is 45,000 people saying that they feel that this efficient. Only 3000 they're saying it's unefficient. I think that really underlines that... I hope nobody's thinking that they're just going back to normal and forcing these people back to office because that would be a harder thing to do because now what you said that everybody was motivated, understood reason for remote working. They are not going to understand why we are going back to the old way. And that is one thing that everybody has to, at least, I believe that is something CIOs and IT has to realize that, Hey, I don't have to go back.
Karen Ferris:
Absolutely. I couldn't agree more. Yeah, I totally agree. And I do hear some organizations saying, yes, we'll all be back in the office by whenever. And I'm like, no, please give people the choice.
Pasi Nikkanen:
I guess there's good news. Wasn't it Microsoft that announced that after this thing is over, they allow people to work wherever they want from. So, I think those big players showing the way help it out.
All right. But then Hey, if people want to learn more, read more, what is, Karen, the best place to get in touch with you or find your material?
Karen Ferris:
There they can hop on over to Karenferris.com. There's no dot between Karen and Ferris, just Karenferris.com.
Pasi Nikkanen:
Perfect. We'll add the link for the other listeners. Hey, thank you so much. And I think it's time for us to hit the sack and go to sleep. And I think it time for you to start your day. So as we say in the podcast, stay happy and stay safe.
Karen Ferris:
Thank you.
Sami Kallio:
Thank you.
Pasi Nikkanen:
Thank you.
Related content