Where the Core ITIL 4 Practices Link to Experience
This article shares where the need for better experiences, and consequently experience management, is called out in the core ITIL management practices.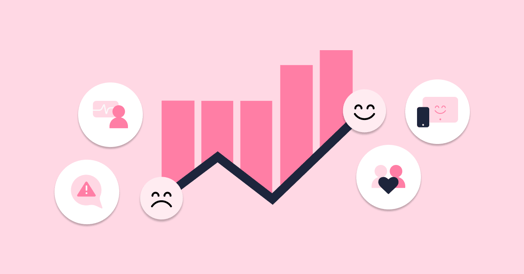 March 29, 2023
If your organization understands the importance of experience management to IT service delivery and support, have you stopped to think about where its IT service management (ITSM) capabilities, and the best practices it employs, are affected by the need for better employee experiences?
To help highlight this, this article shares where the need for better experiences, and consequently experience management, is called out in the core ITIL management practices. These are covered alphabetically rather than by adoption levels, so not all will necessarily apply to your organization. But first, there's a need to mention the proverbial "elephant in the room" with what ITIL 4 says on employee experience.
The experience elephant in the ITIL room
When looking for mentions of employee experience in ITIL guidance, sometimes you'll find it but most times not. However, it's not that experience isn't mentioned in the majority of the 34 ITIL 4 practice guides. Instead, it's the terminology used, as shown in the first of the ITIL 4 practices detailed below, continual improvement.
ITIL 4 doesn't call out employee experience; it mainly discusses user experience. Plus, sometimes ITIL 4 refers to the service experience. The exception is the workforce and talent management practice guide (not covered here, but in an upcoming blog) which is peppered with mentions of employee experience. This terminology difference needs to be borne in mind when considering the linkages between employee experience and ITIL 4.
Additionally, if your organization is still using ITIL v3/2011 (and many are), back in 2011, customer experience (CX) was still in its infancy, with employee experience still to become an important ITSM "thing."
Continual improvement
While we see continual improvement as the strongest link between ITIL 4 and experience management – with experience data used to drive improvements in the right places – there's only one mention of user experience in the continual improvement practice guide. This appears in the text about assessing, prioritizing, and approving improvement opportunities:
"Improvement outcomes can positively impact value in many areas. Typically, they will provide time or cost savings, enhance the user experience, reduce risk, improve culture, or achieve compliance with regulations."
Sadly, in my opinion, this statement takes what can be seen as a reactive perspective of employee experience rather than a proactive one – viewing improved experience as a result and not a driver of change. Continual improvement is also the only relevant mention of experience in the incident management practice guide.
Incident management
Incident management is commonly where our customers first start to use experience data to understand and address issues. The ITIL 4 incident management practice guide calls out experiences when outlining the process of continually improving the incident management approaches:
"… an overview of the incident management records at certain intervals will help to identify positive experiences and room for improvement; share knowledge between specialist teams; identify new types of incidents; and improve or introduce incident models."
Again, in my opinion, there's insufficient mention of experience management in the practice guide, likely due to the timing of the ITIL 4 practice guide creation pre-global-pandemic – just before the significant uplift in industry interest and action related to employee experience and productivity. However, the service desk practice covered later offers far more insight into the importance of employee experience and its improvement.
Measurement and reporting
While likely not considered a core ITIL 4 capability, due to it being embedded in other ITIL process guidance before ITIL 4, performance measurement capabilities and metrics have long been core ITSM needs.
While experience management is reliant on experience data and experience-focused metrics, there is only one mention of user experience in the measurement and reporting practice guide, related to leading metrics:
"These leading indicators are not informative to the customer or users but improving them can positively impact the user experience."
Service catalog management
The service catalog management practice states, "To ensure that service catalogs are used and meet stakeholders' requirements, it is important to measure and evaluate service catalog usage. The easiest option is to survey stakeholders' satisfaction; in many cases, using technology allows for user experience to be monitored directly (use patterns, favorite view settings, search requests)."
It also states, "The service catalog management practice includes promoting the service catalog and ensuring the catalog is adopted across target audiences. Adoption is based on the positive experience of catalog users."
So there's the need to measure user experience in the context of service catalog usage, but the practice guide doesn't state how this can be done. Similarly, specific skills are identified to "define and agree service catalog standard views for key stakeholder groups" – these are understanding the available tools and user experience – but what the latter entails is not described.
Service desk
The ITIL 4 service desk practice is where experience starts to gain traction, with multiple references to experience. It begins with "The service desk practice involves establishing effective and convenient communication channels between users and the service provider. Usually, there are multiple channels and a need for effective channel integration to provide seamless, convenient user experience."
The service desk practice also defines service empathy as "The ability to recognize, understand, predict, and project the interests, needs, intentions, and experiences of another party in order to establish, maintain, and improve the service relationship."
There are other experience mentions too:
"The more convenient the service becomes, the better the user experience will be."

"A seamless user journey, in which is it possible to switch between channels without losing or corrupting information, facilitates a positive user experience."

"Automated validations can be built into the user journey to enhance and customize it and limit the variability of user experiences."
With a final mention of "real-time service experience data" when the key functionality of automation solutions for service desk activities are considered (for gathering and processing receipt confirmations and feedback).
It certainly digs deeper into the need for experience data and management, but there's no guidance on the "how." The ITIL 4 service desk practice doesn't have the most experience mentions, though; that's the workforce and talent management practice (and this does talk about employee experience), which is covered in a separate article.
Service request management
The ITIL 4 service request management practice starts with, "Service requests are an important type of user query and an important part of the user experience."
There's a second (and third) mention, "Note that service requests are a form of user query and a way to initiate certain predefined activities significant to service experience. The same activities may be initiated differently, and although technical operations may be identical, their role in the user experience would be different, as shown in Table 2.1."
But there's still no guidance on how to understand what's needed to understand and improve upon the delivered user experience.
Service level management
The ITIL 4 service level management practice is another full of experience references. It states, "… a sustainable service relationship is only possible if the agreed service level is constantly achieved and, most importantly, customers and users are satisfied. This satisfaction is based on their service experience and includes both agreed and implied service quality."
The service level management practice scope includes: "… tactical and operational communications with customers regarding expected, agreed, and actual service quality, as well as their service experience. This includes the collection of feedback."
The service level management practice guide also shares what's needed to measure user experience in a section that covers "Key aspects of service quality and examples of service level metrics":
"Number and frequency of user errors

Number and frequency of returns to a previous step (for example, back-button usage)

Number and frequency of interface help requests

Number and percentage of interrupted service actions (quitting the interface without completing a service action)"
But this doesn't really get to the bottom of how employees feel about the service and support capabilities they use. This issue is somewhat rectified when the best practice guidance finally talks about applying the ITIL guiding principles in establishing a shared view of target service levels:
"Focus on value – Focus on outcomes for the service consumer organization and on user experience more than on technical details and associated metrics."
A final mention of experience returns the reader to continual improvement: "Improvements can also be initiated in areas such as the practice's processes, tools, or other resources, with the aim to improve the practice and associated customer experience." The use of "customer" here is not defined, but it's likely to be internally rather than externally focused.
What this means and what you can do
There are many mentions of experience and its importance to service management in ITIL 4. This inclusion is great, with the ITIL authors recognizing its growing importance in the organizations where the collected best practices were sourced before 2020.
However, while the text repeatedly calls out the need to focus on user experience, there's little best practice to help readers or adopting organizations to focus their attention and efforts on experience improvement. In many ways, this is due to ITIL 4's publication timing, with it published just ahead of employee experience gaining critical mass in ITSM. The caveat to this is the slightly later published workforce and talent management practice guidance, which is covered in a separate article.
So, if your organization is an "ITIL shop" looking to add proven experience management capabilities to help improve IT service delivery and support capabilities in conjunction with ITIL best practices, get in touch with the team at HappySignals to see how they can help.

Related content