#XLA - Is Happiness Overrated with Giarte CEO, Marco Gianotten
Today the guys are joined by the CEO of Giarte, Marco Gianotten, discussing today's topic; is happiness overrated? This episode dives deeper into the metric of happiness, the importance of keeping end-users happy throughout their IT experience, and achieving greater value through a continuous happy experience.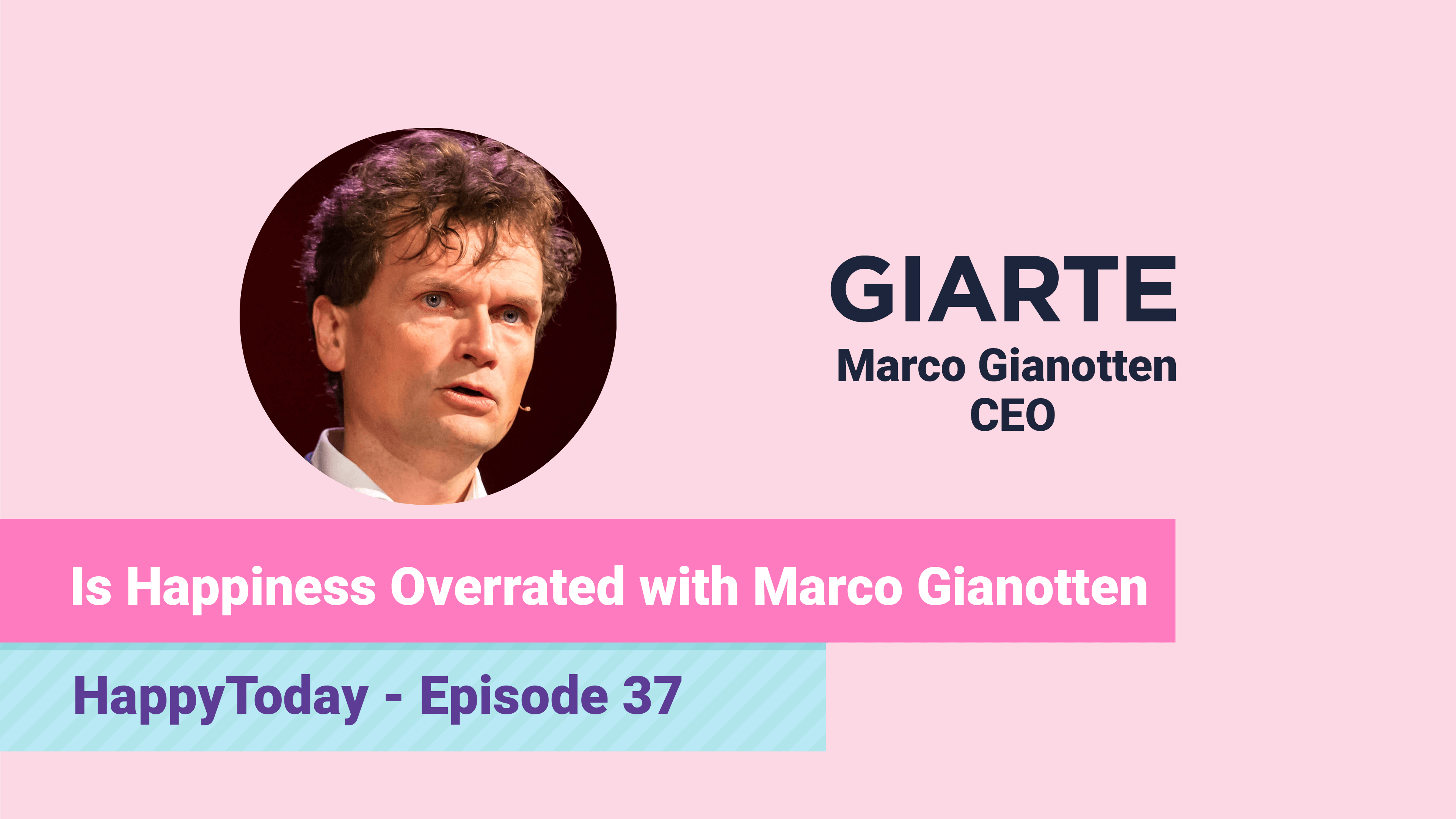 Pasi Nikkanen:
Welcome to happy today, podcast. This is a podcast for those who want to improve service experience of internal services. If you use ServiceNow or other Enterprise Service Management System, then this is for you. In this episode, "If I'm a happy user, I can add more value to my work."
Pasi Nikkanen:
All right. Welcome to this episode of HappyToday podcast. Today's topic is, Is Happiness Overrated? And joined with us today is Marco Gianotten; you're the CEO and founder of Giarte.
Pasi Nikkanen:
Welcome Marco, maybe you could do a quick introduction of yourself?
Marco Gianotten:
Yes. Hi, I'm Marco Gianotten. I'm based in Amsterdam. I have an Italian last name, but I'm Dutch and most people know me in Germany and Belgium and the Netherlands as being an insultant. So I'm a very friendly insultant, try to persuade people in the IT industry. IT Service Management Industry to see the bigger picture, what they're doing, and how they can add value.
Pasi Nikkanen:
Excellent. And I think that's really why this podcast has been created, as well. And like we were discussing earlier, I think we are both part of this movement of experience. How is your history? How did you end up on this road? I'm talking about experience and outcomes and so on.
Marco Gianotten:
It's a very interesting question. I started when I graduated, I wrote a paper, a thesis on Ikea decision-making in the boardroom. And I had talked to a lot of executives, had no clue what IT was doing, and they had a very negative perception of IT; they were spending a lot of money.
Marco Gianotten:
Anyway, so I gave all this money, one reason, I don't want to talk to these guys. And so there was a disconnection between the boardroom and IT, but also between the end-user and IT, and the customer in IT. And this is a great industry, IT, but somehow it's like the big bang theory. People don't understand IT. And I think people within IT have the best intentions. They want to have great products, great releases. They want to have a super service on the [inaudible 00:02:22], but somehow it doesn't work out that way.
Marco Gianotten:
So I started working for It companies, and then I moved into the IT Service Management industry. And then I came up with a lot of struggles from companies using tons of KPIs, very big SLAs. And then I came up with a nickname. I called it not Service Level Agreements, but Secret Lies and Assumptions, to state that maybe we're trying to do something good, but actually it has the opposite effect.
Pasi Nikkanen:
Yeah. And now the topic for the day was about happiness. And you kind of mentioned that many times happiness itself is seen like me, myself, and I.
Marco Gianotten:
There's a whole discussion about happiness and I love the happiness indicator. So I'm not against happiness. I love happiness. Also, if you look to Americans, the pursuit of happiness is it's a right, like life and political freedom, but happiness also, in the agile industry, it's about team happiness. It's about art. Am I happy? It's not just am I'm happy, is my team happy? Are others happy? Instead of thinking about myself, more focused on meaning.
Marco Gianotten:
If I'm a Happy user, I can add more value to my work. Meaning is more important than just happiness, and happiness is something that's very fluffy. It's an important outcome. So if you put something in, like an IT service, that's called input, and I solve a ticket, or release a new application, and then the user is getting happy or he's frustrated, or he gets the hang of it and he understands he could be productive. And if he's productive, he just does a better job. People make more money eventually for the company. So it's about input, outcome, and impact. And happiness is really important, but what's the next step?
Pasi Nikkanen:
Yeah. Yeah.
Marco Gianotten:
There's also something about measuring happiness, because if I experience something, I have a memory and I start rethinking about the memories. So there are two things in an experience that are very important. The first one is, in time. So if I have a ticket, the ticket is closed or I get a new workplace or I get a Service Request, that's something that happens in time.
Pasi Nikkanen:
Yeah.
Marco Gianotten:
But there's something called Blursday. You ever heard of Blursday?
Pasi Nikkanen:
No, obviously.
Marco Gianotten:
Blursday is the day that you don't know what day it is. So you're on vacation, it's a beautiful... Is it Thursday or Friday? I don't know. Blursday is also something like, "I don't know when it happened, but it feels good." So if I'm loyal to you, or if I recommend your company, it's not about something that happened in time. It's something that I experienced over time.
Marco Gianotten:
So happiness is great to use as a metric for in time measurement, but also look at the over time impact of all the little IT experiences I had, and that makes me happy over time and helps me to be having an opinion about IT. I said, "Well, I think these guys are doing a great job." And it also opens me to new experience. So happiness is important. Happiness has to lead something like productivity or having a better work day. And happiness is important from an in time perspective, but even more important from an over time perspective.
Sami Kallio:
That was interesting, for me what resonates in the workplace, happiness is really much about the meaning of work and that comes to whatever project work we are doing in IT, or when it comes to Service Management. If everything we do is measured by how fast we are, and are we in budget, then that is what you are thinking about. Like an IT project, you have a team of people doing something and the deadline is 15th of September, and the budget is 200. If that's the thing, when you go to work, if that is your aim, and that is the first thing about certain projects that you're on, that's not meaningful work. That is not motivating. Only some of us are so motivated by the company money that that is driving you, but not really.
Sami Kallio:
It is that what the project is there for, what we are changing, that makes it meaningful. And it can be a huge project, or it can be just a ticket we are talking about. If you are doing it for some purpose, that makes it more meaningful for you. And that's, I think, the core IT has been doing quite badly.
Marco Gianotten:
And that's the same what happened, it's amazing, you guys do amazing stuff and you measure stuff. But also, I remember that you publish a report that people are more happy with an internal service desk than an out sourced service desk. And the question is why?
Marco Gianotten:
Well, suddenly we started using metrics as a way, we have to pick up the phone within 20 seconds, but well, then we put people on hold because we have to meet the KPI. So think of KPIs, Key Performance Indicators, as Key Proudness Indicators. Does it make you proud to solve an incident within a couple of minutes, to pick up the phone in 20 seconds, first time fix of a certain percentage. It actually, it doesn't make you proud, and it doesn't make someone happy.
Marco Gianotten:
If it makes someone proud, if I'm an IT guy and I deliver you a new application or new release, and within a couple of weeks, people say the new version is much better than the old version. And it took me a little time to learn so I had a learning curve. Now I'm be more productive and that's the information you need to make sure you're doing a great job. Because, if you do a job that's meaningless, it's a bullshit job and people get unhappy. If I'm not able to make the end user or the customer happy, eventually I will be unhappy myself.
Pasi Nikkanen:
So true. And is it also that, because we have the topic on happiness, is it overrated? That's why we need to have the secondary metrics, something like productivity, because people don't know, can't yet believe, that just making somebody happy is enough. They still need to have these additional metrics. So how do you see that? How do you explain this to a CDO or CIO that just making somebody happy actually creates all these other goals as well?
Marco Gianotten:
You have three perspectives on value. The first one is output. I deliver a product. Output is focused on the quality of a product. I deliver a product within a certain timeframe or a release. That's product based. It doesn't say anything about the value it has or the problems it solves for me. If you close a ticket, it doesn't mean that my problem actually doesn't occur, or I am able to work. Maybe I found a workaround. Maybe I'm totally stressed because you said you only can be able to solve it within four days because it's what they have prior for. I don't know what the hell this is? So with you guys focusing with happiness or even like a net promoter score, or customer effort score, whatever people measure, or customer delight, is about outcome.
Marco Gianotten:
So now we're in the stage of outcome, but eventually outcome will lead to impact, and impact is well, the monetized performance goal. It could be a waste reduction, or a lean IT. It could be moving the needle in productivity and make sure you have the best workforce in the world. And eventually it will help for evaluation, for profit, for renewals, for growth, but you put the number on it. So we focus on input in IT, what you guys are doing is more outcome based, but eventually the CIO or CDO or CFO or COO or CMO pops the question, "Okay, where can I see it?"
Pasi Nikkanen:
Yeah.
Marco Gianotten:
"How can I move the needle in my supply chain?" For example, at Heineken, it's a great example, they were focused on helping the blue collar worker in the brewery to make sure to use all the data from IOT devices in the brewery. What happened is, the operators were more happy because they can have the insights and they could solve their own bottlenecks, but they have to make beer?
Marco Gianotten:
They were able to solve the bottlenecks and it impacted the Operational Performance Indicator on the supply chain that moved up. And eventually that makes more money for Heineken. It started with an initiative that made the operator happy, and because operate was happy, he was brewing a better world, less energy, less water, more beer, less hiccups. And at the end, it had a monetary impact. And if you show the monetary impact, for example, if you have happy users, you have less incidents because there's less rework and it saves you money. Okay. That's something I understand.
Pasi Nikkanen:
That's really good because yeah-
Marco Gianotten:
You can only save money if you do the right things; if you don't provide quality, if you try to optimize a product or optimize a profit, so you make a product, you think it's better, but actually you never ask the customer and there is no outcome, then you go the wrong way.
Marco Gianotten:
If you want to optimize your TCO by just reducing cost and outsourcing the service desk to India and say, "Well, I save a lot of money," but you never looked at the outcome because the people are unhappy and are not able to work, then you are on the wrong direction too.
Marco Gianotten:
If you just focus on the financial impact, or you just focus on the product itself, you're missing the whole evaluation or your value discussion, and this happens in IT Service Management, it also happens in Agile, it happens in ITIL4 because the word "value" is used. Like happiness, it's about valuable software, it's about seeing and acting based on the value.
Marco Gianotten:
The value is about the output because the product has to be right, because if there's not an IT service, why should you think about experience? I still need a service desk, otherwise, I'm not able to create an experience, but if the service desk creates a bad experience, okay, that's the wrong outcome. And if a great service desk or server desk creates a bad outcome and bad financial results, because you have a lot of rework, well, that's, that's a double miss.
Pasi Nikkanen:
Yeah. I really liked that idea because now the happiness becomes the culture and the way of thinking that actually leads us then to those impacts that you were saying like you said-
Marco Gianotten:
An impact is also a-
Pasi Nikkanen:
If you tried to go to the productivity savings directly, that's all the bad things that happen that you just mentioned. You outsource something and you do that, then you kind of miss that point on how you lead your IT department. How do you give the common goal for the IT department, giving them the goal of making people happy and experienced. That's easy for everybody to understand and get motivated to come to work, like you were saying earlier.
Marco Gianotten:
Yes, so happiness is important, and it stays important, but you have to look at the value horizon. So the value horizon of anything we do in IT, whatever, it's about output. Output tells the story of what you make and deliver, that's the quality of the product. Is it reliable? Is it available? Is it scalable? And even the skills you have on the Server Desk are called output because you need people with skills.
Marco Gianotten:
Second one is about outcome, and outcome tells the story of the customer's problems you solve, or the user problems you solve, whatever. It's a vital sign of the performance improvement and all the new possibilities. So happiness or time to market is part of the outcome.
Marco Gianotten:
And then the third value horizon part is impact. And the business impact tells the story of monetized performance goals. That's important for any business. So it's about output, outcome, business impact, that together is the value horizon in the middle, outcome, happiness is really important. Like productivity, it's also outcome because it leads to someone else to something else.
Pasi Nikkanen:
Sami, something you want to add on that.
Sami Kallio:
Yeah, I really agree. I think early on, before working in this company, I was also working as a consultant doing experience consulting and we had one principal: it's not hard to do innovation in the way that you find new ideas. The thing is that whatever that company did, I also think we exactly think the same here, you always have to have both the happiness target and then you have to have the activity target or money-wise target. Otherwise, if you're not able to define both of these, it will not be a good project to take on. Whereas you have to set them very easy targets, I still believe that you have to have as short a list of targets as possible, but you have to have both the money targets and the experience target in any action you do, because if other one is missing, you are not delivering value for the business.
Sami Kallio:
That's the single model but one thing that I really support, because if any project is saying that they are only doing it for the money case, they are replacing software and there is no experience target, they shouldn't be doing that. From a business perspective, it is failing really bad.
Sami Kallio:
On the other hand, if you're only making better looking interfaces and there is no business gain, this is business world, you shouldn't be doing that. And that's my thinking in here, but I really, Marco, loved what you said because that's a really good model and put it in a kind of way that is also maturity levels, in a way.
Marco Gianotten:
It's maturity levels, also. If I'm a good engineer, I'm a great engineer, I love of product, because some people love products. So you have some people, they're focused on things like time to market, or customer delight, or user happiness. That's very important. And then you also have people say, "Well, at the end of the day, how much money does it bring in? Are we saving money doing the right thing? How does it impact my bottom line or my top line?" That's also important. Especially, it starts with the employee, of course, but eventually if you have an IT department or a digital department that actually understands how happiness and customer delight works, it's easier. And those are the two parts of a metal. The first metal is if I create a good experience and someone else is happy, I'm happy, too, because it's very frustrating if I deliver a service or a product that doesn't move the needle in the mindset of people.
Marco Gianotten:
And that's why a lot of, for example onsite support, if you go to a service desk or go to an IT department and you ask, "Okay, what other department hates IT the most? And then let's go out there to IT safari." People refuse because they say, "Well, I think they don't like us. I think we try doing a great job. We are meeting all the SLAs and all the targets," but they feel themselves that they're not providing a good service based on the experience.
Marco Gianotten:
So, if you provide a good experience, it helps move the needle in business impact, but also it helps IT guys and the IT department and all the people working IT that do very valuable work, to make sure they're rewarded, not in a financial way, but in an emotional way that I provide a service and people are happy with it. Happy with the service I provide.
Sami Kallio:
One of the good customer stories, in our case is Region Midt from Denmark, they got a product in use and it started from the beginning to give that feedback direct to the agents. In about two months time, these guys called us and asked, "Have you ever seen this before? Now our agents are much more happy in their work because they are seeing all the time how much they are helping people, how they make their life easier." That really underlined it. Yes, they are correct to have a correlation, this internal IT happiness and the end user happiness.
Sami Kallio:
On the other hand, I have a couple of times seen a prospect that was too afraid of that feedback, as you said. They didn't want to take our product in use because they didn't want agents to get that feedback, which is scary. For me that is really scary. They said, "Our customers will be saying so bad things that we don't want to give it to the agents." And that was like-
Marco Gianotten:
I think about the culture there.
Sami Kallio:
Yeah.
Pasi Nikkanen:
And that might be one reason why people talk about this internal and outsourced services, the differences. It might be that with internals, it's actually, if you feel like it will help your colleagues and not this disconnect. And so there are not common SLAs set between dollars. It says that we are here to help our colleagues. We are all in the same company and getting that spirit. I know that with certain outsource vendors, they do a lot of work and effort of trying to get that same spirit, that we are part of you. If we help your employees, which we feel are our colleagues, but if that is missing because of this strange targets and KPIs, like you said, and SLS then, yeah. That's why we see the difference happening there.
Marco Gianotten:
People want to help, even you have an outsourced service desk or outsourced your IT department. It could be a great decision, but we put a lot of red tape in. We bring in, for example, a company that just, well, they had over 853 KPIs just to control the vendor. Why should you control someone if you and I have the same vision on what we want to do. It's the same as people start raising a kid, you don't have an SLA on that. Why should they? A marriage doesn't work like that, or a relationship doesn't work like that. If we want to do the same good thing for the customer, what's the outcome we desire? If I have to move the needle and make sure my users are productive and happy, that's good, that's the most important one.
Marco Gianotten:
And of course, we have to look at the money. We look at the other processes, but they're just metrics. They're not KPIs.
Pasi Nikkanen:
Yeah, yeah.
Marco Gianotten:
So this level of distrust is introduced in the contracting.
Pasi Nikkanen:
Yeah.
Marco Gianotten:
If the people say, "Well, I don't trust them." Okay. Why don't you trust them? "Well, maybe they have the wrong incentives and they started doing the wrong things." Why should they have the wrong incentives? "Because they want to make as much money as possible." Well, of course they need to make money. But actually if you try to go into the BAFO, the Best And Final Offer, and you don't give them any money, well, eventually you're going to pay for it yourself. So, the whole way of contract is not based on value, happiness is also value; it's based on input. It's based on cost. It's based on anything but outcome.
Pasi Nikkanen:
Now I think that, I start looking at the time, I think that might be actually a really good place to stop because I think we know we always come to the same topic that, yeah, why happiness mothers. If people want to learn a bit more about the topic, any good resources Marco, you can offer for them?
Marco Gianotten:
Yes. Well, we started this movement on, we call it, Digital Empathy and that was a first stepping stone on the experience level agreement. But actually it's a very nice short read, a booklet, it's called Digital Empathy: When Tech Meets Touch. So if people are subscribed to this podcast and let you guys know if they want to have it, we can provide the ebook version for free.
Pasi Nikkanen:
Okay. We'll figure that out into the show notes so people can find it there and get their hands on this one.
Marco Gianotten:
Yes.
Pasi Nikkanen:
All right. Then what about if they want to learn more about what you do every day with customers, how to get in touch with you?
Marco Gianotten:
They can try me out on LinkedIn, of course, and we work with large corporation, also public organizations to make sure that It, not just end user services, IT is focused on value creation and not from a micro perspective like they already do in Agile, like valuable software that's decided by the product owner, but focused on value.
Marco Gianotten:
We simplify contracting and we help organizations to use, for example, a couple of KPIs that really make people proud.
Pasi Nikkanen:
Perfect.
Marco Gianotten:
I'm happy to talk to anyone about what we're doing, especially what their vision is and how they like to pursue a happiness or pursue a better IT experience. Not only related to the end user, but also to their customers or even their executives. But think about a CFO. The difference between an outage of a key business system, and outrage, is just one letter.
Pasi Nikkanen:
Anything else Sami, you want to add?
Sami Kallio:
Just thanks, I can phone this one in. That was a really, really good discussion.
Marco Gianotten:
Thanks for having me.
Pasi Nikkanen:
Yeah, I'm pretty sure we could have had this for an hour or two. So let's see in the future, maybe we'll have another topic.
Marco Gianotten:
A different topic.
Pasi Nikkanen:
There are different topics. That's also important, for example, eventually. So thank you very much. Good luck with it and talk to you soon, guys.
Marco Gianotten:
Thank you. Very happy.
Sami Kallio:
Thank you.
Pasi Nikkanen:
Yes. And safe.
Marco Gianotten:
Yeah.
Related content