Best Practice for DEX: People, Process and Tech - In That Order
This blog look at how Digital Employee Experience (DEX) is evolving into an umbrella term, covering the three aspects of People, Process, and Technology as separate contributors to Digital Employee Experiences.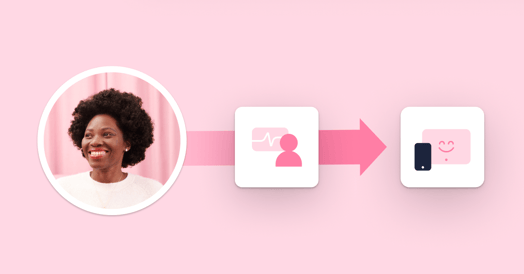 October 3, 2022
Once an IT organization understands the value of end-user experience and the insight provided by experience data, it needs a robust experience-monitoring mechanism to identify and address the operational and service issues adversely affecting end-users and their productivity. But this capability is not the complete picture.
This blog explains why digital employee experience (DEX) tools and definitions are evolving to provide experience improvements from the end-user point of view. DEX is, according to Gartner and Forrester, evolving into an umbrella term. We agree and describe in this article how DEX covers the three aspects of People, Process, and Technology as separate contributors to Digital Employee Experiences.
DEX is no longer synonymous with EUEM
Some of the first companies to use the DEX terminology were vendors specialized in telemetry and quantification of hard devices, applications, and network data. These vendors were prominently highlighted in the 2020 Forrester New Wave report, using EUEM as a category name.
Now in 2022, both Forrester and Gartner are moving towards DEX as an umbrella term.
The EUEM abbreviation has not become a household name, but DEX has been adopted by an ever-increasing number of actors within Digital Employee Experience.
This is how Forrester defines DEX:
"The sum of all the perceptions that employees have about working with the technology they use to complete their daily work and manage their relationship with their employer across the lifecycle of their employment."
Source
The sum of all perceptions… there are multiple areas that contribute to those perceptions.
HappySignals aligns with the well-known view of IT being about "People, Process, Technology."
EUEM (a technical component of DEX), IT service management (ITSM), and IT experience management (ITXM) all provide different perspectives for IT service delivery and support.
One experience for people can include one or more processes and one or more technologies.
Why is it beneficial to split DEX into three distinct categories?
People (and their perceived experience): Gives IT the focus and priority for improvement initiatives. This is the most critical aspect of DEX.


Process: Helps standardize and optimize how we work, automating, and changing ways of working at scale.


Technology: Needs to work, and fixing problems is essential. This is a minimum requirement for enterprise software. (Like a car that has to work, but a working vehicle does not mean everyone has a good experience driving it.)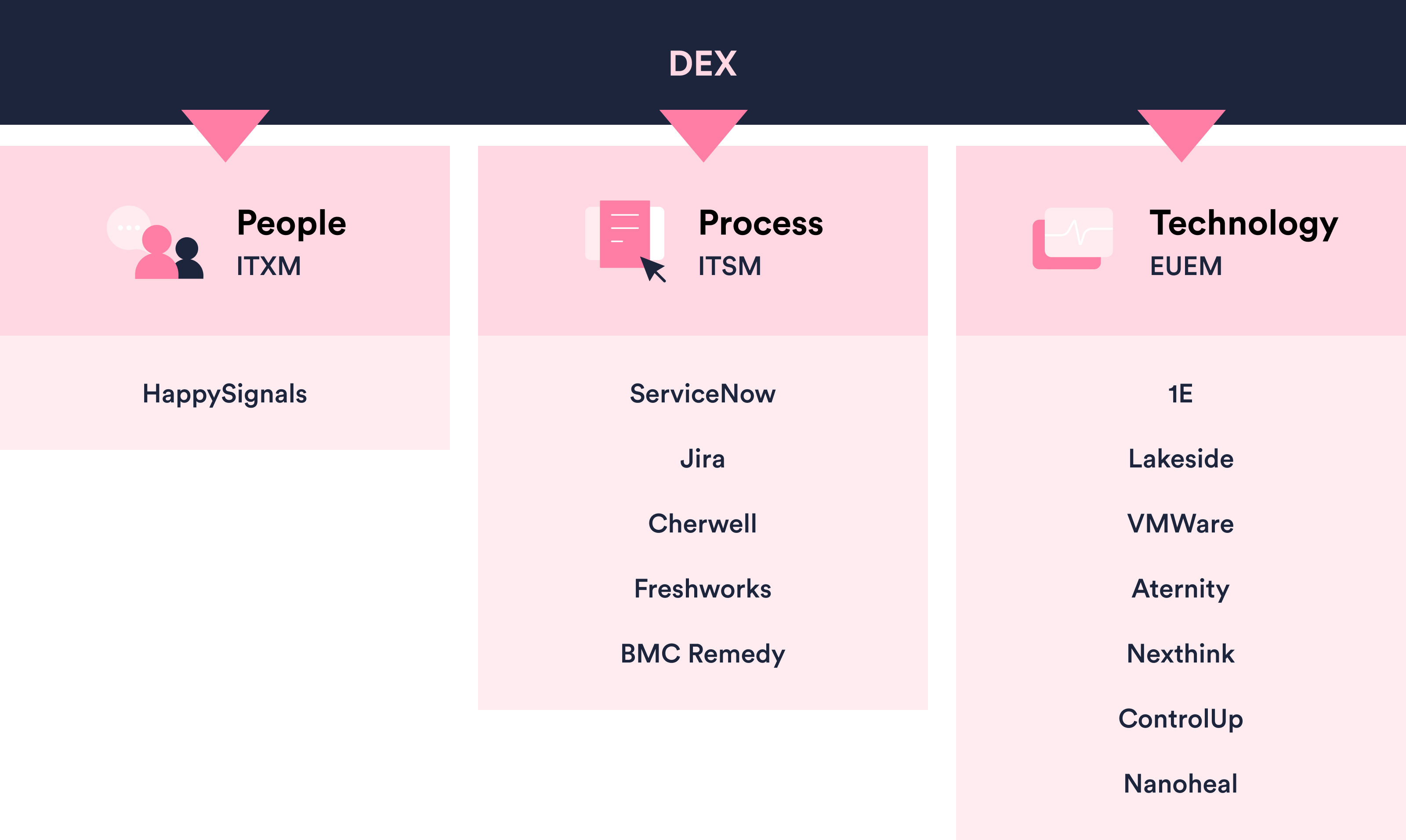 This means that parts of DEX, EUEM, ITSM, and ITXM complement each other rather than compete, bringing together operational data and experience data in insights that allow IT organizations to improve the technology experiences employees need be productive.
What EUEM platforms with a predominantly technological focus do
For clarity, we will refer to DEX platforms that mainly source data from telemetry measurement as EUEM platforms.
Each DEX solution offers different capabilities, usually aligned with the vendor's existing product strengths because most DEX tools have evolved from existing technology management solutions – such as infrastructure, application, and website security, availability, quality, and performance management solutions.
However, the standard, high-level capabilities are (but remember that not all are available in each solution):
Technology-based experience and performance monitoring
Employee/end-user sentiment capture
Experience scoring
Root cause analysis
Real-time automated remediation
End-user-initiated remediation and preventative capabilities
Analytics and reporting
The importance of context to experience improvement
Getting access to experience-related issue data from EUEM software and its insight might not be sufficient to improve what matters most to employees and the business processes and outcomes dependent on their productivity. For example, a EUEM solution might show an issue with an application's speed on certain days and times. But does this matter, i.e., what about the context?
Do the day and time matter? How many employees does it affect? Does it matter to them? How does this issue stack up against the other problems affecting their ability to work productively?
This is the issue with a lack of context. Consequently, any continuous improvement effort might focus on the issues affecting the most people rather than targeting what matters most to employees. It's an unwanted side effect of solely focusing on the technology rather than the people using it, with this issue potentially exacerbated by the focus on endpoints rather than services.
It's a generalization but something worth questioning when considering the merits of employing a EUEM solution alone. For example, is the focus on the performance of the technology (email or Slack, say) rather than how well employees can communicate and collaborate?
Lack of context isn't the only potential issue.
Outcomes are a crucial element of experience management. As with management information per se, it's what's done with the experience data that's most important, i.e., the improvements that address the root causes of the identified employee issues (including employee lost productivity). Thus, it's essential to understand that a EUEM solution tool alone might help improve technology performance from an employee experience perspective rather than focusing on improving the customer organization's employee experience.
Another outcome-based issue is that only using technology to manage technology might cause or perpetuate, "mindset issues." Where by using the technology to manage technology, the IT personnel tasked with leveraging the experience data might never be truly able to see beyond the technology to appreciate the needs of employees. This situation is a little like painting-by-numbers, with steps followed to complete the picture, but it's done "on autopilot."
The same or similar mindset is prevalent in what I call the "technology can solve that" approach. Because we, as IT professionals, understand the value technology can bring to business operations and outcomes, we assume that it can always be used to facilitate tasks or solve business issues. It needs to be born in mind when looking to measure and improve upon the delivered end-user experience – that a technology professional might prefer deploying a technology-based solution rather than considering a non-technology solution.
Using humans, as well as technology, as experience "sensors."
EUEM solutions will highlight performance issues and perhaps provide automated remediation but is this an accurate measure of the delivered employee experience? Or is it simply a variation of traditional IT management solutions?
The critical question is, "Is this providing sufficient context, and detail, for us to make the right improvements?"
EUEM platforms offer excellent capabilities for understanding how well technology is or isn't working. However, as evidenced by our customers who either use HappySignals in tandem with a EUEM tool or have swapped their EUEM solution for a human-centric approach to experience measurement, using humans as "sensors" gets organizations closer to what their employees need.
It also means that the experience measurement can be applied outside of IT to measure and compare the employee experience with HR, finance, or other internal service providers. It is recognizing that the overall work experience for employees is heavily influenced by the quality of HR, IT, and facilities capabilities, along with the engagements the employees have with other teams while at work.
Outcomes matter most; technology just needs to work.

"Processes must be smooth, and technology works consistently"… but to quote industry authority David Cannon in a flash interview with Barclay Rae at Pink22 in Vegas.

"Technology… when it works, what is it helping the organization to achieve?"
That comment of "when it works" sets the prerequisite for IT… which can be measured with EUEM tools. To know what it helps to achieve, the enterprise needs insights into peoples' perceptions to get the complete picture of DEX.
To finish off, let's look again at the Forrester definition of DEX, to understand why just measuring technology, regardless of how the metric is labeled, is not enough.

"The sum of all the perceptions that employees have about working with the technology they use to complete their daily work and manage their relationship with their employer across the lifecycle of their employment."
If you'd like to learn more about how organizations use HappySignal's people-centric experience data to improve their operations and outcomes, feel free to check out how the HappySignals IT Experience Management Platform works. Or if you'd like to learn more about why you should start your DEX initiative from the people category, please watch this video.
Related content