45. #XLA - Experience Management Benefits all Business Roles
In this episode, Pasi and Sami explore what Experience Management means to different roles within the business, and how it can impact their work life and productivity.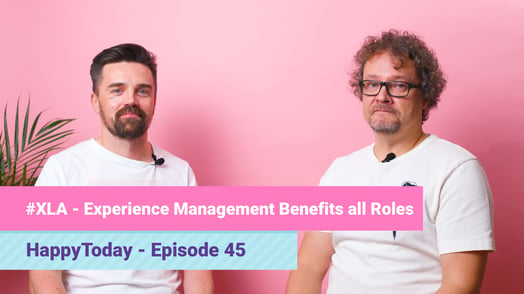 Pasi Nikkanen:
Welcome to Happy Today Podcast. This is a podcast for those who want to improve service experience of internal services. If you use ServiceNow or other enterprise service management system, then this is for you. In this episode what is the benefit of experience management to different roles?
Pasi Nikkanen:
Hey, welcome to this episode of Happy Today Podcast. Today's topic is what is the benefit of experience management to different roles? And let me start actually from the employees of the organization, the enterprise, so the 10,000 people working for a 10,000 person company. The end-users of IT.
Pasi Nikkanen:
If we think about this always, the old world was this output focused, so you were measured by SLAs or the output that you're doing. And now the new world is this outcome based XLA based topic. I think with end-users, the old world was thinking of IT, well you contact the support desk, you feel like they just want to get rid of you and they make you feel that it's my fault and I don't want to call there anymore. How do you see that this will change if the organization adopts this outcome-based culture? [inaudible 00:01:28]
Sami Kallio:
I think the big change there is that we have already here heard from many, many end-users and companies is that there's start to be trust from the end-user, because for example, in our service. We are asking end-users also do how much time you lost because of this incident or request. And typical IT people are, that's a complicated question, but when we tested that in the beginning of this company with hundreds of end-users, they said, "Oh, finally IT is interested in my time." And that is kind of the, that starts the process from, okay, now they really listen to me and they really want to help me, and they are not just optimizing something in IT.
Sami Kallio:
So one thing, if you are doing discussions with your end-users, ask them about their SLAs. I would recommend to do that because that's giving you the experience that sadly they know about them, because that's an agreement thing. They shouldn't be knowing that your response of answering phone in two minutes, and in two hours. It means that I teach using that as an excuse when somebody is not satisfied with the service you actually went, hey but we did it as we have promised. It doesn't help in the situation you are having some problems in with IT and you need help.
Pasi Nikkanen:
And I think another aspect is that if they feel in this new world, that, yeah now they are trying to help me. Also if they are asking from me, how was my experience? I'm much more, I feel that there, I want to contribute. I want to respond, I want to tell what can be the things that they could improve, because I know that they are trying to make me happy and productive.
Sami Kallio:
And the very personal thing, is that what you ask is asking the end-user feelings, you are not asking did we follow our processes in IT, because that would definitely turn it loud around that they will never answer your surveys anymore. Because again you're only interested about, did you follow or did you guys follow the process as promised?
Pasi Nikkanen:
All right, then going for the next level is then we have the whole ID department. So from the 10,000 employee company, you might have some hundreds of people working into it. So I guess with there in the old world of this output thing, you come to work, it's like I have all these ideas, but actually my work is tough to keep the lights on, systems running. Then I get these end-users they're complaining. I'll try to deal with them and I kind of understand that I really can't even help them.
Sami Kallio:
If you calmly explain them that, why did we do a good service because we answered your phone.
Pasi Nikkanen:
So how would this change in this new outcome-based world?
Sami Kallio:
Purpose, purpose, and purpose, which means that there is motivation for those employees. It's so much more motivating to help people and get something which has a value to the company. And in fact quite often to people in those, if you have 10,000 end-user company, one IT person, whoever he is, or she is. It's very hard to see the whole value to the whole kind of a business case of that company but you understand when you get the feedback from the end-users. And you really help them or help a team in there, or one person.
Pasi Nikkanen:
Yeah, it kind of feels they are here to come and help my colleague, because then they're actually the ones who are working with the external customers and when they are happy, they make our external customers happy. Our company, that's better and know that all that things. Then what about specifically then in service desk, if you think about the services manager and the agents, how do you see this old world? Because they're the SLAs are so kind of deep in their culture and in service desk.
Sami Kallio:
I think the change there for the agents is very concrete and, we have already pulled from some of our customers that when agents have been starting to get the feedback directly from the end-users. They can learn and their motivation changes, so there was one customer Region Mid from Denmark. Jesper told us that there is a huge change after taking our product in use and the agents satisfaction. And the only reason is that they started to get feedback, every time they resolve a ticket, if customer care end-user gave them feedback, they did receive that immediately starting to learn. And the thing there is that 75% or even more of the feedback we are gathering, in fact, nowadays 80% of the feedback we are getting is positive. Yeah. So think about it if you, as a marketing director or chief, sorry in our company. If you would be getting only...
Pasi Nikkanen:
Only the negative feedback.
Sami Kallio:
Yeah, which is the typical thing, but nowadays, if you could on daily basis, get 15 positive feedbacks from people who did see our brand somewhere. You would be really motivated and that is what we can offer, what you can do with the agents. They would get that feedback and then, okay, this is how I help somebody. And then you do the next thing even better. And if you get bad week, but you learn. And of course now, as a manager of this kind of team, much more easy to run a team and work with a team, who is having a target that is more than not closing tickets.
Pasi Nikkanen:
But some where we actually do get a lot of positive feedback on [inaudible 00:07:14], so people can go and read it on there. It's also because we do have that culture, I'm also in our company, all the employees are thinking, how can we make this better for our customer, the end-user, who is the user of HappySignals? I think that's just logical in that way. Then I think also relate to the service desk is then service owners who are responsible of outsourcing the service desk. And basically in the old word is that they outsource the external provider. Make sure that the sanctions are in place and that they receives that agreed for the next two years.
Sami Kallio:
It's again, I think this calls for bold and it can be internal or external services. It's if you have those two fixed as a base. And if they are even underlined with the sanctions in the agreement, the whole thing, what you do is follows on that one. You have to deliver. That is what you report, that is what you are follow. That is how you are measured and you can be on the provider side of that. You are doing things that are stupid, you know it from your heart, that there is no point that we are working like this. But it is to just get us to those targets that we have. Simultaneous you understand that we should be using our time differently so that we would gain more satisfied end-users. Our service quality in overall would be better. That is the big, big difference between SLA working and XLA or experience management. You start to kind of do more motivating work.
Pasi Nikkanen:
It becomes this cooperation with your vendors, not this fight between your vendors, which is like why would anybody go to work to fight with your partners and your vendors.
Sami Kallio:
When if coming back to the agent it's, I will not mention the provider or customer here, but there was one customer who really changed the co-working from being a bit against to working like this. Even this team went to India to work with the team, with the agents of their provider, to get them understand what is experience management. Now, why do we care about the experiences of our end-users? It was so scary for those agents and some of them fainted in the beginning because they now met the customer and who was willing to help them and work together. So there is, but in the end they make enormous results, but really kind of a task underlines, that if you focus on those old metrics, there are people who will only care about those, because that is what they are measured. And they are scared of losing their job if they don't meet those targets. So it's so black and white for them. And that when you change that to be, hey, your task is to help people, totally different thing.
Pasi Nikkanen:
Then I think there's a lot of different types of service owners in IT department it. So somebody responsible of the service management, somebody about that end-user services, somebody about that infrastructure and laptops and so on. In the old world, it was kind of just agreeing on something. This is the policy, let's keep it up and running and that's it. And just making sure that we report to the management team, that everything is okay. And then in the new world it actually becomes that you can actually get this data real-time data. It's very easy to understand what are the problems and actually for the money to watch the management team, you can be proactive. You can start to suggest that, hey, I think we should do these things because the data is showing it and it's not just my gut feeling, but based on the data. This is what we can do to improve the happiness and the productivity.
Sami Kallio:
So you can call the entire team [inaudible 00:11:19] with a proposal that, hey, if we spent now 100K more in this one, in fact we will save half a million. And that is proven by 5,000 end-users will say to us this and this. So that's kind of a making business cases of the feelings. Yeah. And I think that's..
Pasi Nikkanen:
Kind of imagining how it would be as a service owner to go do like that, to take that to the management team and not just waiting that somebody in the management team is going to be maybe asking me something [crosstalk 00:11:53]what to do next?
Sami Kallio:
Typical thing, how it goes is that business starts to complain about something. They figure out that but you might be able to turn it around.
Pasi Nikkanen:
If we go then to the IT directors and the IT management team, how does it help there? In the old world is still like, you have this task to control. Everything was about controlling and maybe at the very top, you only see that watermelon [inaudible 00:12:18], maybe then you hear it at some point that, okay somebody is complaining, but it's still everything is kind of fine.
Sami Kallio:
Once again in those management teams, it's very typical way of working much earlier that you're focusing on the buts that they did set like this, and this is how you are doing. And next year, CFO says that we will have to save 5%, it's 10% if I [inaudible 00:00:12:39]. And we are in that kind of a productivity, productivity, productivity, and productivity inside IT that you [crosstalk 00:12:46] even more evident. And now when in there, you start to discuss, okay, this is the whole picture of how we are helping our own employees.
Sami Kallio:
And we should do these things at a change to really get our end-users happier. The same thing you come there with the proposal, okay, this is what I found from the data. The management team has a purpose, so they have a kind of a area that, okay, now we'll do new way of doing this, is how we spent the money. And I think from here, it goes quite easily to the IT director and CEO back to the same thing. He has a new way of running his IT management team. And again, focusing on the purpose and focusing on the outcome of the whole IT delivery through not saving costs all the time, of course. But what is fun here is that in fact, when you have that focus, you also save money.
Pasi Nikkanen:
That's true because you're not just putting it all over the place to hope that something would improve somewhere. Then I think the logical step is that, okay now we're talking about the IT department. What about outside IT? What about this business stakeholders? What do they see different if a company changes their culture to work in this experience management?
Sami Kallio:
I think this is for me, very kind of important area because in overall the IT reputation is quite bad in the bigger the organization. More like they're having a bad reputation and as a business director, you kind of feel in very many cases that I did such deliver, what I asked them to do, if even that. And support services having quite bad reputation inside the IT end of companies quite often as well. So they're kind of there is no real trust, but what happens here and when the companies start to really take the experience of end-users to be the top target.
Sami Kallio:
We start to be proactive, so now finally, the same guy who was now thinking about how he will present that as management. The same guy or the director of IT can call the [inaudible 00:14:59] and say, hey, 10,000 of your end-users said that this is not working. This is why we are now proposing that we do this and this kind of project. Could we get the budget for it? And then you definitely get the budget for it because it is their end-users saying, what is problem. So it might be totally new thing for that business director and then he is thing is now our IT knows what they should be doing and they are proactive.
Pasi Nikkanen:
True.
Sami Kallio:
And that's really a big difference to the kind of current situation, I don't trust IT. During this COVID time, there has been change in this trust because IT in most of the organization, or almost all of them, they do an amazing work when people have to start to work from home. And then business started to realize that yes, there is a great value of IT, but now we just have to continue that same way and keep that connection.
Sami Kallio:
And some people are really thinking that, yes it's the CEOs who'd be talking with all the business leaders one to one and have that. No, or yes, but that's not enough. You should be understanding the rest of, be able to serve them better, understand their end use better than they do. And then you can serve them with a hey proactive service.
Pasi Nikkanen:
Yeah, cool I think that wraps it up for this episode. So hopefully you now understand that when you're talking about the experience management with your different colleagues in your organization. You're can explain the benefits of why you should take it into use, what it bring you, and also a guide, if you want to learn more like what are the steps to kind of get to this type of way? We have that kind of creating the experience management culture chapter there, and also the steps to happiness. So it is very practical things that you can do to achieve it.
Sami Kallio:
Don't get afraid of what I said, it doesn't happen in a week or two. It has to start from those steps that we're described in the guide. So do them, and it takes year or more to be even near to the level that we described now.
Pasi Nikkanen:
All right, hope you enjoyed it. As we say, stay happy and stay safe.
Related content