#XLA - Experience is More than an Agreement
In this episode, Sami and Pasi dig deeper into the topic of Experience Level Agreements, discussing how companies need to go further than creating agreements for measuring experience, which has previously restricted its predecessor - Service Level Agreements. The guys also bring to light Experience Management - an overall approach to focus on building and maintaining positive experiences.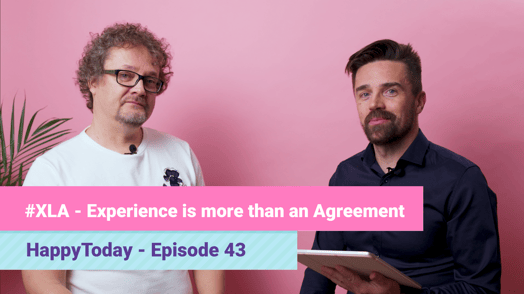 Pasi Nikkanen:
Welcome to HappyToday Podcast. This is a podcast for those who want to improve service experience of internal services. If you use ServiceNow or other enterprise service management system, then this is for you. In this episode-
Sami Kallio:
Experience management is more like a way of working, so how you do things, how you focus on the change, how you focus on the experience of end users, the value of your services.
Pasi Nikkanen:
Hey, welcome to this episode of HappyToday Podcast. Today's topic is that it's not about agreements. So in the earlier episode, we were talking with Sami that what are the difference between SLAs and XLAs, but Sami, what is really the difference between XLA and experience management?
Sami Kallio:
So I would say the XLA still are focusing on the agreement. So what do you agree to do? And yes, important, but experience management is more like a way of working. So how you do things, how you focus on the change, how you focus on the experience of end users, the value of your services. And I think that's definitely a big difference. Okay, yes, you can have both. You can have agreement focus on experiences and the value of the services, but still the way of working and the way of thinking with the people is more valuable or that way, how you get really things done.
Pasi Nikkanen:
Yeah, I think it's still the experience management is the one that changes the culture, changes the way of working, and actually it's maybe the practical part of our practical guides to XLAs.
Sami Kallio:
And it's agreements are needed to make sure something doesn't go wrong. It's for controlling purposes. And when focusing on something positive and developing, if that is really the core of what you do, that you focus on that agreement and delivering what that agreement says, and you have that for five years or something, it's the skills the development rather than motivates people to really try things. Yes, you have to have targets, but the agreement word is a bit negative because that's the minimum level always that you have in agreements. So I hope that some companies will find a way how to really describe the XLAs even in the agreements as a way of working.
Pasi Nikkanen:
Yeah.
Sami Kallio:
So what you really agree is that you have these things you do, and then it start to be experience management, than XLAs, that would be really the same thing.
Pasi Nikkanen:
Yeah, because sometimes agreements, like we were discussing in another broadcast that like when COVID hit, people go to remote working, if their agreements would have been like, you couldn't change the agreement, then probably people couldn't have laptops at their house and they couldn't take the office chairs to the home and things like that. But now when people saw that, actually just making sure that people have great experiences is much more important than following these agreements.
Sami Kallio:
Exactly.
Pasi Nikkanen:
I agree that agreements have their place, but then what does experience management look like? What does it really mean?
Sami Kallio:
So we are dividing that to four different areas. So to be able to do the experience management, you first have to understand the end users. So measure them, measure how they feel about your services and really start to get it at experienced data. You can do that of course, with different tools and different ways. And you should do it in different ways. So also always have this kind of one-to-one discussions with the end users to get more [crosstalk 00:03:43] information, but measure is the first one.
Sami Kallio:
Then sharing, because we talked in the earlier episode about that SLAs are fact-based. This is feeling based, but if you don't even share that feeling-based information to all people who could influence it, the results and help end users to be more happy, then you are, I would say directly only having that because you want to reach certain targets because of the agreement.
Sami Kallio:
So the first step after gathering the data is to make sure that everybody who could use the data or who you think should be using it, you should be making sure they will continue to follow up. What are the scores? But I think the core of experience management still is identifying. So identifying those areas what you could do better. So again, not satisfied with that one score and the SVR in high level and nothing needs to be done. Always there is areas that you should be doing better. So finding from all the services we are delivering those ones, but one portal, for example, that let's focus on these things now, that is our problem. So end users are not happy for our chatbot or they are not happy with an application.
Pasi Nikkanen:
Or the way we communicate.
Sami Kallio:
Yeah. Or our agents are not understanding sales force, so they cannot help end users in that area. Well, whatever is your problem, but you select your fights and you really kind of start with one thing, "Okay, now we have a problem." And for me, I'm very often quite worried when people start to talk about innovation in a way that we have this innovation process and we are gathering ideas from everywhere. For what?
Pasi Nikkanen:
Yeah.
Sami Kallio:
Real innovation is that now when you recognize the problem area, you really use your brainpower to solve that in a way that it ends up in a better benefit.
Pasi Nikkanen:
Especially today, when everything gets so agile, we do so many things and we are firefighting all the time. I think that's where the practical thing for service owner IT directors to actually being able to now using experience management, to focus on one thing, improve that one, show the value, then take the next one. Again, show the value like, where are you focusing your budget and your resources when you cannot do everything that happens all the time?
Sami Kallio:
And kind of the very, very lovable thing in the experience management or understand the end users, is that the thing what you are managing can be merged. It can be that you changed your services provider, or it can be one change in your continuous service improvement process. So all these should have an influence and they're all influencing the same thing, end user experience. So you have to understand the end user experience from very different aspects and really start to understand what is making the end users happier. And then you start to have kind of a good flow there because then the last part in how we see experience management is to improve bot. And of course this goes around, measure, share, identify, improve.
Pasi Nikkanen:
Yeah. And at that point when you improve, then I think you also need to set the target level again. So maybe you improve now some channels, so you made your self-service portal better. So it's not like, now we are done. Now it's let's put the target on that one a little bit higher. Maybe it was different than it was with the chatbot. We started with chatbot. We are learning. So we start from somewhere. We try to make incremental improvements and make it better all the time.
Sami Kallio:
Yeah. And the thing that's quite often is forgotten, I think [inaudible 00:07:36] talked about this in the webinar that we had with them. That what is really a great thing about experience management, that it really start to be more motivating for the IT staff as well.
Pasi Nikkanen:
True.
Sami Kallio:
So when you're having a small or big project changes or real big projects, then the team knows why they are doing that. And what is the value? What is the purpose of that project? And that really changes. It's not the closed ticket. It's not to turn on that. It is to help the end users to get more motivated. And that really start to be like, "Oh, I did that." And that's a thing that quite often is forgotten when you're thinking about we are focusing on the end-user. In fact, you can think about it from the IT, if you're running an IT team, you are really helping to run your own team with better motivation. And this, at the time of COVID now when everybody's working from home, if they know that this is the purpose what I'm doing this, you have a much more motivated team. [crosstalk 00:08:41].
Pasi Nikkanen:
Yeah. Everybody can get the focus that, "Okay, this is why I'm waking up now. Go to my workroom or kitchen table and start working on improving this stuff."
Sami Kallio:
And then at work at home now you're not always getting tasks from your manager, like detailed level. But you still are able to work in an efficient way because now you know why we are in... You do the small decisions on your own much easier. Again, much more motivating for the employee because he now knows that, "Hey, I can do this."
Pasi Nikkanen:
But yeah, I think that probably gives the summary of what is the difference between XLA and experience management. And if you want to learn more, you can go to our website, read our practical guide to XLAs. And thank you for this episode. As we say in HappyToday, stay happy and stay safe.
Related content