#XLA - Employee Experience, with Roy Atkinson - Part 1
Today the guys are joined by ITSM legend, Roy Atkinson. Roy is the CEO and Principal Analyst at Clifton Butterfield LLC, offering business advice specializing in service management, customer service, customer experience, and content services.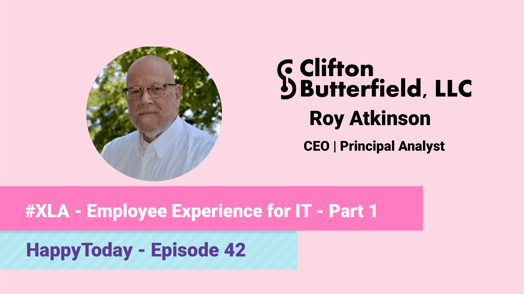 Pasi Nikkanen:
Right. Hey, welcome to this episode of HappyToday podcast. Today, we are joined by Roy Atkinson. And actually Roy is probably a person that you have met if you have ever been to an ITSM event. Nowadays, they are virtual ones, but still I see every day almost, in LinkedIn, some event or something where Roy is presenting.
Pasi Nikkanen:
Very happy to have you here today. And I guess, to let listeners know a little bit how we met, it was in an ITSMF event in London Heathrow. At the times where we could fly and we could meet people face to face. And I think the one thing that I remember from you is that you came to our stand and you pointed out, it was happiness and productivity, and you said, "Yes, that's it." But I think the one that Sami remembers is that you gave us two bottles of red wine before you went to your flight, because most likely you couldn't take it in your hand baggage. So yeah, welcome Roy, happy to have you here.
Roy Atkinson:
Oh yeah. Good memories of being there. And it was actually Sophie Danby who said, you need to go talk to those people there. You want to talk to them. And she was right.
Pasi Nikkanen:
Yes. Yeah. Yeah. We all love Sophie. She brings us people who will talk about the same language together. So yeah. All right. So idea today is to talk about the employee experience. And I guess, because also the definition of employee experience differs every now and then from different people. What's your definition of employee experience?
Roy Atkinson:
Well, I was pleased to see that some research I was looking at from the Gallup organization defines employee experience very much the same way that I do. And I define it in parallel to customer experience. We usually define customer experience as the overall experience of a customer at every touch point with an organization. And that's how I look at employee experience as well. It's what is the experience like at every place along the way?
Roy Atkinson:
So how did they find the organization? Was it a good experience getting in touch? How was the hiring process? How was the onboarding process? All of those things. And then when they do come to work, are they given tools that do what they expect? Are they provided the proper support? Which is, I'm sure, a large part of the conversation we're going to have today. Are they able to be productive? Is their boss a beast to work for, or is it someone that they enjoy working for? What are their teammates like? It's all of those things.
Roy Atkinson:
And of course, whenever we talk about experience, we need to be talking about feelings. And I know that that's one of the reasons your organization has happy in the name. Is that it is all about feelings, our responses to things.
Roy Atkinson:
And I think that one of the things that I've talked about in the past, and written some articles on, is the difference between customer experience and customer experience design. So from the organizational standpoint, it's how do we provide the opportunity for good customer experience. But from the customer experience standpoint, it's how does the person feel when they walk away from one of those touch points that they go through? And the same is true in employee experience.
Sami Kallio:
How are you, Roy, differ employee engagement from employee experience?
Roy Atkinson:
So employee engagement is more about how does the person fit with the mission of the organization? Do they feel like they're part of achieving the goals of the organization? Do they feel that they contribute to the organization? And again, we're talking about feelings. But do they participate? Do they have an opportunity for input? Do they contribute to the wellbeing of their team and the goals of their team?
Roy Atkinson:
So it basically, to be engaged, like when a gear engages on a car or a motorbike or whatever, it means that that is pulling in the right direction. And the same is true with, I think, with employee engagement. And the experience and the engagement are joined. But engagement specifically talks about how that person is pulling in the right direction in terms of the organizational goals.
Pasi Nikkanen:
I think that's a really good definition because we have been sometimes struggling with understanding why HR is actually kind of responsible on that part. And then why employee experience, this is a much more broader topic. And I think that definition that you just gave, at least for me, kind of opened a ... it simplified it for me. Now I'm actually able to explain it better next time for the person who asks. So yeah.
Roy Atkinson:
I'm going to go circle this day in red onto my calendar because I said something smart. Is that what you're saying Pasi?
Pasi Nikkanen:
Yes, you can do that. Or I'll circle it because I learned something that I haven't, yeah , been able to learn in previous-
Roy Atkinson:
Do you have to circle it in pink?
Pasi Nikkanen:
We will, we will. Yeah. But then you can then think about it from multiple different viewpoints. So, when you talk about employee experience and you talk about it with somebody who cares about the whole organization, then you have somebody who is working in IT, or somebody who's just a manager of a team. Always when you have employee, I think it kind of, if I was to think about in a 10,000 employee organization, 10,000 people, a thousand or 10 people, so how do you see it from different points of view all this, what is their contribution to it? Yeah.
Roy Atkinson:
I learned a long time ago, from a scientist friend of mine, Alfred Nielsen, that a hologram works because at any point in the hologram, you can see the entire picture. And so, to kind of put that in the terms that we're talking about, every employee has a view of the organization from their perspective. Every manager has a view of the organization from their perspective. And I think that each one of those perspectives is somewhat unique. And so we need to be able to look at and think about employee experience from each of those viewpoints. And that's why feedback is so important.
Roy Atkinson:
All right, you guys are all about that. And that's why it's incredibly important to have that feedback from the entire organization. And I could go on a whole lengthy talk about pulse surveys and the problems there with. But it's just good to get good, honest feedback. And I think we'll talk about how rapidly that needs to happen, if we want to get some accurate idea of what's going on too.
Sami Kallio:
How about when you look at it, kind of the benefits from the [inaudible 00:07:11] kind of roles in IT or overall in the organization. So that was kind of the perspective of people be listened to, but how do you see it, where are the biggest benefits of really thinking and focusing on experience management or listening to the employees?
Roy Atkinson:
So, just a little bit earlier today I was talking to someone who is thinking along the, does some transformational change work with organizations? And we were talking about how IT tends to have a kind of a siloed perspective on the organization. And they think of things in technical terms. And I've been there. And so there are different levels that we need to think about the experience from. And the engagement from, and all of the things that are pertinent to that.
Roy Atkinson:
We can talk about staff engagement and staff experience within IT. So how are the people at the service desk feeling about their work? Are they able to do their jobs properly? Do they have the right tools? All the questions that I mentioned earlier. That's one perspective. And then we have the perspective of the broader IT department. And partially, how does the service desk fit into the IT department? Do they feel like they're part of the organization? Does Development talk to the service desk before they decide to release something into the production environment? And next thing you know, the phone is ringing off the hook, or the emails are flying, because people are having some issues with that.
Roy Atkinson:
Then we can look at it from IT's perspective in the interface with the rest of the organization. How is IT providing its services? If we look at it as a service provider. How is it integrating with the rest of the organization? How do the employees of the organization perceive their relationship with IT?
Roy Atkinson:
So each each one of those perspectives is a little bit different. And you can slice and dice that employee experience, if you have ... journey mapping is a big thing right now. And if you look at the journey of an employee across the organization, there are many, many, many, many touch points. IT is certainly one of them. And a very vital one, because as we know, technology underlies pretty much everything that goes on in organizations now. It's incredibly important for people to get the right services at the right time and get the proper support for it when they need it.
Roy Atkinson:
So we need to think about all of those different bubbles across the organization, and how they mesh, and how they help the organization achieve its goals. And that's probably more important now than ever, especially in terms of the pandemic. And I know that you've got some COVID-19 influence on IT incident response volume information that just came out. And it's a very interesting time. But even in the context of the broader time period, organizations need to be really innovative now. They need to differentiate better. And they need to have an eye on what the competition is doing. But they really need to have that technical underpinning to be able to achieve the innovation that they need, to get ahead of the game.
Sami Kallio:
I think in earlier discussions that we have had is that, started to understand that during the pandemic, it has kind of even shifted that early on experience of employees was very heavily or quite heavily on the HR. But now it is going more to the IT part because everything we do with the company, all the connections we have with the company, is through IT. And that kind of feels that the pressure on IT is even heavier when it comes to employee experience. And that is really interesting to see how will CEOs and other directors are able to handle that and how they feel about it. Have you had any good kind of thinking in that area?
Roy Atkinson:
Yeah, I've thought a lot about, and talked to many organizations, about the experience of just getting through the beginning phases of the pandemic. When it suddenly shifted from everybody's working in offices to pretty much everybody is working either remotely or at home, was a tremendous shift that happened in a very short period of time. And I would like to say that IT support people did a miraculous job of helping that to happen. People who had never worked for home before, had no idea what a VPN was, had no idea what they their connection process was going to look like.
Roy Atkinson:
The fact that they got ramped up so rapidly and were provided equipment so rapidly. At one organization, a healthcare organization, that sent 500 people home during the course of a week. And none of them had a laptop. They provided 500 imaged and ready to go laptops to those people inside of a week. Which is absolutely amazing. I mean, how many organizations have 500 laptops in inventory? It's just incredible. And then provided them in a way that was contact free.
Roy Atkinson:
So there's so many things that have happened during the pandemic that forced IT to have a different response. And you're absolutely correct in saying all of those contacts, I mean, our contacts right now, we're on Zoom, we need a network connection, we need to have the proper security in place, we need to do all of those things for our organizations. It's an amazing time.
Pasi Nikkanen:
Yeah. I think that's also a good kind of bridge to the ... Then of course we understand, yeah, no, IT did all that. But in general, what other benefits are there for the organization? Why should they care about employee experience? Is there some studies that it helps employee performance or customer experience or the company performance. Or is it just this [inaudible 00:13:11] and happiness?
Roy Atkinson:
Well, yeah, happiness matters. All right. Happiness matters in a big way I think. But recently the Gallup organization did a massive, or released the results of a massive study with over three and a half million respondents that they took information from. And the effects of employee experience and employee engagement come out in some unexpected ways. I mean, you would expect that absenteeism is going to drop. If you have high engagement and high results on employee experience, people are going to show up for their job. Because they feel good about their job. They're happy. So you expect that, absenteeism to drop.
Roy Atkinson:
But you also find results like, Gallup found that there was a 41% improvement between the top quartile and the bottom quartile, 41% quality defects. That's huge. People are producing better products because they feel engaged. 66% in wellbeing, so employees perceive their wellbeing to be better if they feel engaged and are having a good experience.
Roy Atkinson:
And overall the organizations had a 23% increase at the top quartile versus the bottom quartile in profitability. That's huge. Like I was saying, it's a highly competitive environment out there. If you can increase your profitability by a substantial margin, then why would you not do this? It's really important to do it.
Roy Atkinson:
And I asked the question in an article I wrote recently for ITSM Tools. And I said, if you could reduce turnover by bettering your employee experience, and you could increase your profitability, and make your organization healthier, why would you not do that?
Sami Kallio:
That really is kind of the very, very core of what we, as well, try to do in the company. [inaudible 00:15:31] I've been thinking about this a lot, also from the perspective that now when thinking about people working from home, it's not that they would be totally absent. But I think these percentages might be even higher now because the motivation, and do I like my work? It is not that we should be controlling them. Am I with my laptop now? And am I using the keyboard? But if I have good motivation, you don't have to do it. The only thing what I have to do in our company when people are having good motivations, that when the pandemic start, the only thing we have to do with Pasi was, don't work too much. Because people started to be working long, long days because they didn't have to commute and they stayed at laptop 10 hours and plus. And even though we said, no, this is not the right thing. You're not going to be working well, and with your own [inaudible 00:16:19] in a three months time.
Sami Kallio:
So I think it's even more important now to be understanding and having a good experience, because you will do more home works and read books or whatever that's related to work. If you do not have that motivation.
Pasi Nikkanen:
Yeah. And on that, and if you are at home and something doesn't work, it's just easier to say, okay, forget it, I'll just go away and walk the dog or do something else. At the office you would maybe it's just, okay, I'll just go and surf something that I like, I'm still kind of there, but I'm totally not engaged. And at home it's kind of you're still ... it's very easy on the other hand to kind of, if you have the poor experience, to start doing something else. Like Sami said, when you have the good experience, you have the motivation. Why am I here at work? Then it's the other way around, you kind of see that here now there's no distractions. And I can save my time for the commute. And I can maybe do more work.
Roy Atkinson:
Yeah. I recently shared an article on LinkedIn about exactly that. Here in the United States, people tend to be compulsive workers anyway. And I always refer to a story that a friend of mine who was just stepping into a role as a New York state policemen, a state trooper they're called. And part of a bridge over the Hudson River had collapsed. And there was a large section of roadway missing, and nothing between that 75 feet down into the river. And people were driving around it, they were refusing to stop. They were driving around. And he was going, "What are you people doing?" And they said, "I got to get to work. I have to get to work." So, that's pretty much ... So if people see the opportunity to work more, especially if they like their job. I mean, I love my work. You guys love your work. And to tell yourself, it's time to stop is a really important skill. And it's good that you encourage your folks to realize when it's time to put the mouse down and walk away and come back to it fresh later.
Related content