Experience Officer
Experience Officer is your champion that drives IT Experience Management initiatives forward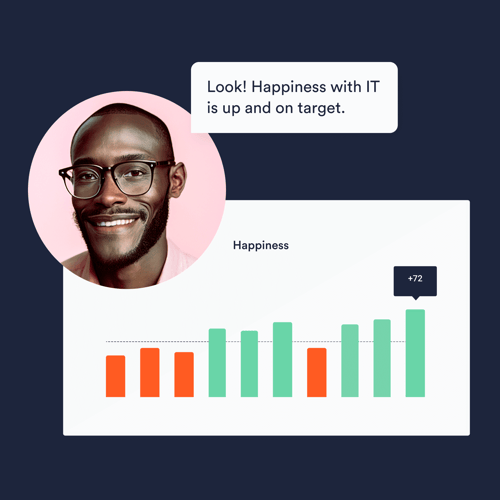 Objective of an Experience Officer
IT should appoint one or more Experience Officers to manage the Experience Data, run the Experience Management Office, and participate in organization-wide discussions about IT Experience Management.
Impact of an Experience Officer
Establishing a clear point of contact for IT Experience Management creates a sense of ownership and emphasizes its significance.
About this ITXM Best Practice
Contributors:
Tuna Ozcer / Ahlstrom-Munksjö
Pasi Nikkanen / HappySignals
Reading time:
5 minutes
Level:
Strategic
Updated:
2nd February 2023
What is an Experience Officer?
Depending on the company's size and maturity, there may be one or several Experience Officers. However, it is generally recommended to start with one, who can also lead the Experience Management Office team.
Experience Officers work across the entire IT department and are passionate about improving the end-user experience.
They can also come from outside of IT, such as a Head of User Experience or Chief Experience Officer. The organizational position is not crucial as long as they collaborate with different teams to achieve a common goal and outcome. Assigning a person who is responsible for a particular IT service area may introduce bias, so it is not always the best fit. Ultimately, the best approach depends on the specific circumstances.
Why would you use an Experience Officer?
Having an Experience Officer creates clarity. Naming a specific person responsible for this role is beneficial since it is often a part-time position initially filled by someone from the IT department.
The Experience Officer will lead the Experience Management initiative and promote the benefits and impact of experience management to IT end-users and company employees. They will serve as the champion for the topic of Experience Management.
Progression of Experience Officer role?
As an Experience Officer start by first understanding IT Experience Management basic, by passing the ITXM Foundation Certification Course.
Then start understanding the metrics, the baseline of your company, and where the biggest issues for end-users lie. When comfortable with the data, start setting up the weekly and monthly sessions mentioned below.
One or Multiple Experience Officer(s)?
Depending on the company size, you might need more than one Experience Officer, still, we would recommend:
Start from one team and establish a working model
Expand to new teams as you roll out the usage of ITXM inside your organization


When ready to expand the team, set up an Experience Management Office (XMO) as this helps to have a group of people who have the passion for understanding and making a difference for end-users.
How to assign and train Experience Officers?
Finding the right people
Experience Officer should be someone the team trusts and respects

Experience Officer should have a natural interest in how people feel about the service they are providing

Should not be junior person, but needs to understand the big picture of how different IT areas link to each other

Head of Experience - people without operational responsibilities and already thinking about experience-related topics

A few years of experience within the organization to understand the environment

This is an additional role, on top of another role
Training the Experience Officers
Start with the ITXM Foundation Course and Certification

Experience Officer should be expected to pass the ITXM Foundation Certification

Give product briefing sessions to Experience Officers, so they know the possibilities of your selected ITXM platform and Experience Data products.
Weekly tasks
Follow experience data progressions

Look for why scores have dropped? → bring the insights to the monthly report

Prepare Monthly Experience Report materials

Interaction with IT teams, join their operational meetings

Tag and Manage end-user feedback
Monthly tasks
Support communications towards end-users,

"You

said, we did."

Run XMO meetings
Quarterly tasks
Action plans

Propose changes in XLAs and Experience Target Levels

Align focus areas to company strategy and goals by Settings Objectives
IT Leadership engagement upwards
Tactical and Strategic meetings

For example: identify resourcing issues and suggest fixes

Supporting IT Leaders with their presentations

Experience Reporting for IT Management Team