MSPs and the Need for Experience Management
Why end-user experience is important to organizations, including Managed Service Providers (MSPs)? To help you to understand the importance of experience management to MSPs, this blog highlights some of the key points from an experience management conversation between Damien Fenwick of Fujitsu and HappySignals' CEO Sami Kallio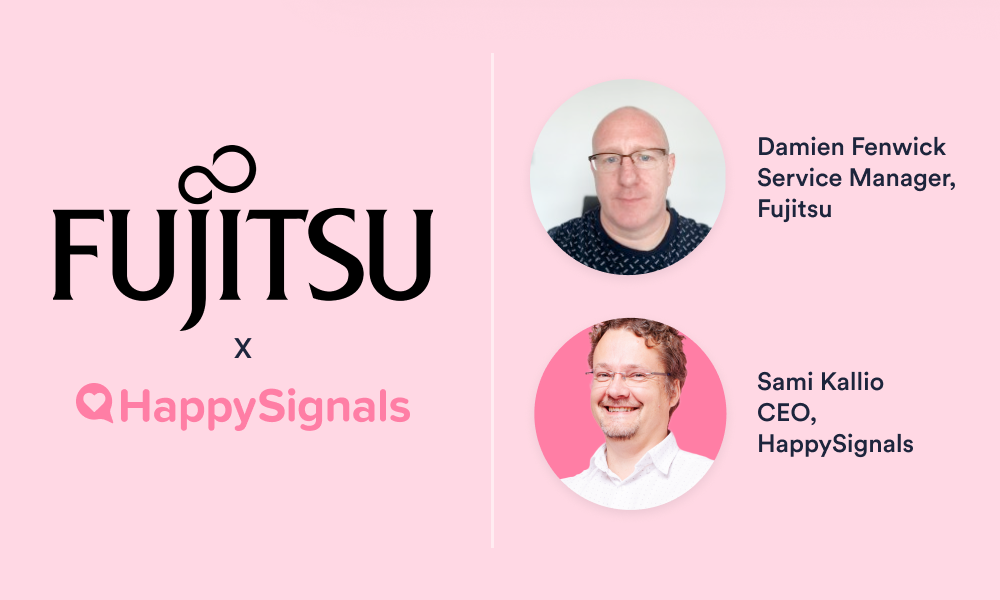 March 4, 2021
If you work for a managed service provider (MSP) you might be looking at the concept of employee experience management and experience level agreements (XLAs) and wondering how much they matter to you. After all, the employees that your services support are your customers' employees rather than your employees. And begs the question as to whether it's employee experience or customer experience (CX) that's relevant, or whether this differentiation doesn't matter to the end users that simply expect and need a certain level of end-user experience from your MSP's services.
Why end-user experience is important to organizations, including MSPs
MSPs have traditionally focused on making sure that they're delivering to agreed service levels. When a service level agreement (SLA) target is turning red, then everyone's focused on remedying the situation. However, if an SLA is green, then people won't necessarily look at it because they think that the service is operating well.
But just because an SLA target is green it doesn't mean that the customer, or the end user, is happy with the service. This disparity might be shown through people-centric metrics such as customer satisfaction. But it might not.
Experience measurement and management, on the other hand, allows service providers to better understand what's working well and what's not, and to address the highlighted issues. Because there's an improved understanding of how end users actually feel about the service being delivered, and the impact of issues, that allows the service provider to put the customer at the heart of how they deliver services and improve them.
For years, traditional MSP SLAs have pushed service providers to work – and think – in a certain way but, at some point, most people eventually understood that there's a conflict between the service provider and end-user view of service performance. Even if little is done to proactively address the generic issue and specific root causes.
The issues with the traditional mechanisms for identifying issues and improvement opportunities
Take customer satisfaction questionnaires as an example. They tend to be delayed, there's usually little response, and the questions might be removed from what's actually important to end users. But service providers can at least still look at the negative feedback and do their best to resolve the highlighted issues.
However, as with informal feedback, often there's also a tendency to look at who's shouting loudest and to just fix their issue. However, just because that one person has shouted, it doesn't mean that there aren't other people affected by that same issue (or with other, potentially more important, issues) and the impact on their ability to be productive.
So, a better understanding of the frequency and true impact of any issues is important. Especially the impact on customer success – which isn't always easy to see and understand as a service provider. Importantly, this isn't usually something that service providers can see from their traditional performance metrics; it requires end users to share what's happening from their perspective.
How things change for MSPs with experience management
For customers to be at the heart of what service providers do, including so that they can also evolve with their customers, there's a need for MSPs to understand what their customers' challenges are by providing all – and not just some – end users with the opportunity to provide real-time feedback based on what matters most to them.
This capture of experience data, in high volumes, allows a service provider to see where and why there's unhappiness or a poor end-user experience with certain services or products they're providing. It might, for instance, identify that a new or revised process has been brought in because it helps the service provider. But, from the end user's perspective, the service and experience have gone downhill as a result.
It might be that there's now a lack of contact or the end user is being asked the same question multiple times. In such instances, the SLA target might be being met but the end-user experience is poor and the customer's employees unhappy.
Using experience management data to improve MSP operations and customer outcomes
With experience management, service providers are working together with their customers – using more and better data to have a common understanding of how well services are being delivered. This not only identifies issues, but the service provider is also able to apply corrective measures more quickly and the affected end users see the services they use getting better through the changes the MSP applies.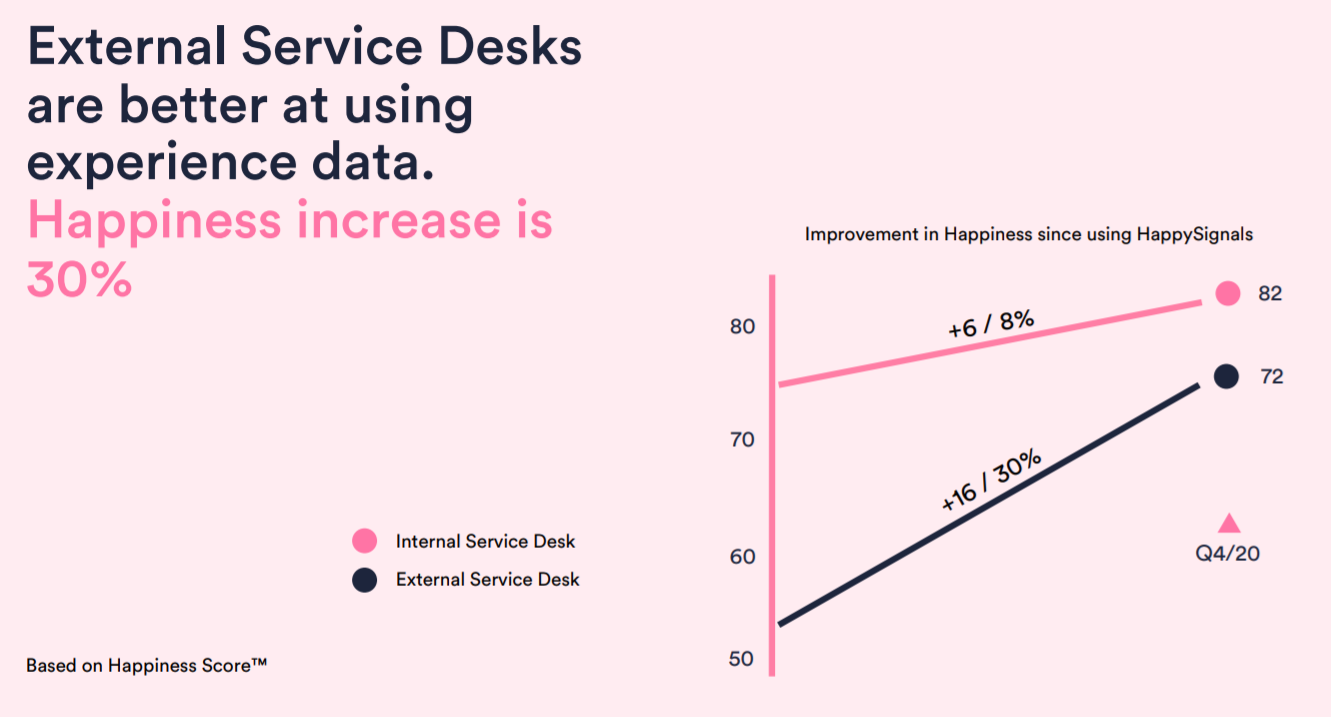 Source: Happiness Score Report Q4 2020
The improvements don't stop with a single customer's issues though. Because MSPs provide services to multiple customers there are learnings and improvements that can be applied to other customers too, which starts with the ability to see similar issues happening across the other customers.
So, again the issue could be a process or a certain way of working that's causing end users issues no matter the customer, and instead of changing it for just one customer it can be changed for the others too. Meaning that the improvement will not just make 100 end users happier, it will make thousands of end users happier.
An example Fujitsu experience management success story
One of Fujitsu's longest-standing customers that uses HappySignals was having problems with certain suppliers or, to be more precise, the management of incidents that were being handed over to these suppliers.
The negativity from end users about that experience was scoring a -10 average and end users were not happy. You could sense the frustration from the end user when they called the service desk. You could also sense the frustration from the agents who were handling the calls.
When Fujitsu did a deep dive into the end-user experience data, it started to recognize where the breakdown was occurring. That when agents picked up the call and captured the minimum data set, it wasn't everything that was needed. Which caused repeat calls and a high reassignment count, with people being passed "from pillar to post" from the customer's and end users' perspective.
The available knowledge wasn't the best, nor was the process being followed. It drove tickets to be closed when they shouldn't have been, because of the way they were worded – "Please reinstall this app." The app was being reinstalled and the ticket closed, but this didn't solve things and the real issue was unknown.
However, after a deep dive into the end-user feedback, and associated improvements in conjunction with the supplier, the average experience score went from -10 to +8. Plus, changing how such tickets were handled improved the available knowledge and the ability of agents to deliver first-time fixes in the future.
Such improvements didn't go unnoticed with the customer either. They always looked forward to the regular user-experience call because they could see the changes that Fujitsu was making to improve things for them and their employees.
The biggest challenge for MSPs when moving to experience management
There's a key need for MSPs to understand what end users are saying, which makes one of the biggest challenges gaining access to much-needed feedback about the impact of issues and service responses. With this first getting the responses and, second, getting a true feeling and understanding of how end users perceive the service they received. So, Fujitsu needed data and a tool to provide that data. But it's what Fujitsu does with that data that really counts.
As part of its experience management journey, Fujitsu has created specific roles, end-user experience leads, but the key thing for them was getting the data and information on the true feelings of its end users. To start understanding what the end users' perception was rather than just hearing it at a monthly, quarterly, or annual service review. And rather than looking at individual complaints at these service reviews, where the first question would be "Did you deliver against the SLA?" (to which the answer was likely "yes"), there's now more data, and more detail, on how all end users feel about a given service.
Recognize that, for MSPs, experience management is about more than just happy end users
Through experience management, not only does an MSP have a customer with a happy workforce, but the customer is also going to be happy with the services that the MSP provides. Especially because they're continually improving them based on end-user feedback.
There's also a need for culture change within the MSP. In Fujitsu's case, it is changing rapidly, with everyone now putting the end user at the forefront of conversations and focusing on how to improve the user experience. There's also a need for both the service provider and service receiver to really trust the experience measures and data, which can be difficult after years of working differently and trusting SLAs.
Finally, SLAs might still have a place, in certain areas, to show how an MSP's services are performing versus what they're contracted to deliver.
So, what do you think about the suitability of experience management for your MSP?
Please let me know in the comments. If you would like to find out more about how experience management is helping MSPs to improve their operations and customer outcomes, then contact me!
Katie Bates
VP Global Partnerships and Alliances

Related content