SLAs Are Not Enough: Why Your IT Organization Needs XLAs
This article looks at the limitations of service level agreements and how XLAs can help.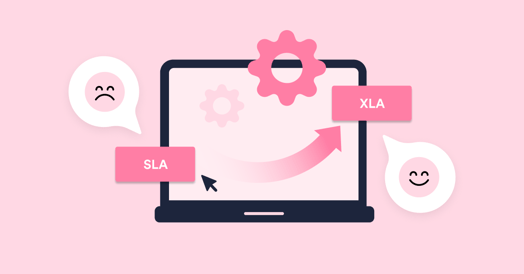 March 9, 2023
IT service management (ITSM) best practice guidance such as ITIL has long espoused the need for service level management. This need includes the creation of service level agreements (SLAs) and agreed service level targets, although the latter are often called SLAs in the context of performance management. But how well are your IT organization's SLAs – either the agreements or the targets they contain – enabling it to understand and demonstrate how well it meets business and employee needs?
Appreciating the limitations of, and issues with, traditional SLAs is a good starting point for understanding this and why your IT organization needs experience level agreements (XLAs).
The limitations of traditional SLAs
Notwithstanding that the time and effort spent creating SLA agreements might never receive a sufficient return on the investment, with the SLAs becoming shelfware rather than meeting the ITIL-defined "contractual" purpose: "A documented agreement between a service provider and a customer that identifies both services required and the expected level of service." The service level targets, SLA targets, or simply SLAs (depending on your preferred terminology for the agreed performance metrics) might have limitations and hidden consequences.
This topic is a blog in itself. However, the limitations of traditional SLAs include the following:
Organizations have too many metrics. This issue might be caused by ITSM best practices, what's available within their ITSM tool, or another reason, but it results in a "quantity over quality" approach. Here it's likely that the easiest, rather than the most important, things get measured and reported, and it can be hard to see what's most important.

Metrics are supply- rather than demand-focused, i.e they focus on what IT does (and thinks is important), not what it achieves. This focus is, therefore, on IT operations and not the resultant outcomes.

SLA measurements are taken at the point of service creation, not service consumption. It's a different vantage point and a different perspective (of IT performance).
The result is that while IT organizations are presented with a "sea of green" on their performance management dashboards, with SLAs consistently met, employees or end-users have a far lower perception of IT's performance. Then, to compound this issue, it's likely that any improvement investments are applied in the wrong areas – because the misfocused metrics point IT's limited improvement resources at the wrong things.
How XLAs help
XLAs allow your IT organization to tackle the second and third bullets by shifting the "what" and "where" of IT performance measurement. XLA success will also help with the first bullet over time by helping to highlight the issues with and the worth of existing SLAs.
But what are XLAs?
Here's what we say in our Practical Guide to XLAs:
"XLAs are a reimagining of SLAs that focus on what's most important to end-users. Within these, XLA targets are end-user-centric metrics and key performance indicators (KPIs) that focus on the perceived quality of IT services and support."
These measures and targets might be called XLAs in their own right and, importantly, "they measure the performance of IT by quantifying the end-user experience and IT service outcomes. Ultimately, XLAs measure performance in outcome and value terms, whereas SLAs usually focus on operations and outputs."
This perspective is an important differentiation between XLAs and SLAs – while SLAs look back at your IT organization's performance, XLAs provide a forward-looking "North Star" metric (or metrics) that allows your organization to focus on and improve "what matters most."
How XLA data and insight differ from traditional SLAs
Sometimes it's good to cement understanding through an example. In the case of how XLA data and insights differ from what's received via SLAs, employee use of IT self-service capabilities is a great example.
If you think about your organization's IT self-service capabilities, it probably introduced them to improve employee experiences, speed up resolutions and provisioning, and save costs. Of course, your IT self-service portal might be a resounding success, but uptake might have been slow, with sufficient traffic eventually to make it worthwhile. However, this is the IT view of success based on clicks and potentially low levels of employee feedback (from the employees that use it).
The data in the chart below shows that while the portal is now the most adopted channel for HappySignals customers, it offers the lowest level of employee Happiness and causes a significantly higher employee-perceived level of lost time and productivity relative to the traditional telephone channel. Hence, while IT might save time and costs through self-service use, employees are losing more time than IT saves. Employee perceptions of IT are also degraded as a consequence. It's likely that traditional SLA metrics wouldn't show this crucial insight.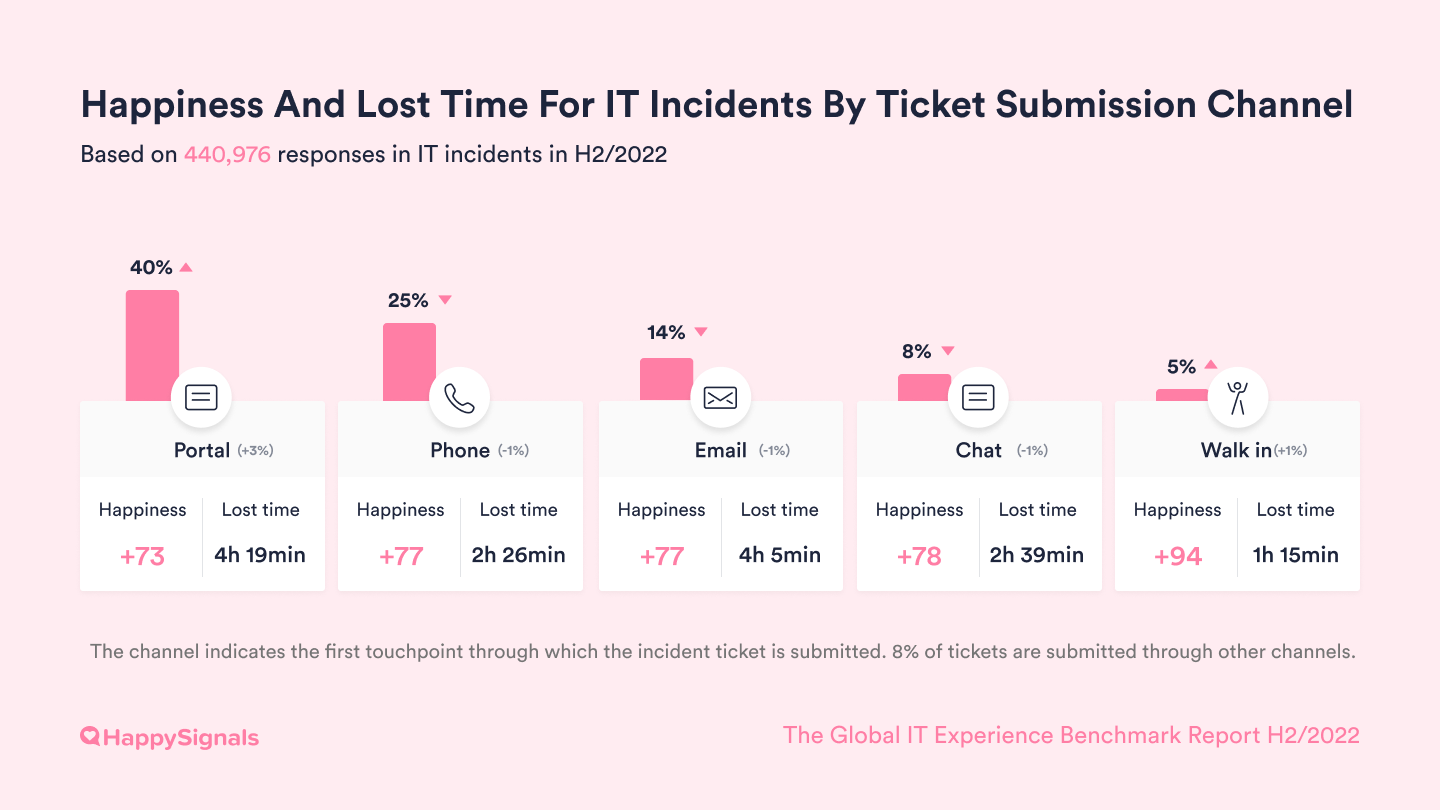 Also, please remember that the HappySignals customers that form this insight are at different points in their journeys to improve employee experiences, meaning that the averages don't represent all organizations, and they are likely better than for any organizations without a focus on employee experience improvement.
Don't let XLA creation slow down your experience improvements
Hopefully, the above has confirmed the need for XLAs and the data and insight experience management brings. If so, you're standing alongside the circa 80% of ITSM professionals who state their organizations already understand the need for experience management. But this interest or ambition needs to be transformed into actions that start to improve employee experiences (and business operations and outcomes as a result).
For some organizations, this is where the barriers to XLA adoption start to appear. Whether related to available resources, senior management buy-in, costs, customer/employee beliefs and buy-in, something else, or a variety of these, it's easy for organizations to find reasons not to augment their existing SLAs with XLAs.
If this is the case for your organization, consider what's most important, the quickest to do, and most beneficial. It's similar to the product management concept of "minimum viable product." In our experience, this is usually getting access to the employee experience data and insights that can drive customer conversations and service and support improvements.
So, while XLA agreement creation might be the logical place to start, a more practical approach is to begin collecting experience data as soon as possible – to identify issues and drive improvements, and prove the value of experience management before providing input to higher-level experience conversations and agreements.
But what should your organization measure (in XLA terms)?
Again, customer conversations might be the logical place to start, but this assumes that they know what they want (or need) IT to measure. An alternative is to take a "wisdom of the crowd" approach, i.e. what other organizations use and find beneficial. While a "one size fits all" approach is often frowned upon in ITSM, this hasn't been the case with employee experience management. As shown in the earlier chart, Happiness (a Net Promoter Score (NPS)-based feedback measure) and employee-perceived lost time are the two key XLAs employed by our customers to significantly improve their delivered experiences, IT and business operations and outcomes, and the business perceptions of IT. It's the quick start to employee experience management that your IT organization needs.
If you'd like to learn more about the importance and benefits of experience management, what other IT organizations have achieved by adding XLAs, plus how to get started, please get in touch.

Related content