105% Increase in Happiness
Transparency and trust were the guiding principles in our discussions.
- Marte Thorbjørnsen Reid
Wilhelmsen's journey in outsourcing its service desk to India wasn't straightforward. Trust and understanding of cultural differences became key focus areas in making sure its new Indian IT partner could deliver the same level of IT support that the regional IT teams had done previously.
Using end-user experience data transparently at all levels of communication has informed and aligned the service delivery discussions with Wilhelmsen's offshore service provider.
Key conclusions included seeing that service level agreements (SLAs) alone can only help your managed service provider (MSP) to create and deliver amazing experiences and increase end-user productivity if one also considers Experience Management Agreement (XLA) thinking.
COMPANY
Industry: Maritime Industry
Employees: 4000
ITSM Platform: ServiceNow
ServiceDesk: Outsourced
HappySignals since: Jan 2017

---
How HappySignals is used at Wilhelmsen
1. Its MSP uses Happiness as a Key KPI
With team-level bonuses provided when its average score is over 9/10.
2. Service desk agents are referred to as colleagues
Building trust goes both ways with a view of IT service desk agents as colleagues that share the same goals.
3. Formal XLAs with IT service providers
Adoption of XLAs with bonuses for scores of 9/10 or more and penalties for scores of less than 7.
4. Active use of support profile personas
Service desk teams have specific instructions for each support profile type.
5. Balance between XLAs and SLAs
Wilhelmsen has noticed that when XLAs are met, SLAs' tend to follow suit.
---
Challenges overcome with HappySignals
HappySignals has been the core of building an exceptionally well-working, outsourced IT team.
The challenges that were identified before using HappySignals, and overcome with the help of the platform, were:
Tackling the dual challenge of outsourcing the IT service desk while aiming for the same customer satisfaction that local internal IT achieved.

From having SLA-focused IT vendor contracts to formal XLAs with service desk team level bonuses for good scores - leading to a culture of collaboration.

Using HappySignals data to identify cultural and communication aspects of IT services that had a significant impact on experience.

Going from mistrust and miscommunication between Norwegian employees and its Indian MSP to seeing each other as colleagues.






Tangible Benefits
Focusing on trust and transparency with its MSP led to an average happiness score of over 9/10.
Customer happiness increased from 44 points to 90 points, a 105% improvement.
Collaboration with its outsourced IT service desk is now perceived as good or better than the former internal service desk.
A clear focus on Experience first helped identify which SLAs were counter-productive and which were helpful.
Wilhelmsen proved to the Indian MSP that it's possible to change behaviors in agents through trust and transparency to overcome cultural differences.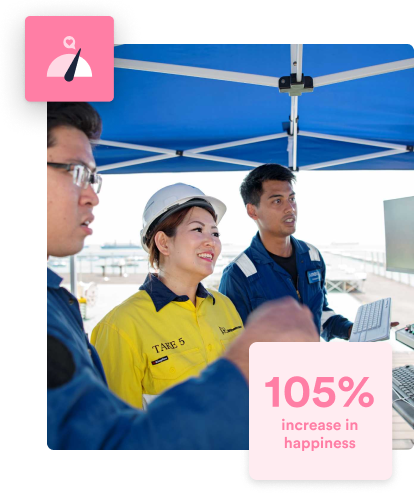 ---
How they got there
A baseline experience level set the goal for what is achievable:
Measuring experience before moving to a new IT service provider helped set expectations.
Getting to know the team by visiting the MSP teams in India and making them feel they were seen as colleagues.
Formal XLAs to complement SLAs.
Using Experience data to identify which metrics were driving desired behaviors and which were harmful to experience.
Using feedback data to identify the cultural differences causing miscommunication and unhelpful assumptions on both sides.
Use cases where Wilhelmsen
uses HappySignals
See which use cases helped Wilhelmsen achieve its IT success,
and find other cases suitable for your company needs.
Service desk operations

IT support channel development

Outsourcing the IT service desk