For Cargotec, an organization operating in the Manufacturing and Engineering industry, it's essential to provide IT services to meet the needs of its diverse end-user base.
Cargotec has started to use experience data from a business perspective to understand their employees' different needs by combining HappySignals with other analysis tools to dig deeper into feedback received from different locations.
Since including IT Experience in their measurement process, Cargotec has seen the true impact of IT initiatives, directly seeing where the 'Watermelon effect' lies and enabling them to efficiently and continually improve end-user services.
With the use of HappySignals, Experience data drives the conversation and, ultimately, the new working ways amongst their internal IT teams and partners to create a Human-Centric IT culture. This enables Cargotec to deliver IT services and initiatives from their end-user perspective.
COMPANY
Industry: Manufacturing & engineering
Employees: 11,000
ITSM Platform: ServiceNow
HappySignals since: April 2016

---
How HappySignals is used at Cargotec
1. Revealing the Watermelon
Measuring IT Experience enables Cargotec to pinpoint the Watermelon effect in their IT.
2. Continuous Measurement
Previously, Cargotec conducted surveys every half a year, producing data that was not representative of their end-users perception over the following months. Now with HappySignals continuous measurement, Cargotec can use Experience Data daily to create service improvement actions on a continuous basis.
3. Complete visibility of IT
HappySignals data became a valuable part of Cargortec's IT operations, enabling them to see exactly what is happening and the impact of said actions. For example, when changing Service Providers Cargotec used experience data before and after to reclaim the happiness target after a decline in end-user happiness.
4. Experience driven Partnerships
Armed with ITXM™, Cargotec aims to include in their service providers agreements to engage in the experience management process where ever possible, bringing greater interest and motivation for Service Agents to work directly with the feedback they receive.
5. Driving Human-Centricity
HappySignals creates a new approach to IT services, enabling Cargotec to view experience from end-users perspectives; People, Process, Technology - in that order!
---
Challenges overcome with HappySignals
Seeing the Watermelon helps to focus improvement efforts from an end-users perspective
The challenges that were identified prior to using HappySignals and overcome with the help of the platform were:
Watermelon effect

Yearly Surveys

Understanding Business Personas

Common focus for IT - service improvement pipeline

Prove value of IT to business stakeholders

Aligned with partners

Human-centric IT

Feedback management process

Transparency
Tangible Benefits
HappySignals Data enables us to see IT services from an end-user perspective
Continuous measurement highlights which IT areas need immediate improvement
Experience Data enables greater discussions with vendors on how services can be improved; from an end-user perspective.
Data allows Cargotec to deliver services based on the needs of their diverse personas
Using Experience Data across the board; IT, Stakeholders, and Partners
Daily Experience Data analysis drives Continual Service Improvement and pipeline.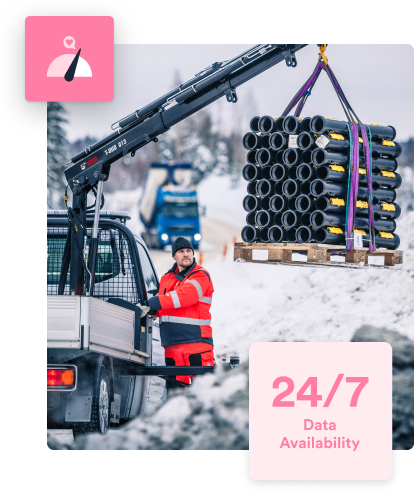 ---
Use cases where Cargotec
uses HappySignals
See which use cases helped Cargotec achieve their IT success,
and find other cases suitable for your company needs.
Channel development

SDI Accrediation process