With rapid digital transformation a top priority, it was vital that Campari Group had a way to measure end-user productivity continuously and where IT services needed improving.
With 4,000 employees globally, The Campari Group's main goal was to have complete visibility across all locations on how the rapid digital transformation impacted their employees and whether the transforming services impacted their work positively or negatively.
Now geared with HappySignals, Campari has complete visibility on their IT service performance and can make informed decisions throughout their transformational journey, thanks to experience data.
With the high response rates Campari Group has witnessed, due to how the HappySignals survey is delivered, Campari can link data to introducing new services in different locations.
COMPANY
Industry: Beverages
Employees: 4000
ITSM Platform: ServiceNow
HappySignals since: April 2019

---
How HappySignals is used at Campari Group
1. Continuous measurement
Campari needed complete visibility of the impact of their digital transformation on their employee's experiences.
2. Experience data to focus on improvement areas
HappySignals experience data focuses on where Campari Group's employees are losing time and happiness, creating a more significant focus on the areas that need improvement.
3. Complete visibility across all global locations
Campari Group has complete visibility over all their international locations, making it easy and efficient to engage their employees in the service development process
4. Continual improvement
Focus on making effective decisions based on dependable data for IT teams to use their time on things that create the most value
5. Continuous feedback loops
Campari receives constant employee feedback due to how HappySignals surveys are delivered. This is a critical factor in effectively improving their IT services.
6. Improved decision-making
Thanks to the data captured within the HappySignals platform, Campari can now make decisions based on fact, instead of just opinion or guesswork.
---
Challenges overcome with HappySignals
HappySignals moves us from SLAs to XLAs
The challenges that were identified before using HappySignals and overcome with the help of the platform were:
Inability to understand employee perception of IT, resulting in guesswork and poor decision-making.

Struggling to prove the value of IT.

Unable to transform the business through technology, being seen only as a cost center.

Campari's CIO wanted to bring the everyday consumer mindset inside the company and apply it to the organization's employee experience.

Before HappySignals, Campari's IT culture focused on SLAs and KPIs and desired a way to find out how their employees were feeling and experiencing everyday IT services, leading to an increased need for experience management and XLAs.

Without experience data, Campari Group struggled to understand what end-users were thinking and experiencing, which was highly important in their digital transformation.
Tangible Benefits
Experience data from HappySignals continuously shows the Happiness and Productivity of all employees across all countries.
Continuous measurement allows Campari to react quickly to IT problem areas based on real-time data.
Experience data enables greater discussions with vendors on how services can be improved from an end-user perspective.
Data creates the opportunity to hold personalized conversations with end-users regarding their issue, helping to increase the likelihood of a positive experience.
Focusing on productivity and reducing productivity losses has significantly improved Campari's mean time to resolution (MTTR) metrics.
Easy integration with ServiceNow has led to enriched data within its IT service management tool, providing a 'single pane of glass view' about how the business uses IT capabilities and their experiences.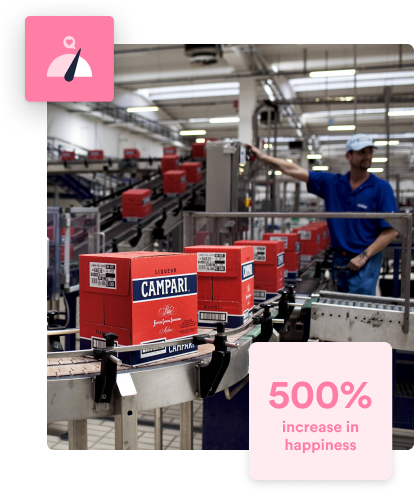 ---
How they got there
Experience data across all IT areas
Using HappySignals experience data to drive digital transformation.
Continuous measurement of IT services, globally.
Moving from traditional SLAs and KPIs to an experience management approach.
Sharing experience data with all IT stakeholders and vendors.
Empowering end-users to give their opinion on the quality of service and the IT experience they receive.
Use cases where Campari Group
uses HappySignals
See which use cases helped Campari Group achieve their IT success,
and find other cases suitable for your company needs.
Channel development

SDI Accrediation process