Solution
HappySignals data
was
made the
key
source of feedback and experiences
;
now all IT management team members can fully access it, in a multidimensional way
.
T
he data
is
followed and analyzed in
operational management meetings.
Ahlstrom
-
Munksjö
IT management are able to see real-time data and results, which also motivates their outsourced service desk agents, as agents are able to see how their service is impacting end-users, and work to improve service delivery when necessary.
E
xperience Level Agreements and
HappySignals
NPS
(Happiness
Score™) i
s
today
a key metric
in
Ahlstrom
-
Munksjö's service delivery with their main partners Tech Ma
hindra
and Tieto
. They follow the data
continuously, and have also agreed on
rewards
for exceeding targets
. This has also boosted a positive atmosphere within their MSP, as they are now able to justify their service efforts.
As a visible result from the focus and efforts on improving employee experience,
there has been a 112% increase in end-user happiness a
nd
a 68% decrease in lost time
between
October 2019
and
September
2020
.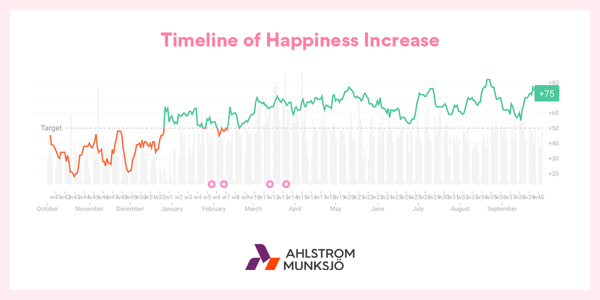 HappySignals has really helped Ahlstrom-Munksjö to more smiles and less time wasted.