Real-time Data for Actionable Decision Making
I can see real data coming back that is actionable
- Chris Megill
GW's IT department received over 50,000 tickets per year from their end-users (a diverse mix of students and faculty staff). Yet, they struggled to understand their experience due to the basic measurement tool, leading to shallow response rates and inapplicable data.
After implementing the HappySignals Experience Management platform into the GW IT stack, they have steadily received 30-50% response rates across a year, giving them valuable experience data on how their internal customers perceive their services.
With this data, GW can understand the unique differences in their end-user base, follow trends to help manage budgets for staffing costs, and drive to maintain the organization's values; Safety of Community, Care, and Efficiency.
COMPANY
Industry: Education
Employees: 8000
Service Desk: Internal
ITSM Platform: BMC Remedy
HappySignals since: Sep 2019

---
How HappySignals is used at GW
1. Experience data drives service improvement
Experience data is continuously used to demonstrate how service level managers and IT support staff support specific areas of the school or staff and show how they work to improve their service delivery.
2. Understanding end-user personas
Through IT support profiles and feedback gathering, GW can further understand the different IT personas within their end-users and see the most efficient way to deliver services to them. For example, faculty staff prefers one-to-one service, whereas students would rather find the solution themselves.
3. All 237 IT professionals have access
The whole IT team have access to HappySignals experience data
4. Engaging end-users to give feedback
The GW response rate has hit all-time highs through feedback tools and survey delivery. The survey engages their end-users and provides an outlet for them to improve the IT services they are experiencing actively.
5. Experience data is 100% transparent and diversely used
The data is shared openly to ensure transparency across IT partners, internal teams, and employees. Experience data becomes a powerful utility in conversations across the business when discussing end-user satisfaction, productivity, and happiness.
---
Challenges overcome with HappySignals
GW previously used a basic measurement tool which yielded inapplicable results.
The challenges that were identified prior to using HappySignals, and overcome with the help of the platform, were:
Moving from basic surveys to real-time experience data

Understanding how their end-users are experiencing IT services

Data-backed evidence of meeting IT goals when presenting to the CIO

Managing staff during "peak seasons"

Enabling performance management at both team and individual levels. Staff is now able to be credited for providing exceptional service.
Tangible Benefits
Real-time experience data enabled GW to meet the goals of their organization and deliver IT services to meet their diverse end-user needs:
Customer happiness increased from 66 points to 81 points, a 22.7% improvement that has stabilized at an above-target level.
Productivity has increased, meaning perceived lost time per IT incident has reduced from over 5 hours to a little over 4 hours.
HappySignals has made it possible for IT to get real-time insights into IT service quality
IT holds a better relationship with its end-users, both faculty staff and students
HappySignals enables GW to create better IT services
The ability to analyze peaks in data, and why it has happened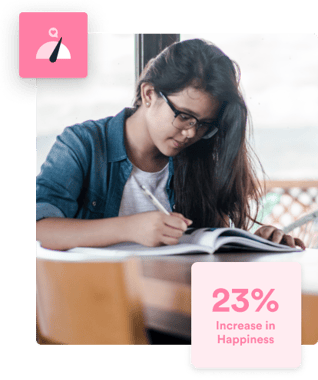 ---
How they got there
Values are important to GW; the HappySignals platform encompasses that.
The safety of their community was a key priority as well as the care and efficiency of their services.
Enabling all IT staff to use the HappySignals platform - a shared common goal for their department.
Swapping out the basic customer satisfaction survey to HappySignals ready-to-use tool.
Implementing IT support profiles to help understand their diverse end-user base and their ways of working.
Use cases where George Washington University
uses HappySignals
See which use cases helped George Washington University achieve its IT success, and find other cases suitable for your company needs.
Digital transformation

Manage IT vendors